Michael Pineda Surgery: Why Curt Schilling Says He'll Be Better Than Ever
April 27, 2012

Stephen Brashear/Getty Images
Is a 12-month timetable too long of a projection for Michael Pineda to recover from his torn labrum? One former major league pitcher who suffered a similar injury believes so.
Curt Schilling, now an ESPN analyst, told ESPN New York's Andrew Marchand that Pineda could not only come back from surgery sooner than projected, but he might also be a better pitcher than he was before the injury.
"I came back after my surgery, throwing four to six miles harder than I did before," Schilling said. "That is where the magic is. It is all about rehab. Most doctors can make you 100 percent well physically. I would tell you that it is 25 percent about the surgery and 75 percent about the rehab."
Of course, labrum tears are not the same for every pitcher. What Schilling suffered might not be the same injury as Pineda is dealing with.
Shoulder injuries are typically more difficult to recover from than elbow injuries, as well.
As devastating as it can be for a pitcher to blow out his elbow and require reconstructive surgery, it's become an almost common practice among major league pitchers. "Tommy John surgery" is pretty universally understood throughout baseball now. And though it might take a year of recovery and perhaps another year of building up strength and regaining form, the track record of success is pretty good.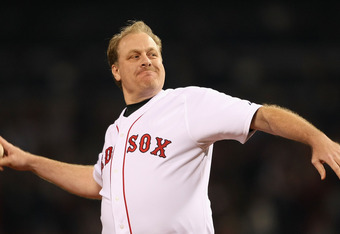 Elsa/Getty Images
What's perhaps more troubling about Schilling's contention is that he seems to be saying that Pineda will be fine if he works hard through rehab. So is this just a question of desire? Does Pineda just have to want it bad enough?
Were all of the pitchers who suffered labrum injuries, but weren't able to come back stronger, mentally weak and undisciplined? Were they just not as hungry as Schilling apparently was?
(Maybe Schilling and his ESPN colleague, Mark Mulder, could have a conversation about that. A labrum injury basically ended his career, as Marchand's article mentions.)
The situation seems a bit more complex than that. 
That's not to say that Schilling's sentiments should be completely dismissed. It might be just as wrong for virtually everyone to presume that Pineda will be out for at least a full calendar year. However, the body of evidence for that contention is quite a bit stronger.
Baseball Prospectus' Jay Jaffe compiled a list of 67 pitchers who suffered labrum injuries over the past 10 years and found a pretty low success rate for those trying to come back. But Jaffe may have also discovered a reason for potential optimism in Pineda's case. While his labrum was torn, his rotator cuff is apparently undamaged.
That, more than how Pineda might attack his rehab, might have more to do with how soon the Yankees get their pitcher back, and how effective he could be when he returns. 
Follow @iancass on Twitter