NBA Playoff Schedule: Road Teams with Best Chances to Win This Weekend
April 27, 2012

Harry How/Getty Images
The NBA Playoffs get underway tomorrow and with prohibitive favorites such as Oklahoma City and Chicago at the top of the brackets, it's hard to work up much optimism for lower seeds. Still, if recent history is any indication, at least a few clubs will steal a win on the road over the first two games of the first round.
This trio of road teams are the most likely to pull off the surprise in their series openers this weekend:
Los Angeles Clippers
Memphis earned a No. 4 seed with a win last night, and few teams had a bigger home-court edge in the 2011 playoffs. Even so, the Clippers will give them all they can handle in Sunday's opening meeting.
There's not a better player for quieting a hostile crowd than L.A. star Blake Griffin, whose momentum-changing dunks will be on display early and often against the Grizzlies. With Chris Paul at the point, there's little danger of the young Clippers panicking if the Grizzlies jump out to an early lead, so look for a close battle and (very possibly) a rare postseason success story for Los Angeles' other team.
Boston Celtics
The only higher seed opening on the road, Boston was locked into the No. 4 position by virtue of its Atlantic Division title. Atlanta, however, had the better record (40-26 to Boston's 39-27), giving them home-court advantage in the series.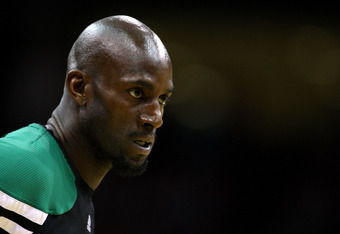 Chris Chambers/Getty Images
With Atlanta missing center Al Horford (still recovering from pectoral surgery), the Hawks will be vulnerable even on their home floor. If Ray Allen can dig down and put up the kinds of offensive numbers that were once a given from him, Boston could well come out on top on Sunday.
Denver Nuggets
The Staples Center is rarely an easy place to play for visiting teams (especially now that the Clippers are a contender, too), but Denver isn't going to roll over for the third-seeded Lakers. L.A. is playing without the suspended Metta World Peace, making a thin rotation even thinner for the first six games of the series.
Losing both depth and an elite defender is especially bad news against Denver, the league's highest-scoring offense and a team that loves to run and gun. That advantage will probably need a couple of games to really take effect, but it's not impossible that Denver could sneak in a win on Sunday.