NBC Announces 2012 Olympics Coverage Team: Costas, Michaels And..Ryan Seacrest?
April 26, 2012

Chris Graythen/Getty Images
NBC announced its coverage team for the London Olympics today (h/t TV By the Numbers), and it's a pretty ho-hum bunch.
Let's see, there's Bob Costas (yawn), Al Michaels (duh), Dan Patrick (OK...that's kind of new) and Ryan Seacrest (whhhhhaaaaaaa?!?!?!).
Yep, Ryan Seacrest will be lending his bubblegum sensibility to NBC's coverage of the 2012 Olympics—or as we should perhaps now call it, World's Got Sporting Talent.
The Seacrest news actually broke about a month ago, but seeing his name next to some of today's most venerable sportscasters drives home the bewilderment.
What the heck is Ryan Seacrest doing on NBC's coverage of the Summer Olympics?
I...I...I can't rightly tell you.
What I can do is give a quick breakdown of NBC's Frankenstein team with a bit of analysis thrown in for good measure.
Bob Costas, Primetime Host
At this point, it's more an obligation than an honor, but I'm OK with Costas as NBC's lead man. I will concede that he's grown a bit pedantic in his later years. Some of those halftime essays he does for Sunday Night Football on NBC are brutally preachy. But this is his 10th Olympics and his ninth as primetime host, according to the press release. Things just wouldn't feel right without him. So in that spirit, I will defer to the legend and overlook some of his more recent follies.
Grade: B
Al Michaels, Daytime Co-Host
You'll get no complaints from me on Michaels. His Miracle on Ice call is the greatest sound clip in Olympic history. That alone should earn him a spot on this team. Of course, those who have listened to Michaels during his time with ABC's Monday Night Football and now with NBC's Sunday Night Football know the veteran play-by-play man is much more than just a one-hit wonder. According to the press release, this will be his second Olympics with NBC.
Grade: B+
Dan Patrick, Daytime Co-Host (first Olympics)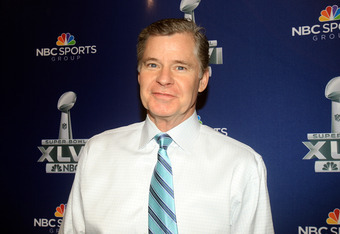 Scott Halleran/Getty Images
I love, love, love this move. More to the point, I love, love, love Dan Patrick. Anyone who listens to his radio show or reads his weekly column in Sports Illustrated knows his preternatural talent for getting athletes to say interesting things. And the man can deliver news, as evidenced by his years at SportsCenter followed by his stellar work at the anchor desk for Sunday Night Football. Next to the more straightforward Michaels, I expect Patrick to give the NBC broadcast some edge.
Grade: A
Mary Carillo, Late Night Host
I didn't realize how long Carillo has been on the Olympics beat. According to the press release, this will be her 11th time covering the Games. I've always preferred Carillo in an analyst's role, where she can opine a little, but I have no objections to her hosting. It's good to have a veteran, and a woman, on the team.
Grade: B-
Ryan Seacrest, Correspondent
As someone who comes to the Olympics as a sports fan, I'm not sure what Seacrest adds. Again, speaking for myself on that one. Perhaps Seacrest can deliver some well-rounded human interest stuff for the casual fan. Maybe he's a sportscasting savant and we just didn't know it. I'm curious to see how this works, but I'm not expecting great results. The fit just seems...off.
Grade: D
John McEnroe, Correspondent (first Olympics)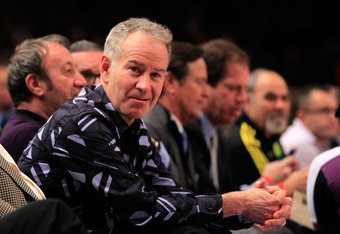 Chris Trotman/Getty Images
This is a savvy move by NBC. With the Olympic tennis tournament taking place at Wimbledon, I expect interest to spike. McEnroe can cover tennis backwards and forwards, and on the other stuff, he's an entertaining enough personality to add value. I'm in.
Grade: B+
Bela Karolyi, Correspondent
Conflict of interest alert: Karolyi's wife, Marta, is the National Team Coordinator for USA Gymnastics. That means Marta is responsible for choosing who among America's many, many qualified female gymnasts will represent the U.S. women's gymnastics team in London. If the favored U.S. team performs poorly, one can assume Marta will be in for heavy criticism. And NBC just hired her husband, presumably to analyze gymnastics. Interesting...
(I should mention that the same was true in 2008. Based on this re-hire, I'm assuming no one put up a fight.)
Other than that potential blip, Karolyi is a fine correspondent. You may remember him as the "accented-guy-who-yelled-a-lot" during NBC's Beijing coverage. It was an entertaining, if not completely comprehensible, caricature. With longer exposure, it might have been unbearable, but for two weeks, Karolyi is a nice add.
(I couldn't find any footage from Karolyi's work in 2008, but I did find this interview he gave a local news anchor. It gives you the basic Karolyi flavor.)
Grade: C+