Indiana Pacers vs. Orlando Magic Playoff Series Analysis
April 26, 2012

Andy Lyons/Getty Images
The Orlando Magic and Indiana Pacers have had very different seasons coming into the 2012 NBA playoffs.
The Magic were held hostage by the Dwight Howard saga for most of the season, as many believed Howard would be on his way out. Ultimately, Howard opted into the final season of his contract, which would keep him with the Magic until the summer of 2013.
However, they ended up losing Howard anyway. Howard's back started aching after being elbowed by Brendan Haywood of the Dallas Mavericks and he needed surgery, which will hold him out for the entire playoffs. 
Meanwhile, the Indiana Pacers came into the season having added David West and George Hill to their roster—two underrated acquisitions. They held the third seed in the Eastern Conference for a majority of the season and received less hype than the San Antonio Spurs, which is hard to believe.
At the trade deadline, they added veteran scorer and slasher Leandro Barbosa, another underrated acquisition. Once George Hill returned from his injuries, he won the starting point guard position from Darren Collison. With Hill starting, the Pacers are one of the hottest teams entering the playoffs. 
Although the season series is in favor of the Magic at 3-1, there have been recent developments that suggest this playoff series will not even be close. 
Without Dwight Howard, the Magic have lost their defensive and offensive identity. Everything the Magic did offensively and defensively was predicated on Dwight Howard being there. Whether it was "one in and four out" offense or playing like the reigning Defensive Player of the Year, Howard was at middle of everything they wanted to do offensively and defensively.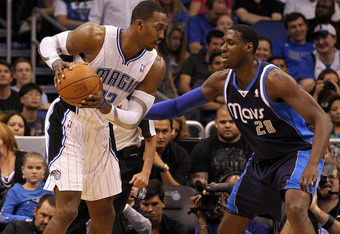 Sam Greenwood/Getty Images
Roy Hibbert is going to experience a lot more freedom without Howard in the middle. Also, Danny Granger must continue to play aggressively. When Granger is aggressive, it makes the Pacers offense that much more dangerous.  
As for the Magic, if they want to give themselves a chance to be competitive in this series, they must defend and rebound. That means limiting second-shot opportunities for the Pacers. On offense, they must slow the ball down and limit the number of possessions in the game due to having less talent.
The Magic must cherish the ball by limiting turnovers. They must play a pick-and-pop and drive-and-kick offense and hope their shooters (Anderson, Richardson, Turkoglu, etc.) get hot from the three-point line. 
Final Prediction: The Magic will truly miss the best center in the league without having any adequate backups for him. Both teams seem to be going in opposite directions and it will show when they match up this weekend.
The Indiana Pacers will likely sweep the Orlando Magic in the first round of the 2012 playoffs.