St. Louis Rams: Final Thoughts as the Draft Approaches in Less Than 24 Hours
April 26, 2012

Dilip Vishwanat/Getty Images
The 2012 NFL Draft is less than 24 hours away, as analysts and fans discuss and argue what direction teams will take.
This draft has potential to drastically alter what the St. Louis Rams look like more than any other team.
The Rams are currently on the clock with the No. 6-overall pick. They also hold two early second-round picks, an early third- and fourth-round pick, one pick in the sixth round and two seventh-round picks. The team's fifth-round pick was traded to the Denver Broncos in exchange for Brandon Lloyd last season.
Here are a couple of  thoughts as we head into the home stretch.
More Than Likely, the Rams Will Select Justin Blackmon with the No. 6 Pick
The most logical scenario to play out when the Rams are called to the podium tomorrow just after 7 p.m. is that they select Oklahoma State wide receiver Justin Blackmon, who is largely considered the best receiver in the draft.
For those who have been keeping tabs on Rams talk leading up to this year's draft, this should not come as a much of a surprise.
Blackmon has been the favorite to fall to the Rams at No. 6 since the team traded its No. 2 pick to the Washington Redskins months ago. The Rams must address wide receiver in the draft, as they failed to make a huge splash in free agency at the position once again this offseason.
He would instantly give quarterback Sam Bradford a weapon at receiver to grow with, as well as provide running back Steven Jackson with some breathing room as the team's amount of offensive weapons grows.
Steven Jackson Will Still be a Ram Heading into the 2012 Season
Speculation over running back Steven Jackson's unhappiness with his contract was floated to the mainstream days ago by NFL Network's Michael Lombardi. Then Rotoworld's Evan Silva added yesterday that the Rams will shop Jackson during the draft. All this is highlighted in a Bleacher Report article published yesterday for those of you unaware.
I slightly bought into the turmoil that may of been brewing at Rams Park.
I was wrong for doing so even just a teeny, teeny bit.
St. Louis Post-Dispatch reporter Jim Thomas wrote an article today dismissing rumors of a Jackson trade or release. If Jackson wants a new contract, the Rams are unaware of it. The Rams thinking about moving Jackson if they draft Alabama running back Trent Richardson is nothing more than an unfounded rumor.
And it all makes sense.
Speaking to the Post-Dispatch two weeks ago, head coach Jeff Fisher made it very clear how much he values running backs on his team. "I haven't devalued the running back position," Fisher said. "You're talking to the wrong person. I want as many of them on the roster as you can get."
It doesn't seem like the Rams are trying to hide their hand in moving the offensive centerpiece. It doesn't seem like Jackson is unhappy in St. Louis.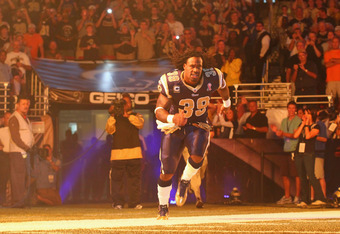 Dilip Vishwanat/Getty Images
Jackson will be a Ram in 2012.
The Opportunity May Arise for the Rams to Once Again Trade Down
The New York Jets have contacted running back Trent Richardson, creating speculation that they may move up in the draft order to grab him. Who would make sense as a trade partner? None other than the Minnesota Vikings.
It's been no secret the Vikings want to trade out of the No. 3 spot in the draft, and if the Jets want Richardson, they would probably have to jump ahead of the Cleveland Browns at No. 4 to get him.
What does this mean for the Rams?
It could very well mean that offensive tackle Matt Kalil falls to them at No. 6, who the Buffalo Bills want to trade up to draft, according to CBS Sport's Charley Casserly. The Bills would be willing to give up a second round pick in order to do so.
If Kalil would fall to No. 6 and the Rams were to trade the pick to Buffalo, then St. Louis would possess the No. 10 pick and the ninth pick in the second round from the Bills, if Casserly's report is true.
That would give the Rams picks 10, 33, 39 and 41 in the first two rounds.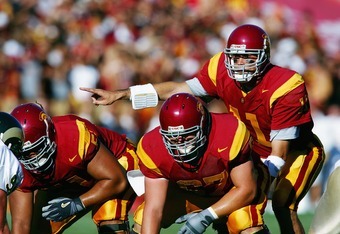 Donald Miralle/Getty Images
The Rams Could Pass on Kalil If He Falls to No. 6
USC offensive tackle Matt Kalil has been rated as one of the best offensive linemans to come out of the draft in quite some time. He would fill an obvious hole for the Rams as the team looks to protect Sam Bradford's blindside.
However, even if Kalil were to fall to the Rams at No. 6 and there were no trade partners available, St. Louis could pass on the USC product.
Some may consider this foolish. Yet Rams offensive tackle Jason Smith agreed to reconstruct his contract earlier this week that still leaves St. Louis paying him $4 million for the 2012 season. That's not exactly chump change for an offensive lineman, and left tackle Roger Saffold will look to continue his rookie success as he recovers from injury.
Drafting Kalil could make Saffold available somewhere else on the line. However, with many other needs on the team, the Rams could see a much improved offensive line in 2012 with a healthy Smith and Saffold.
Rams Could Snag Jenkins in Second Round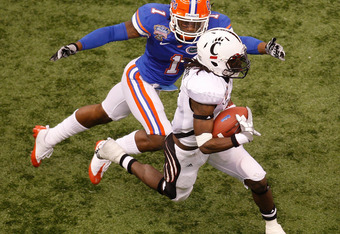 Chris Graythen/Getty Images
The Rams could have the bad-boy duo at cornerback for the next several seasons if they wish to use a second-round pick on North Alabama's Janoris Jenkins.
Is he a first-round pick, a second-round pick—a third-round pick?
Jenkins is a first-round talent corner that has seen his draft stock slip after multiple arrests, and being kicked off Florida's squad.
Not only has his stock fallen, but he is completely off several NFL team's boards. He will likely not go in the first round, leaving him available to the Rams with one of their early second-round picks to pair with the newly signed Cortland Finnegan.
The North Alabama cornerback coming to the Rams is not exactly an absurd thought. The Rams have already met with Jenkins, plus it's not like head coach Jeff Fisher has stayed clear of troubled players in the past.
Best Case Scenario, Trent Richardson Falls to the Rams
It is more likely than not it won't happen, but in my opinion the best scenario for the Rams is Alabama running back Trent Richardson falling to No. 6. It would have to leap several hurdles to happen, but Richardson has potential to be an elite NFL player.
Fans don't want to throw in the towel on upcoming seasons—and I'm not advocating that whatsoever—but reality has to sink in sometime that the Rams won't likely challenge the San Francisco 49ers for the NFC West this upcoming season.
Steven Jackson is an unrestricted free agent after next season, so giving Richardson two years to work under Jackson's mentoring would be ideal. Not to mention that running back would be a threat to reckon with for opposing defenses for the next two seasons.
Having Richardson in 2014 and several seasons after that would produce more for the Rams offense than Justin Blackmon.
Happy Draft Day, Rams Nation!
Justin Gibson covers the St. Louis Rams for Bleacher Report all year. Follow him on Twitter.