UCLA Basketball: Why No Love for Bruins Recruit Jordan Adams?
April 27, 2012

The picture that began gathering steam on Internet message boards and Twitter following coveted center Tony Parker's decision to attend UCLA next season seemed a bit off.
Shabazz Muhammad, Kyle Anderson and Parker, all top-30 recruits (according to Rivals), were standing next to each other, looks of confidence on their faces.
Each was sporting the same blue UCLA sweater, striking a pose that appeared for all the world to say, "Get ready for a fun 2012-13 season in Westwood. UCLA basketball is back."
But something, or rather someone, was missing.
The fourth member of UCLA's 2012 class, and the first to commit to Ben Howland—top-100 recruit Jordan Adams, a highly-regarded shooting guard and Georgia native, who most recently attended prestigious Oak Hill Academy in Virginia—was nowhere to be found.
ESPN had him ranked as high as the 38th best overall recruit nationally back in March. You'd think fans wouldn't forget about a talent like that too easily.
But it appeared they had.
Muhammad began retweeting numerous hyperbolic peals of joy in response to Parker's commitment.
Most tweets included only Muhammad, Anderson and Parker's twitter handles (Adams has his own account, as well: @jordanadams1231), accompanied by messages christening UCLA a sure-fire bet for glory next season.
The excitement generated from a big-time commitment is to be expected, but to completely neglect a key member of next season's recruiting class seems a bit bizarre.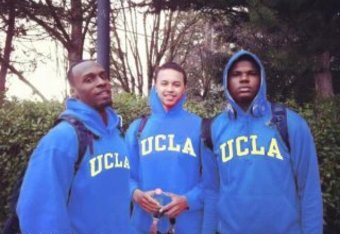 Adams, who has a sweet stroke that extends beyond the three-point line and is listed as an "aggressive scorer" by the recruiting gurus at Scout, will likely play some important minutes next season.
Anyone who can put the ball in the net will have a chance to do so, given UCLA's well-documented struggles in the scoring department this past season.
The Georgia boy was the first real dividend that emanated from Howland's hiring of longtime AAU coach Korey McCray as a UCLA assistant last summer (Adams played for the Atlanta Celtics, the team McCray had coached most recently before coming to Westwood).
Adams committed to UCLA back in June, 2011—just weeks after McCray was hired to the coaching staff. Since then, he's flown under the radar as the Bruins have enjoyed commitments from some of the top recruits in the nation.
Why, though? It's not as if a top-50 recruit is some overwrought slouch.
It's high time UCLA fans began giving him some long-overdue attention.
He's certainly not backing away from what will be a very bright spotlight fixed upon Pauley Pavilion next season. Rather, Adams has said he is relishing that opportunity to restore UCLA to the glory it deserves.
His professed goal for next season is "To get significant minutes as a freshman, win the Pac-12 Championship, and get to the Final Four again."
UCLA fans must crack a smile at that kind of talk. Now they should start tapping some keys—whether on a Blackberry or iPhone or Android screen—and let Jordan Adams know he is appreciated.