NBA Free Agency 2012: 5 Under the Radar Targets for the Boston Celtics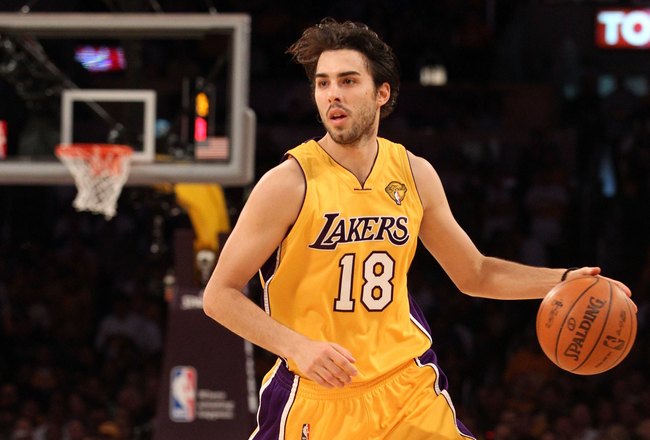 Ronald Martinez/Getty Images
With the 2012 NBA regular season coming to an end, very few in the Boston Celtics community are thinking about the offseason. Fortunately for those who are, I'm right there with you.
The Celtics could potentially lose Kevin Garnett, Ray Allen, Brandon Bass, Keyon Dooling, Marquis Daniels, Mickael Pietrus, Sasha Pavlovic and Greg Stiemsma. In other words, Beantown is set to lose two of their stars and six of their most important rotational players.
Rebuilding, however, is not an option.
While many will outline the big-name players that the Celtics can bring in to boost their title chances, it's often the role players who make the biggest difference. Here are a handful of under-the-radar players who could do just that.
Ivan Johnson, Atlanta Hawks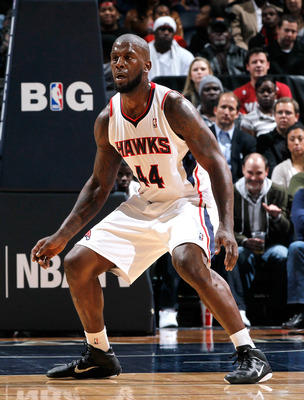 Kevin C. Cox/Getty Images
Player Traits: Forward, 28 years old, 6'8" 255 pounds
If you haven't seen this guy play, you're missing out on one of the most exciting players in the NBA.
Johnson is a 28-year-old rookie who is as explosive as anyone on the Hawks' roster. He plays above the rim, blocks shots with the best of them and crashes the boards better than most players who are three or four inches taller than him.
In Boston, Johnson would offer the Celtics a slashing big man who would offer diversity to the current jump-shooting group. He's also capable of putting up double-doubles when given the playing time, evidenced by his three over the second half of the season alone.
Don't let his season averages fool you, either. He's just recently receiving playing time. Evidence of such are his statistics over the month of April, as he's averaged 10.8 points, 5.9 rebounds and 1.4 steals in 24.7 minutes per game. He's also shooting 57.5 percent from the field.
Season Averages: 16.6 MPG, 14.14 PER, 6.3 PPG, 4.0 RPG, 50.9% FG
Jonny Flynn, Portland Trail Blazers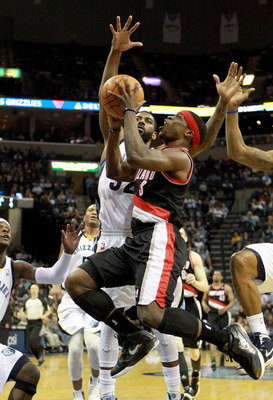 Andy Lyons/Getty Images
Player Traits: Point Guard, 23 years old, 6'0" 185 pounds
Jonny Flynn has been a disappointment since entering the league in 2009, failing to live up to his lofty potential. Nevertheless, he is just 23-years-old and has shown plenty of promise since being traded to the Portland Trail Blazers. So much so that his value as a low-cost reserve should be explored by the Boston Celtics.
While Rajon Rondo is in no need of a drop in minutes, the reserves behind him are rather thin. E'Twaun Moore will hopefully take strides in year two, but why not offer him a partner on the second line? Flynn would do just that.
Worst comes to worst, a one-year deal doesn't work out. Best case scenario, however, is having one of the league's best reserve point guards as Flynn finally reaches his potential. Wait and see.
Season Averages: 13.6 MPG, 10.00 PER, 4.0 PPG, 3.0 APG, 1.2 RPG
Omer Asik, Chicago Bulls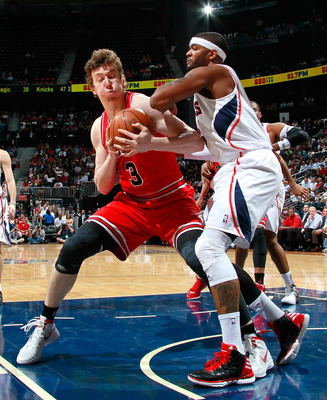 Kevin C. Cox/Getty Images
Player Traits: Center, 25 years old, 7'0" 255 pounds
While it's hard to imagine the Celtics passing up on re-signing Greg Stiemsma, Omer Asik should be considered a viable option. He's the same type of high motor, low minutes yet high-production type of player that Stiemsma is. While Stiemsma is more polished on the offensive end than Asik, this is the type of effort player that the Celtics should be targeting.
Should the Celtics manage to re-sign Stiemsma or a high-profile center, Asik should remain an option. His 40 minute average for rebounds is 14.1 and his blocks per game is at 1.0 despite playing just 14.7 minutes a night.
This would be a major boost to the Celtics' thin frontcourt.
Season Averages: 14.7 MPG, 13.33 PER, 3.1 PPG, 5.2 RPG, 1.0 BPG
Robin Lopez, Phoenix Suns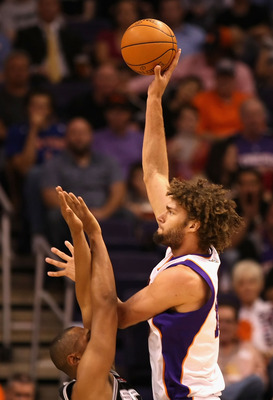 Christian Petersen/Getty Images
Player Traits: Center, 24 years old, 7'0" 255 pounds
Robin Lopez is not the offensive powerhouse that his brother Brook has become recognized as, but he's a strong defender who doesn't require much playing time to put a solid game together. He can rebound well, block shots and even plays with a high motor. He's one of those players whose contributions stretch well beyond a stat line.
In Boston, Lopez would offer the Celtics a seven-footer whose size alone could change their defensive strategy. He's long and strong, thus finding himself capable of blocking shots and controlling the glass for short periods of time. While he won't put up 10 points per game, he's more than capable of throwing down a few dunks on a pick-and-roll or two.
In other words, Lopez is a perfect fit down low in Beantown.
Season Averages: 13.8 MPG, 15.03 PER, 5.4 PPG, 3.2 RPG, 0.9 BPG
Sasha Vujacic, Free Agent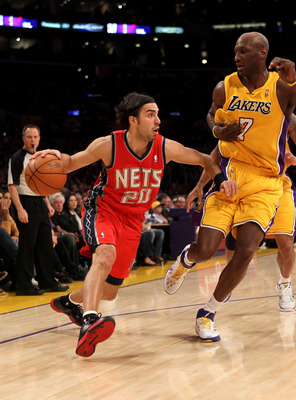 Stephen Dunn/Getty Images
Player Traits: Shooting Guard/Small Forward, 28 years old, 6'7" 205 pounds
Sasha Vujacic was one of the players who decided to play internationally during the NBA lockout, signing a deal in Turkey that contained a no opt-out clause. As Kurt Helin of NBC Sports reports, however, Maria Sharapova's man is interested in returning to the NBA.
For the Boston Celtics, this is a move that they should watch closely.
With virtually nothing but Avery Bradley remaining at the 2, as well as questionable depth behind Paul Pierce at the 3, Vujacic would be the quintessential fit in Boston. He's never turned the ball over too much and has always been a talented three-point shooter. He's also a two-time NBA Champion.
A player to keep your eye on as free agency approaches.
2011 Season Averages: 24.6 MPG, 12.35 PER, 9.8 PPG, 2.8 RPG, 2.0 APG, 0.9 SPG
Keep Reading

Boston Celtics: Like this team?