Booing Jose Reyes? New York Mets Fans Should Boo Ownership Instead
April 25, 2012

Al Bello/Getty Images
No one ever said fans had to be rational or well-informed. We cheer for the players wearing the jersey of the team we've chosen to support, for whatever reason. And we boo the players matched up against our guys. 
Booing a player who used to play for your team but now plays for the visiting opponent is an easy impulse.
He left us for someone else! He didn't want to be a part of our community anymore! He just took the money! 
Sometimes, those accusations apply. But often, they're an over-simplification of the truth.
Jose Reyes returned to Citi Field as a member of the Miami Marlins Tuesday night to play his old team, the New York Mets.
In a classy gesture, the Mets played a video tribute for their former player, essentially thanking him for nine years of service and acknowledging the excitement he brought to Queens during that time.
But as could be expected, many Mets fans did not join in the hugs and kisses for their old shortstop. During the pregame tribute and throughout the game when he was at bat, Reyes was booed by a good portion of the Citi Field crowd. He wasn't booed by everyone, it should be pointed out. But the boos were louder than the cheers.
Fans are fans, and they follow their passions. They can express their feelings as they please. But to boo Reyes was completely misguided. 
He didn't spurn the Mets. The team didn't offer him a contract. Reyes confirmed that before Tuesday night's game.
""If they don't make me any offer, that means they don't want me to play here," Reyes told reporters. "That's why I play for another team now."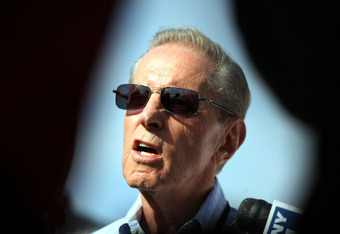 Marc Serota/Getty Images
Of course, that's an oversimplification, too. It's not necessarily that the Mets didn't want Reyes to play for them anymore. But they were either unwilling or unable to pay Reyes' market price.
Owner Fred Wilpon made it clear to the New Yorker's Jeffrey Toobin that he didn't want to pay Reyes "Carl Crawford money." However, Wilpon may have taken that stance because the team's finances were crippled by his involvement with Bernie Madoff and that kind of money wasn't available to pay Reyes.
So if Reyes wasn't even offered a contract by a team in no position to pay him, why should he be booed for going to another team willing to pay him what he's worth? If Mets fans should boo anyone, it's Wilpon. Or general manager Sandy Alderson, who lopped $50 million off the team's payroll. 
Reyes was the easy target, of course. He was there on the field to receive reaction from the crowd. He was wearing the visiting team's uniform. It was like seeing your ex-girlfriend or boyfriend with their new companion. Painful and awkward. No one really wants to face that.
Anyone who might argue that Reyes would've taken less money from the Mets if he really wanted to play for them apparently hasn't been watching professional sports recently.
Reyes is 28 years old. This was probably his one chance to really cash in. Was he supposed to turn down $106 million? There was no counter-offer to present him with a choice.
Kudos to the Mets fans who cheered Reyes for the nine years he played with their team, for giving them some incredibly exciting baseball in the majors to watch. If the triple is the most thrilling play in the sport, Reyes provided almost 100 of them for Mets fans to witness.
Deciding to play for another team and returning to Citi Field in another uniform doesn't change that.