Stanford Routt: Why New Kansas City Chiefs Cornerback Will Improve
April 25, 2012

Peter Aiken/Getty Images
Although the Kansas City Chiefs could not retain cornerback Brandon Carr, they were lucky to have already signed former Oakland Raiders cornerback Stanford Routt.
In less than a year after signing Routt to a five-year deal worth $54.5 million, the Raiders released Routt this offseason. With previous general manager Al Davis signing Routt to this deal, new Raiders general manager Reggie McKenzie believed that Routt was not worth the money.
McKenzie does not believe Routt was worthy of being the Raiders top cornerback after leading the league in penalties last season with 17. Chiefs fans see some positives in Routt but fear his penalty woes could carry over to Kansas City.
Chiefs head coach Romeo Crennel knows that Routt has a lot of room for improvement. Crennel knows that he is a player who he will have to work with to make sure he avoids having officials throw the yellow flag his way in 2012.
Many Raiders fans don't fear Routt's divisional jump to the Chiefs and find it more beneficial for their team, believing that Routt will continue to receive penalties.
There is no secret that Routt has one small problem that could prevent him from being considered a top-10 cornerback in the league. But if Routt is looking to improve, Kansas City is the right place for him.
Routt is going to play for Crennel, who is also the team's defensive coordinator this year. Like every defensive player in the NFL, Routt has a lot of respect for Crennel for all of his defensive accomplishments in the NFL.
Routt could follow the path of Derrick Johnson and Tamba Hali, who established themselves as elite players in their positions when Crennel became their defensive coordinator.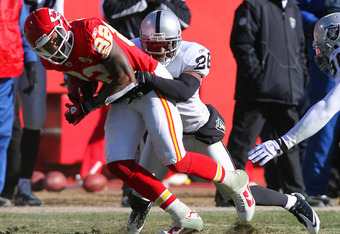 Tim Umphrey/Getty Images
Better yet, Routt's defensive backs coach is Emmitt Thomas. As a former Super Bowl champion and a Hall-of-Fame cornerback, Thomas has a great understanding of the game and helped pass his knowledge to Brandon Flowers and Carr, helping them improve along the way. Thomas also holds a great amount of credit for helping Eric Berry shine during his rookie season.
It is certain that Routt can become a better player under Crennel and Thomas. But the biggest impact those two coaches can make on his playing career is by helping him mature and put those penalty woes aside.
Routt spent seven years with the Raiders and played in 110 games. He registered 10 interceptions in his career with three of them coming against the Chiefs. Routt's best season came last year where he came away with a career-high four interceptions.