Manchester United: Time for Wholesale Changes at Old Trafford, Part 2
Mike Hewitt/Getty Images

In Part 1, we considered which players might leave Old Trafford this summer, including on loan.
If the Everton collapse showed one thing, it was the urgent need to refresh the squad. Scholes looked jaded long before he was taken off; Evra and Rafael looked vulnerable. If United are to continue the extraordinary progress they are making during this transition, many changes will have to be made.
David Gill has already confirmed that this summer is likely to be one of the most active ever, as we predicted in Part 1.
In truth, Sir Alex's tactical genius, substitutes timing and ability to influence the shape and direction of a game all looked under pressure in that last 10 minutes on Sunday. Apart from the need to refresh the squad for the next five years, he needs to take the spotlight off himself, especially if City prevail...
As we indicated previously, several players are likely to leave this summer. The established players create flexibility to add new, top-quality signings.
Those that leave on loan, or don't have their contracts renewed, make room for players coming back from loan or prospects coming through from the Academy who have not yet featured in the first-team squad.
A key factor is when a player turns 18, because then United will have to consider what sort of contract to offer, if any. This is why Paul Pogba and Zeki Fryers have been targeted by the media. Sir Alex wants to sign both on long-term senior contracts, together with others such as Michael and William Keane whether or not they then go out on loan.
The alternative would be to see them snapped up by other clubs for derisory fees such as the estimated £200,000 that United might expect to receive for Pogba.
One final factor which we have touched on is the needs and demands of other clubs. Two or even possibly three clubs may get promotion to the Premier League that have not been there recently. They will need larger squads and sensibly will target loan deals until or unless they are established.
By the same token, other established clubs are rebuilding or extending their squads, and yet others expect to see players poached, such as Nathaniel Clyne, Victor Moses, Adel Taraabt, etc.
So as well as possible outlets for United loanees—or even other players such as Kuszcak and De Laet—there will inevitably be competition for United targets from Arsenal, Chelsea and City to name but three.
The purpose of this article is to consider the likely shape of United's squad going forward and the consequent challenges and opportunities these present, starting with squad size and shape.
Begin Slideshow

»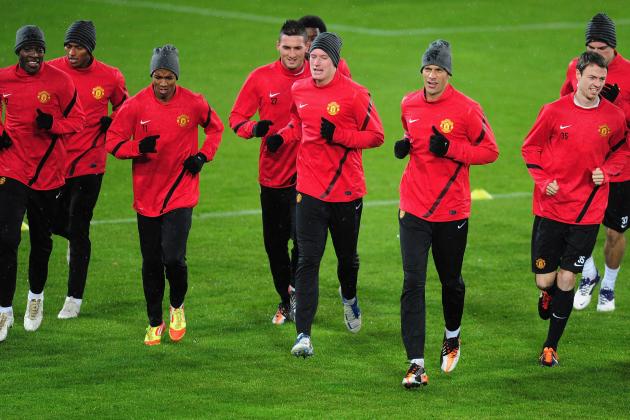 Jamie McDonald/Getty Images

Some people may be surprised to learn that Manchester United have 38 players in their first-team squad, as listed on their website, but even this disguises what the true current squad is.
Some players are on loan, and others, listed in the reserves squad, have been registered during the season, either for the Premier League or Europe.
The full list of those currently registered for the Premier League, taken from the Everton match-day programme, is:
De Gea
Lindegaard
Amos
Evra
Jones
Ferdinand
Evans
Smalling
Vidic
Fabio
Rafael
Vermijl
Keane (Michael)
Thorpe
Fryers
Anderson
Giggs
Park
Carrick
Nani
Young
Scholes
Cleverley
Fletcher
Valencia
Pogba
Cole
Lingard
Owen
Berbatov
Rooney
Hernandez
Welbeck
Keane (Will)
In addition, if all the players currently on loan are included, the list would be augmented by:
Macheda
Kuszcak
Bebe
Norwood
King
That means that in theory, United could start next season with a squad of 39 players.
That's not going to happen. We already have some hints as to who won't be here, including Berbatov, Bebe and Fabio, whether on loan or permanently sold.
When we come to consider the future shape of the squad and who United might sign, there are short, medium and longer-term considerations, say one, three and five years.
For the rest of this article, we shall look at squad flexibility under UEFA regulations and the challenges and needs that are likely to be thrown up.
This will form the basis for Part 3, where we shall consider the likely summer 2012 transfer policy and possible signings.
One thing is for sure. Sir Alex and David Gill are not likely to hang around long after the season starts before commencing the wheeling and dealing, some of which will surely be underway.
To take just one example, nobody anticipated the signing of Javier Hernandez two summers ago because it was kept a closely-guarded secret. Sir Alex wrapped up the transfer quickly because he was concerned that both competition for his signature and the fee would increase during the World Cup.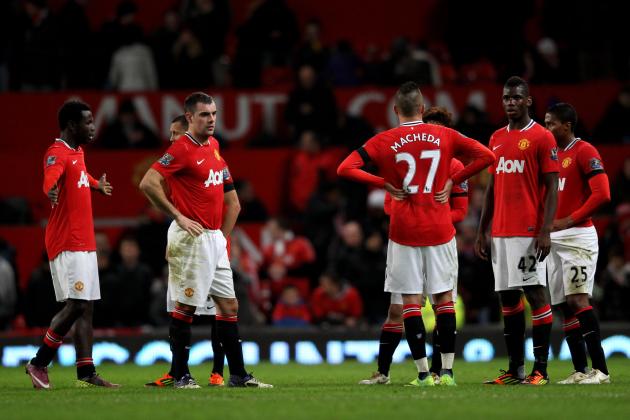 Alex Livesey/Getty Images

Sir Alex uses these Cup matches to blood young players. Unfortunately, the policy doesn't always work.
While in 2009, but for a dodgy penalty decision, a team infused with youngsters like Danny Welbeck would have reached the FA Cup Final, the defeat by Crystal Palace this season is just one of a few unacceptably poor displays that have cost the club at the expense of youth advancement.
The simple fact is that United can field any registered player of any age in these Cup matches. Danny Welbeck was barely 18 when his legitimate penalty appeal was turned down.
So apart from the opportunity to see who is likely to make it as a Manchester United player, the FA and Carling Cups place no real constraints nor provide any indication as to how the future United EPL and ECL squads might shape up and what their needs will be.
On the other hand, recent Cup performances may very well have shaped the likely future careers of players such as Bebe, who is not going to be pulling on an AON shirt again in his life despite his £7 million price tag. If there is a worse piece of transfer business in all of Sir Alex's time at Old Trafford, I should like to know.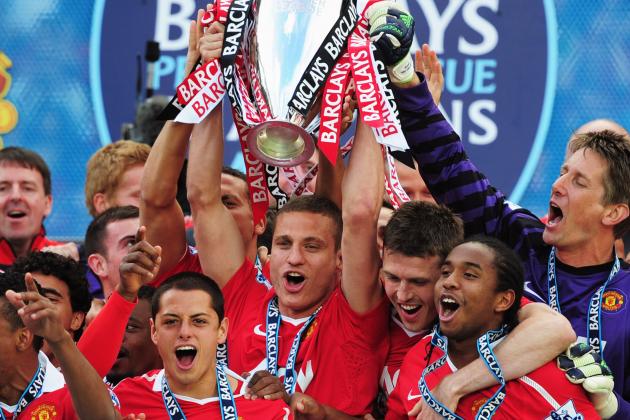 Shaun Botterill/Getty Images

The squad rules for the Premier League and the Champions League are identical, but this does not mean that the squads are the same.
Basically, you can register a squad 25 players, of whom at least eight must be "homegrown" (i.e. they can come from anywhere, but must have been registered with the FA for at least 36 months before their 21st birthday).
Of the current squad, the following qualify as homegrown:
Evans, Giggs, Welbeck, Fabio, Rafael, Scholes, Cleverley and Amos, together with Michael and William Keane, Thorpe, Fryers, Pogba, Cole and Lingard, who will all qualify after July 2012.
To those, you can add Johnstone, James and Petrucci from the European squad.
So depending on who goes out on loan and who graduates from the Reserves, United will have no difficulty meeting that constraint.
In addition, you can have as many under 21 players as you want in either the EPL or ECL squads.
We've seen the current EPL squad earlier. Of those listed against Everton, I expect the following to leave in the summer:
Berbatov
Owen
Anderson
Park
Fletcher (due to retirement)
Fabio (loan)
Vermijl (loan)
Thorpe (loan)
Cole (loan)
Lingard (loan)
Michael Keane (loan)
In addition, of those listed on the website, I expect the following to leave:
Kuszcak
Macheda
De Laet
Norwood
King
Brady
Bebe
Finally, for reasons described in Part 1, I believe Vidic and Ben Amos may leave permanently. If Amos gives it one more season to try and establish himself, I would expect Sam Johnstone to go on loan.
Ben Amos is 22, and although he has had more chances due to Lindegaard's injury, he nearly left last summer, and Johnstone would be a good replacement, having already played 21 times for England at levels up to Under 19. He also went on loan to Scunthorpe this season, for whom he featured 10 times.
So that creates between 11-13 potential vacancies in the EPL squad to accommodate new signings or loanees returning. In addition, there would be a further seven gaps in the pool of players to choose from.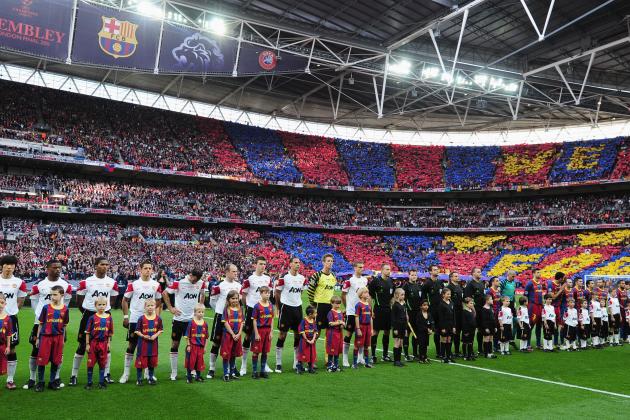 Laurence Griffiths/Getty Images

Manchester United's European squad has some variations from the Premier League squad. This is for a number of reasons.
Most notably, Ferguson likes to give up-and-coming players experience in Europe. In addition, some players have a style better suited to European competition, while others are not yet ready.
It also enables Sir Alex to feed his squad rotation, provided the players are eligible to play (having not played for any other club in the competition in that season), thereby keeping more on their toes and hungry for the first team.
The squad registered for the league section of the competition in 2011/12 was different to the Premier League squad in the following respects:
Johnstone, De Laet, Matty James and Davide Petrucci were included, while Thorpe and Lingard were excluded.
At least United won't have any trouble qualifying for the ECL this year, unlike some of their illustrious competitors, most notably Chelsea and Liverpool.
Champions League qualification is not only a strong incentive when United are looking to sign players, but ultimately, it can be a key factor in persuading certain players to stay.
In this respect, Juan Mata, Gareth Bale and Luis Suarez could be frustrated enough to reconsider their position at Chelsea, Tottenham and Liverpool, respectively. For the latter two especially, it could be a long haul back which they are not prepared to face.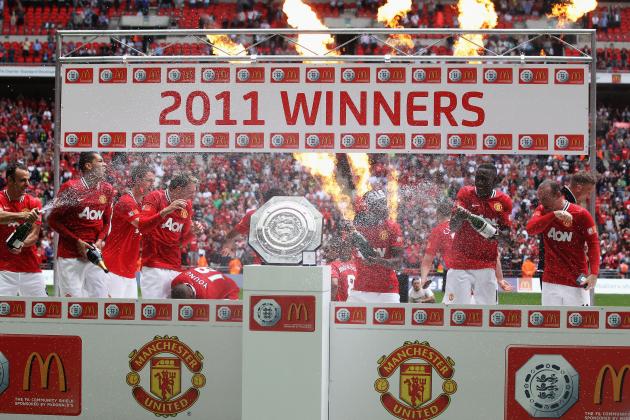 Clive Rose/Getty Images

Obviously, for any first team match, Manchester United field a team of 18, including substitutes.
Sir Alex likes to rotate, however, so allowing for this, his best 25 are probably:
De Gea
Lindegaard
Evra
Fabio
Vidic
Ferdinand
Evans
Rafael
Jones
Smalling
Carrick
Scholes
Nani
Young
Valencia
Giggs
Cleverley
Anderson
Fletcher
Park
Rooney
Welbeck
Hernandez
Berbatov
Owen
Of these, I am expecting Fabio, Anderson, Fletcher, Park, Berbatov and Owen to leave or retire this summer, with the possibility of Vidic going also.
So for starters, that creates at least six vacancies in this "select" group for established players, irrespective of the wider squad considerations.
This would influence the type of signing and their age or experience, together with the perception of any weaknesses or the need for cover in the squad. 2011/12, has been a salutary lesson in this last respect, given the extraordinary number of injuries, especially in defence and midfield.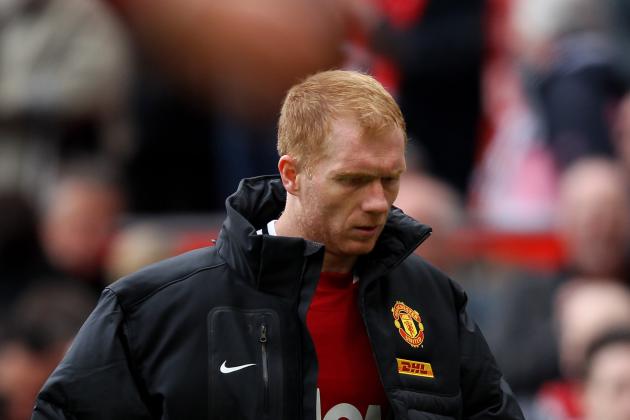 Alex Livesey/Getty Images

The Everton match showed that Paul Scholes cannot be expected to play two matches a week, nor 90 minutes of any "high-tempo" match. He should have been substituted by Jones after an hour.
The obvious weakness that everybody has been talking about for two or three years is in midfield.
First, Roy Keane was never replaced; Darren Fletcher was converted to a holding midfielder and latterly, Carrick has also fulfilled this role. There is a crying need for a specialist here, irrespective of the development of Ryan Tunnicliffe or the potential of Phil Jones.
Scholes himself must be replaced in some way. With Michael Carrick able to play further forward, being replaced by a holding player, the passing void can be filled to some degree, and Carrick, like Scholes, is calmer than most in a crisis.
Ryan Giggs will be easier to replace, but he is not a central midfielder. He should be played only out wide or in the hole behind a central striker because his distribution is suspect.
Nemanja Vidic's injury showed up significant weakness in central defence until Ferdinand and Evans matured as a partnership, but the Everton match raised question marks here also.
In addition, despite Rafael's many appearances to date, both he and twin brother Fabio need further development. While Fabio is going on loan to Benfica to mature as a possible longer-term replacement for Evra, Rafael will need augmentation at right back for important matches until his own occasional immaturity is resolved.
Some of the cover can come from within the squad. Cleverley is expected to be a regular first choice next season in midfield. Both Jones and Smalling can play right back; Jonny Evans and eventually Zeki Fryers can play left back.
The departures I expect to see will leave holes in every area, however. It might at first sight seem that defence is best resourced, especially if Vidic stays, but there is, in my opinion, a need for at least one defender.
As with other parts of the squad, Sir Alex will look for certain characteristics. Apart from personal demeanour on and off the pitch, pace, technical skill, versatility and flexibility will be paramount; otherwise, he might as well stick with the likes of Ji Sung Park and some of the talent coming through the reserves.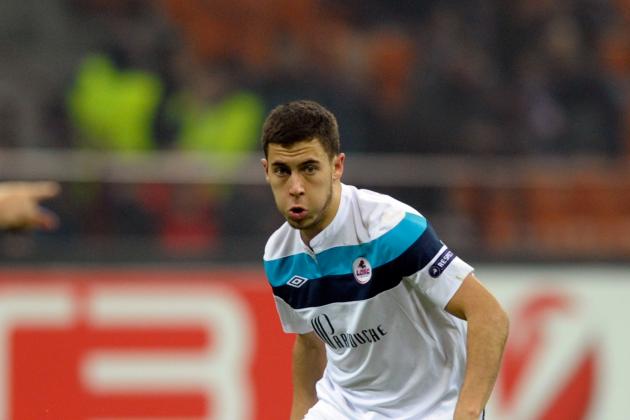 Claudio Villa/Getty Images

Starting with the eight "'homegrown" players in both squads, United will have no difficulty meeting this criterion for the next five years at least despite the retirement of Ferdinand, Giggs, Scholes and Fletcher.
In addition, Sir Alex will have a fluctuating luxury of numbers in the under-21 category depending on who is out on loan at any one time. It is also possible that he will sign at least one external recruit into that age category, but who might only qualify for one year at most.
So the key challenges come in the core first team squad. This year has shown that 25 is a bit tight when you have an injury crisis.
The younger players will be a year older. Over the next three years, several are likely to establish themselves in the "elite" from whom the big match 18s will be chosen, especially the Champions League squad that has performed so badly this year. Paul Pogba and Zeki Fryers are just two of those.
On the other side of the coin, while he is building for the future, not all of his top players can be replaced from within. In addition, even if they all stayed, Evra, Vidic, Carrick, Park, Scholes, Fletcher and Giggs would all retire or leave within the next three to five years.
Ferdinand, Giggs and Scholes I would demote to squad players next year for the Premier League while retaining them at the heart of the Champions League and Cup squads to nurture the less experienced youngsters.
Sir Alex is in the middle of a long-term rebuilding process. He has made a good start, but he won't want to be left like Chelsea with a bunch of "pensioners" all leaving at the same time!
So, in general, and depending on who goes out on loan next season, Sir Alex could accommodate up to 40 players available for either of his Premier League or Champions League squads.
At the core, however, and depending on his ability to unload his unwanted squad players, he could sign up to nine new players over the next two years, of whom even five or six could come in this summer.
The needs to be covered include possibly two defenders, three midfielders and at least one striker depending on whether Will Keane goes out on loan and/or Macheda is sold.
Next time, we shall consider which players Sir Alex should sign and will conclude with the likely makeup of the key squads for 2012/13, but with an eye to the next five years.