Fantasy NASCAR Picks for the Capital City 400 at Richmond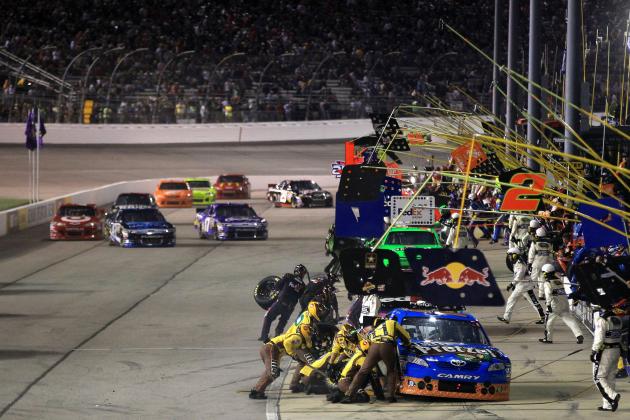 Streeter Lecka/Getty Images

The NASCAR Sprint Cup Series will travel to Richmond International Speedway this week for the Capital City 400.
My fantasy NASCAR team performed well at Kansas Speedway, and I am looking to build upon that success in this week's race at Richmond.
The pre-race stats pointed to Jimmie Johnson and Greg Biffle dominating the race in Kansas. Both drivers finished in the Top Five, but Denny Hamlin came through as the surprise winner. Hamlin will be a popular pick this week in Richmond.
I started Jimmie Johnson, Martin Truex Jr., Kasey Kahne, and Sam Hornish Jr. in the Yahoo Fantasy Auto Racing game. The lineup was good enough for 344 points (2,380 total points for the season) and kept my team in the top One Percent of Yahoo Fantasy Auto Racing players (Ranked No. 293 overall out of 205,000).
For the Fantasy Live game, I started Jimmie Johnson, Greg Biffle, Carl Edwards, Kasey Kahne, and Sam Hornish Jr.
My team performed well in the Fantasy Live game. I scored 246.5 points last week which gives me 1,934.5 points for the season. My team is ranked No. 3,439 overall in the Fantasy Live game. I still need some work in the Fantasy Live game, but I plan on breaking through the Top 1,000 in the next two weeks.
Here are my picks for the Yahoo Fantasy Auto Racing game and NASCAR Fantasy Live played on nascar.com…..
Begin Slideshow

»
Drew Hallowell/Getty Images

The most important thing to know about your fantasy NASCAR team this week is that the race will be run on Saturday night. This means fantasy NASCAR teams in the Yahoo Fantasy Auto Racing game must be selected by Friday morning. There will not be any practices before the roster deadline.
I will provide my picks in this article, but do not forget to head over to my Fantasy NASCAR Tips page on facebook for all of the updated information. You can also see 11 other experts' picks for the race.
Here are my selections for the Yahoo Group A:
Denny Hamlin
Denny Hamlin is the driver which must be on every fantasy team for the race at Richmond.
Hamlin is coming off his second win of the season, and all of the stats point to him going to victory lane in back-to-back weeks.
Hamlin has two wins, six top-five finishes, eight top-10 finishes and two poles at his home track. He has a series-best 6.1 average running position, series-high 506 fastest laps run and a series-best 116.912 mph average green flag lap speed. His 5.75 average finishing position in the last four races at Richmond is the third-best.
Hamlin has a great chance to win the race Saturday night.
The selection of my second Group A driver was the hardest decision I had to make for my team this week. When I analyzed the data for the race I had to decide if I would go with Kyle Busch who is the three-time defending champion of the spring race at Richmond, or go with Kevin Harvick who has been solid in 2012 and has a good history at the track.
I am worried about Busch this week because he has not performed well on the two short track races this year. Busch finished No. 32 at Bristol and No. 36 at Martinsville. Harvick was better but not by much. Harvick finished No. 11 at Bristol and No. 19 at Martinsville.
The history Busch has at Richmond is simply amazing and too good to pass up. Busch has three wins, 11 top-five finishes, 12 top-10 finishes and one pole at Richmond. His average running position of 7.6 is third-best. His average green flag speed of 116.883 is the second-best.
Busch knows how to get around the racetrack at Richmond. If he does not perform well this week, he may never perform well all season.
Other good picks: Kevin Harvick, Matt Kenseth, Jimmie Johnson and Tony Stewart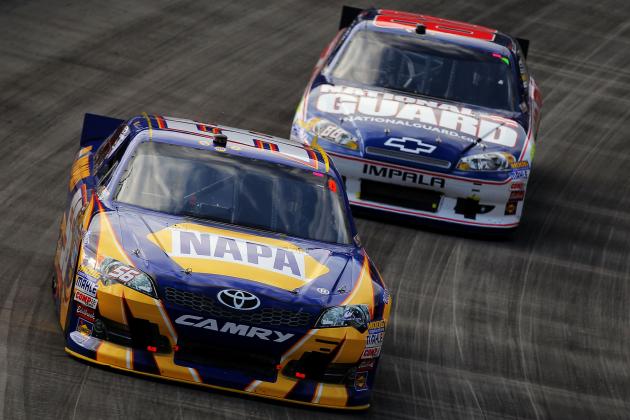 Justin Edmonds/Getty Images

There are many good drivers to select from in Group B this week.
It would be easy to keep using Greg Biffle each week, but Roush-Fenway Racing has not performed well at Richmond. A Ford has not won a race at Richmond since 2006. Matt Kenseth is the only driver from Roush-Fenway Racing that has won a race at Richmond—he won in 2002. Biffle is 0-for-56 at short tracks in his career.
Here are my selections for Yahoo Group B:
Ryan Newman
Newman is by far the best pick in Group B this week.
On the two short track races in 2012 (Bristol and Martinsville), Newman has an average finish of 6.5, led 12 laps and has one win.
In his career at Richmond he has one win, five top-five finishes, 12 top-10 finishes and one pole. His 11.5 average finish at Richmond is fifth-best of any driver in the field. He has made 422 green flag passes which is the third-most.
Newman should finish inside the Top Five Saturday night.
Martin Truex Jr.
Martin Truex Jr. does not have a strong history at Richmond, but he has performed well on the short tracks this season. Truex finished No. 3 at Bristol and No. 5 at Martinsville. He is one of the hottest drivers in the sport right now. He did everything but win the race last week at Kansas Speedway.
Although Truex has a career average finish of 21.5 at Martinsville, I still think he will perform well this week.
Mark Martin
I selected Mark Martin for my team this week for one reason: for him to win the pole. Martin has a history of starting up front at Richmond, and he did win the pole at Phoenix. I am hoping he can do it again.
Martin has one win, 17 top-five finishes, 28 top-10 finishes and four poles at Richmond. His average running position of 13.5 is eighth-best.
Martin will finish in the Top 10 this week.
Could this be the week? Will this be the last time I ask: Will Dale Earnhardt Jr. break his winless streak this week? I hope so!
I am by no means a Earnhardt fan. I enjoy watching him race, but I usually end up cheering for all 43 drivers throughout the season. That is just part of fantasy NASCAR. I want Earnhardt to win so we can stop talking about how long it has been since he won a race.
If Earnhardt was ever to break his winless drought, Richmond is the place for him to do it. Earnhardt has three wins, eight top-five finishes and 10 top-10 finishes.
I would not be surprised to see Earnhardt give Hendrick Motorsports their 200th victory and break his winless streak all in the same night.
Other good picks: Clint Bowyer, A.J. Allmendinger, Kasey Kahne, and Greg Biffle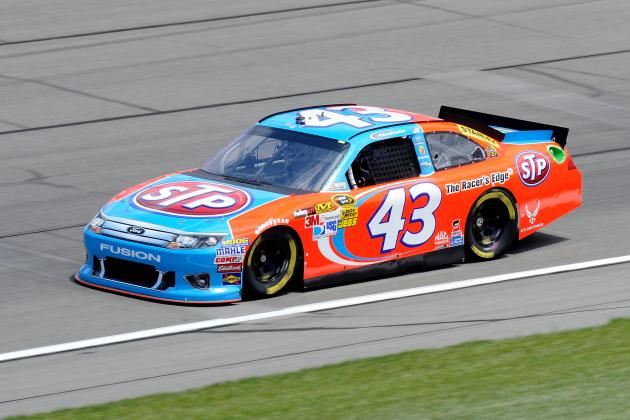 John Harrelson/Getty Images

The Group C drivers this week is slim pickings. For the past five weeks, fantasy players have been able to use good drivers who raced a limited schedule (Trevor Bayne, Brian Vickers and Sam Hornish Jr.) This week none of those drivers are in the field. It will be tough to get a quality finish from your Group C driver Saturday night.
Here are my selections for Group C:
Aric Almirola
Aric Almirola is the best driver in Group C. He should be good Saturday night. Almirola finished No. 19 at Bristol and No. 8 at Martinsville. If he finishes inside the Top 15 this week, I would be happy.
I would give you the career stats for Almirola at Richmond, but he has never raced at the racetrack in the NASCAR Sprint Cup Series. It scares me to go with a driver who has no experience on a racetrack, but there is not a better option in Group C.
Bobby Labonte
Since I am going with a driver with no experience for my first Group C pick, I will go with a driver with 38 career starts at the racetrack for my second pick.
Bobby Labonte has had success at Richmond, but his success has not come in the last seven years. My selection of Labonte is based more upon my instincts than stats. Brad Daugherty Racing has been at their best at the short racetracks. I am hoping they will perform well again Saturday night.
Other good picks: David Ragan and David Reutimann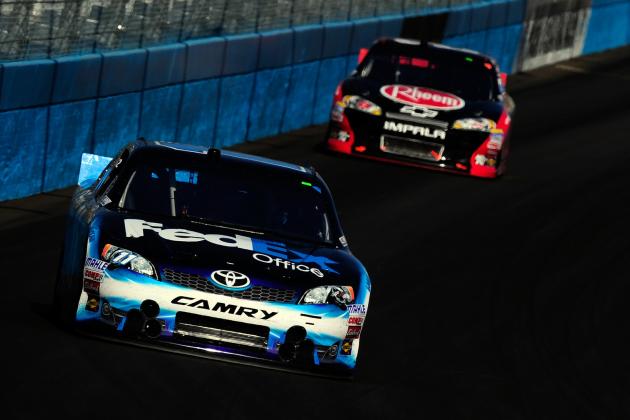 Robert Laberge/Getty Images

This is my first year playing the Fantasy Live game, and I am not impressed with it. I thought it would be interesting to play a game with live stats, but I have not seen the live stats work correctly all season.
In the game rules it states that each fantasy team can renegotiate their salaries each week. Some weeks the feature shows up on my team, and some weeks it does not.
Each week I usually give my picks for the Fantasy Live game and a description of why I selected the drivers. Since I am having a hard time figuring out the game (since it only works half of the time), I will still give my picks in this section but not detailed descriptions.
I suggest using FantasyNascarPreview.com for advice. The site gives good advice for the Fantasy Live game.
My team for Fantasy Live will be Denny Hamlin, Kyle Busch, Kevin Harvick, Clint Bowyer and Casey Mears.
Good luck this week!
If you need any further advice with your team, look for me on Twitter @HuskerMagic.
If you like Fantasy NASCAR, LIKE my Fantasy NASCAR Page on Facebook: