Metta World Peace Suspension: In Defense of His Stupidity, 7 Games Appropriate?
April 25, 2012

Jeff Gross/Getty Images
Los Angeles Lakers forward Metta World Peace can be stupid. He can be weird. He can be thoughtless. And sometimes, he can be violent. But the NBA showed a measure of reason in handing down a seven-game suspension for his elbow to the head of the Oklahoma City Thunder's James Harden during Sunday's game.  
World Peace has done some deplorable things while in the NBA, including clotheslining J.J. Barea in last year's playoffs, elbowing Manu Ginobili in 2006, sparking the brawl known as the "Malice at the Palace" in 2004 and elbowing Derek Anderson, also in 2004.
But he doesn't deserve to be kicked out of the league for the most recent infraction, as some have suggested (including on this Web site). His elbow to Harden's head does not even merit a year-long ban. And the seven-game suspension which he has received is all the more significant since it comes just a game before the playoffs begin. 
World Peace grew up in New York's Queensbridge projects. They aren't very nice. You may have heard about them in some of Nas' songs (i.e., "Memory Lane," "Destroy and Rebuild").
World Peace grew up playing street ball around New York, and acquired a tough on-court style which helped garner him the 2003-04 Defensive Player of the Year award.
But he was also present when a 19-year-old player was fatally stabbed in the back with a leg from the scorer's table during a YMCA game in 1991.
It's safe to say that World Peace is a troubled human being. This is evidenced not just by changing his name from Ron Artest, but through a string of strange behavior over his NBA career.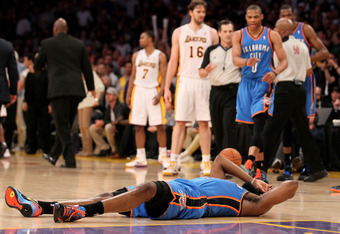 Stephen Dunn/Getty Images
He revealed to the Sporting News that he "used to drink Hennessy at halftime" while with the Chicago Bulls. He also applied to Circuit City so he could get an employee discount, and asked Pacers coach Rick Carlisle for time off to help promote an R&B group he was producing.
But he has also become active in mental health advocacy. The cause is very personal for him, as he first began to realize the importance of such advocacy and intervention following his arrest for domestic violence in 2007. But as he told ESPN.com's Shelley Smith, he had visited various psychologists since his parents divorced when he was 13 years old. 
World Peace has even committed to donating the majority of his salary for this NBA season to benefit mental health charities. And he auctioned off his 2010 championship ring to the same cause.
These actions, and his overt attempts to better himself, are clearly what mollified the NBA in deciding the length of his suspension for elbowing Harden on Sunday.
If you watch the video of the incident (found in the first link of this article, on ESPN.com, 15 seconds in), you can see World Peace was indeed out of his mind. His celebration of the dunk looked like a Native American warrior cry. And it's unfortunate he injured Harden in the process (he is day-to-day with a concussion).
World Peace has apologized to Harden, both on Twitter and his own Web site (which, unlike him, is still called Ron Artest). He has been suspended for seven games, which will include either six playoff games, or the entire 2012 NBA playoffs for his Lakers if they make an early exit. And he will lose out on a bunch of money.
World Peace is troubled and, occasionally, violent and stupid. But to fans and commentators everywhere, please don't be reactionary.
Metta is a Pali word which means loving-kindness, and the chant of Metta text seeks to radiate this loving-kindness to all beings. Clearly, World Peace does not embody this loving-kindess. But his advocacy does suggest that he is striving towards that.
We should all try to understand that to err is human, but to attempt to become a better person, to admit mistakes and accept the consequences, that is commendable. And worthy of forgiveness.