Metta World Peace: Should Be Banned from the NBA for Life
April 24, 2012

Stephen Dunn/Getty Images
You would think that by now Los Angeles Lakers forward Metta World Peace would have learned his lesson, but once again the man known as "World Peace" has deceived all of us.
It is no secret. The talented yet volatile Lakers star is a time bomb waiting to go off and he went off in a violent way this past Sunday afternoon.
In a nationally-televised game against the Oklahoma City Thunder, Metta World Peace exploded again, only this time he may have gone too far. His violent elbow to the head of Thunder guard James Harden was as malicious as his participation in the infamous "Malice as the Palace" brawl in 2004.
Known as Ron Artest then, Artest left the court and went into the stands in a game against the Detroit Pistons and attacked a Pistons fan, who supposedly threw ice on him, causing a major upheaval. Artest was suspended for 86 games for his involvement in the fight by commissioner David Stern.
As ugly as that unforgettable scene was, World Peace's brutal elbowing of Harden has once again damaged a league that already is dealing with a tarnished image because of on-court fighting. Now, Stern has the dubious task of making a decision of suspending Artest (or whatever he calls himself) again.
If you ask me, he should be banned from the National Basketball Association for life.
Although it appears in the video that Harden stepped in front of World Peace on purpose to stop him from celebrating a dunk over Harden's teammate Serge Ibaka, Metta World Peace—known for his emotional outbursts—once again was caught in a moment where he could not control himself.
The Lakers' much-troubled star wound up and unloaded a vicious elbow to the left side of Harden's head, sending the Thunder's guard crumpling to the floor. Harden lay motionless on the floor while World Peace joyfully ran down the court. Several of Harden's teammates, mainly Ibaka, charged at Metta World Peace, but peace was restored before an altercation ensued.
Harden left the game with concussion-like symptoms during the second quarter and missed the rest of the game, which the Lakers won 114-106 in double overtime. World Peace received a Flagrant-2 infraction and was ejected.
In his 13-year career, World Peace has been suspended by the NBA 13 times for a total of 111 games for his continued onslaught of physical misconduct on both opposing players and fans as well.
During Game 3 of the Lakers' second-round playoff loss to the Dallas Mavericks last season, Metta World Peace (named Artest then) was ejected late in the fourth quarter for clotheslining Mavericks guard Jose Juan Barea. That resulted in an ejection and his missing the Lakers next playoff game.
It is obvious when it comes to Metta World Peace and anger management: He has some serious issues with his emotions.
For someone whose name contains "world peace," Metta World Peace hardly resembles it.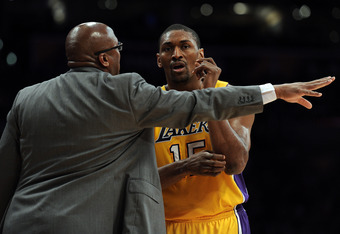 Harry How/Getty Images
Yes, the NBA has always had its share of dirty players over the years. Names like Bill Laimbeer, Rick Mahorn and Danny Ainge come to mind, but Metta World Peace may go down in the annals of league history as the dirtiest player ever.
I remember the punch heard around the world during the 1977 season, when then-Lakers forward Kermit Washington hit Rudy Tomjanovich of the Houston Rockets with a single blow to the face, breaking several bones. 
Tomjanovich wind up missing the rest of that season and was never the player he once was. Washington, who missed 26 games for hitting Tomjanovich, later became an All-Star with the Portland Trail Blazers, but his career was never the same after delivering what would become known as "The Punch."
Metta World Peace's latest incident, which is being called by many as "The Elbow," has once again put himself in a bad position.
World Peace will definitely miss some postseason time. Harden's status for the playoffs is also up in the air. It is yet to be known how long the Thunder's third-leading scorer will be out.
But World Peace, who struggled at the beginning of this season, was finally playing good basketball in recent weeks. Now, the Lakers will be without the defensive stalwart for some time in the upcoming playoffs.
For a player who was recognized as the league's Citizen of the Year recipient for his numerous charitable contributions this past season, Metta World Peace has pretty much solidified his status as the NBA's dirtiest player ever.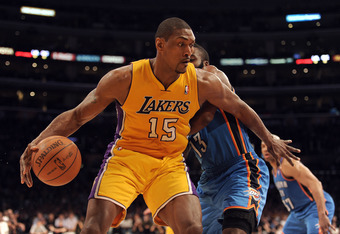 Harry How/Getty Images
His elbow to the head of James Harden was as classless as anything I have ever seen from him. Although it does not measure up to his attacking the fans in Auburn Hills, Metta World Peace has a very serious problem. If the NBA is not careful, sooner or later, he is going to unfortunately end someone's career, or even worse: accidentally kill them.
Several former NBA players have received lifetime bans for major infractions. The most notable was Roy Tarpley of the Dallas Mavericks. Tarpley, who was banned from the league in October of 1991 because of substance abuse, was reinstated four years later, but would receive the permanent ban from the league for continuing to abuse alcohol in 1995.
Stern, who has been the league's commissioner since 1984, needs to do the right thing in this case. If players such as Tarpley and Chris Washburn received lifetime bans for substance abuse, World Peace should be banned for abusing its players.
Are you listening, Commissioner Stern?