Giants vs. Mets: Tim Lincecum Gets 1st Win, but Still Searching for His Form
April 24, 2012

Jim McIsaac/Getty Images
It took Tim Lincecum four tries, but the diminutive right-hander mercifully registered his first win of the 2012 season. He went five innings against New York's junior varsity squad, whiffing eight Mets, surrendering four hits and suffering just a single earned run.
This is where the good news starts to turn, though.
The outing "lowered" Linececum's ERA to 8.20 and did the same for his WHIP, now an unsightly 1.88. That last bit is the really ugly stunner because Lincecum coughed up five walks for a not-so-grand total of nine baserunners in five frames.
Giants fans—indeed, observers of Major League Baseball in general—are not accustomed to seeing Lincecum place almost two ducks on the pond per inning and have it help his numbers.
In truth, the story was even gorier than the sheer numbers.
The Freak's command was largely nonexistent. It looked like he had zero idea where the ball was going once it left his hand, which explains why he averaged more than 20 pitches per inning on his way to 108 tosses total.
What's more, he needed plays ranging from spectacular to above-average from several defenders to labor through the outing.
Emmanuel Burriss made a fantastic diving grab to get the first out of the game, Melky Cabrera made a nice running catch on a sinking line drive to keep runs off the board and then there was the game-saver. Had it not been for a jaw-dropping, get-out-of-your-seat-and-cheer double play turned by Burriss and Brandon Crawford—one that featured a back-handed glove flip from Burriss and a bare-handed turn by Crawford—Lincecum's final numbers would've been more gruesome, and they probably wouldn't include that first W.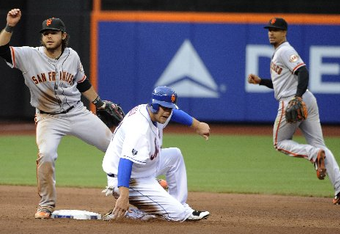 Lack of command, messy pitch totals and reliance on defense are not Tim Lincecum's calling cards.
There's also the nagging, made-for-columnists drama of his decreased velocity, which has finally produced the inevitable injury speculation.
The hand-wringing over the drop in velocity continues to be much ado about nothing—the dude did strike out eight professional hitters (or close approximations thereto). If the lack of zip on the Franchise's heater was a sincere problem, you wouldn't see that gaudy strikeout total—not even against a team as offensively suspect as this year's Mets.
The lack of command is the real cause for concern, and his latest outing didn't help put anyone at ease, least of all Lincecum.
The fan favorite might've put on the proverbial brave face after the game, but reading between the lines, it sure doesn't sound like he's found himself yet. After settling down against the Philadelphia Phillies in start No. 3, the Franchise seemed on that track, but his latest trip to the bump seems to have knocked him back off it.
The rhythm and ease with which Lincecum coasted from the second through the sixth inning against the Phils were gone, replaced with a forced, uneven motion from first pitch to last against the Mets. That's usually evidence of a pitcher who is searching for himself and thinking too much.
And both are bad signs as the calendar turns to May.
Even so, the faithful need not panic.
It's definitely getting closer to that time, but for now, the glass case can remain unbroken and the red button un-pushed.
As strange as it may seem, Giant fans should take comfort in the fact that we've seen Lincecum scuffle like this in seasons' past. As I've previously noted, Timmy's familiar with these valleys and arguably even deeper, darker ones. It follows that the pitcher is also familiar with how to climb out of them or at least how to stay sane while making the ascent.
We've seen the ace struggle in four straight starts before, so we're still in charted territory.
Additionally, Lincecum has been making progress since he hit rock bottom in Colorado. He looked better in the Philly start (after the first inning), but the results were better against New York. If he can sync up the fluidity he found against the Phightins while avoiding the big inning like he did in New York, he should be right as rain in no time.
That's easier said than done, but a confidence boost and a little relaxation should go a long way toward achieving that end. And nothing inspires confidence or relaxes a pitcher like a win.
Lincecum just got his first of the year ,so don't be surprised if more are in his immediate future.
Of course, if his struggles stretch into the new month and uncharted territory, you should be prepared for something else.
Because if that happens, there will be a panic in the Bay Area the likes of which we haven't seen recently.
And for good reason.