Tim Lincecum vs. Barry Zito: What to Make of SF Giants' Uncharacteristic Starts
April 17, 2012

Christian Petersen/Getty Images
The 2012 Major League Baseball season has gotten off to an odd start for the San Francisco Giants—the offense has come streaking out of the gates while the pitching has stumbled.
Even more bizarre, Tim Lincecum, the ace in a rotation of guys who could put up a good tussle for that mantle, has been the most prone to flame. Meanwhile, Barry Zito, the much-maligned $126 million man and the only pure spectator in the aforementioned tussle, has been damn near unhittable.
Sure, not even 10 percent of the season is in the books, but the more superstitious Bay Area baseball fans are beginning to eye that Mayan calendar with serious concern. And really, can you blame them?
The bats have been averaging 4.5 runs a game in the early going as the club's perennial Achilles' heel has been a strength. On the other hand, the pitchers—the orange and black backbone—have surrendered almost as many earned runs per contest (4.1). The starters have been particularly ragged. Lincecum, Madison Bumgarner and Matt Cain all got knocked around in their first trips to the mound, while Ryan Vogelsong began the year on the shelf.
Only Zito has remained above the fray.
Toss in some shoddy defense—a major-league worst 15 errors have produced seven unearned runs on the season—and the Gents' 4-6 record makes sense. But try selling it as logical to San Francisco fans, whose baseball world is on tilt at the moment.
MadBum and Cain righted their ships in their subsequent starts, and Vogelsong turned in a fine performance once he came off the disabled list, but Lincecum's scuffles and Barry's brilliance have continued.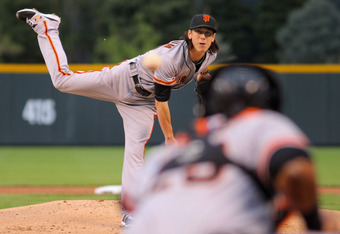 Doug Pensinger/Getty Images
The Freak has been such only in the circus-sideshow sense of the word—if you exclude the Giants who've yet to pitch four innings, Timmy's 10.54 ERA in three starts is almost twice as high as anyone else's. He's allowed 26 base-runners in 13.2 innings, he's already suffered more first-inning runs in '12 than he did in all of 2011, his command has been off and his velocity was a muted 91-92 MPH in his latest start (Monday versus Roy Halladay and the Philadelphia Phillies).
Yes, two of those three starts came in the hitter havens of Chase and Coors Fields. But the Colorado Rockies are not the offensive juggernaut they've been in recent years, even at home, and there's no sugar-coating a loss to the Phillies since they were down Ryan Howard, Chase Utley and a useful Placido Polanco.
So, it's a mild understatement to say times are not so good for the Franchise.
Just as it's a mild understatement to say times are rosy for Mr. Zito.
The Giants' other former Cy Young has more innings pitched (16) in two starts than Timmy has in three. He's got the best earned run average (1.13) of any San Francisco hurler with at least four innings pitched, his WHIP (0.69) is second only to Matt Cain's sparkling 0.60 and he's posted eight strikeouts against only a single walk. His shutout of the Rockies on only four hits and no walks in Denver's ERA-bloating air is already the stuff of San Francisco legend.
Ah, times are good in the Zito household.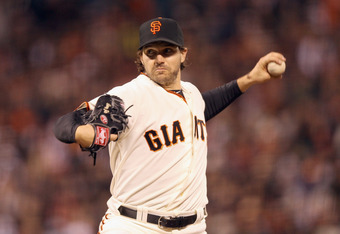 Ezra Shaw/Getty Images
Of course, we've been here before, in both cases.
Big-Time Timmy Jim labored through an ugly, four-game stretch to kick off June in '11. In 2010, a season that carries a touch of significance in The City, Lincecum endured unsightly jags in both May and August. Even his second Cy Young campaign in 2009 got off to a slow start, as the right-hander slogged through his first two starts.
As for Baked Zito, the lefty has threatened to shake off the doldrums as recently as the championship season of '10. That year, he boasted a sub-3.00 ERA as late as June 1 and put together another fine string of starts to finish up the month of July. In '09, Barry pitched to a 1.93 ERA for the entire month of August. Even his inaugural season with los Gigantes, a mostly terrible 2007, saw him cobble together a sub-3.00 ERA in (you guessed it) August.
Against that backdrop, you know the question before it's asked: Is the early-season performance of each pitcher an aberration or a sign of things to come?
Should Giants fans panic about Lincecum? Should they reserve a seat on the Zito bandwagon?
In the Franchise's case, the answer is simple: Not yet.
To some degree, Lincecum's a victim of his own success. When you give the faithful two Cy Young Awards and a World Series ring in your first three full seasons, expectations become unrealistic. The 27-year-old is not going to be suffocating in every start, and he was never going to throw in the mid-90s for his entire career. Consequently, the diminished velocity was never as troubling as his lack of command.
After all, command without velocity can get you to the Hall of Fame (see: Maddux, Greg), whereas velocity without command gets you a seat on the couch and a remote control.
Lincecum's command hasn't been terrible. He's made too many mistakes inside the strike zone, producing too much loud contact, but he's only walked four batters all year. Furthermore, he's whiffing more than a batter an inning and seemed to find his rhythm against Philly after a brutal first inning.
When you consider the Freak's body of work, that the answer to his command issues always seemed to be a tweak rather than an overhaul and the way he settled in against the Phils, I expect the filthy ace we all know and love to be back on the hill in his next start.
The question is, is Zito's case more complicated?
There are reasons to believe his mini-resurgence is genuine and here to stay. The 33-year-old spent time with pitching guru Tom House this summer and overhauled his delivery. While the complete reconstruction didn't hold, Zito stayed with some of the tinkering, and the early results are encouraging. Most compelling, he's already demonstrated more resiliency than we've seen at any point during his Giant tenure—the Zito to which San Francisco has become accustomed would've melted down after spotting the Pirates two runs in the first inning of his last outing.
Or after a two-out triple in the fourth. Or after the three errors the Gents committed in the fifth and sixth.
This time, however, the lanky lefty settled in after the first, stranded that two-out triple and pitched through the errors to keep San Francisco in the game. That speaks to confidence, which is as important as anything in Barry's arsenal.
Put another way, there are real and significant reasons for optimism.
Jed Jacobsohn/Getty Images
Alas, there is a flip side to this particular coin.
Such as the tales we heard about how Zito's new offseason workout would turn him into a new man for the '09 season. Then there was the theory that a quieter, more focused offseason explained his hot start in '10 and held the promise of an equally strong finish. Another popular chestnut offered to explain his torrid April and May in '10 was the increased use of his slider.
The point being that, as long as Barry Zito has struggled in a Giants uniform, the faithful have heard and/or read stories promising that some basic change would banish those struggles and deliver us all—Zito included—from a now-five-year nightmare.
And just as consistently, the theories have proven false, the promises empty.
Is this the year the pattern crumbles or just its latest iteration? Who knows?
The Giant faithful have been burned too many times to be hopping on the wagon with both feet, but this "new" Zito looks different and better than the previous "new" Zitos, so mark me down as cautiously optimistic.
Which is a welcome change.