National Lacrosse League 2012: Week 17 Previews and Predictions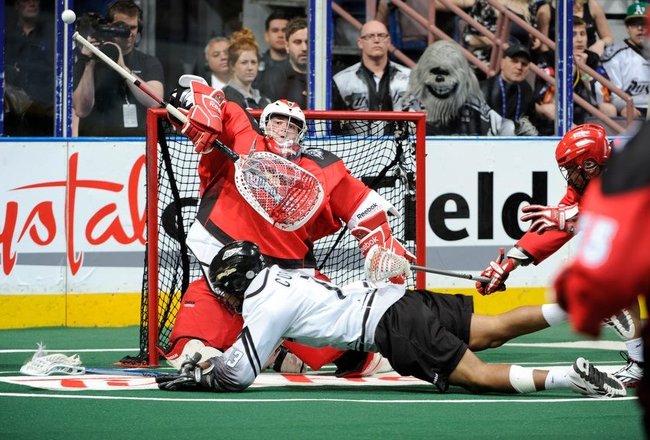 (Photo: calgaryroughnecks.com)

Week 16 action in the National Lacrosse League sealed up the remaining playoff spots and left the defending West Division champs on the outside looking in. The final weekend will decide who plays whom in the East.
There are still a few interesting story lines to resolve.
Colorado's John Grant Jr. needs only six points to break the NLL single season scoring record. As he is averaging over eight points a game, this seems like a pretty sure thing.
Right behind Grant is Garrett Billings of the Toronto Rock, who currently has 106 points and is also within striking distance of John Tavares' record.
In addition, both Billings and Philadelphia's Dan Dawson have already shattered the single season assists record. The question now is which one will finish with the most assists and how high the bar will be set when they're done.
The East teams are all active and jockeying for position. Three teams could end up tied for second at 7-9, which would require the tiebreaker formula to be invoked to determine seeding.
Toronto can do no worse than 8-8 and will be trying to build some momentum by winning their last game and moving up to 9-7.
All in all, three out of four games have implications for playoff positioning and the fourth will be a sneak preview of the first round of the West playoffs.
Should be some interesting stuff...
Philadelphia Wings (7-8) vs. Rochester Knighthawks (6-9)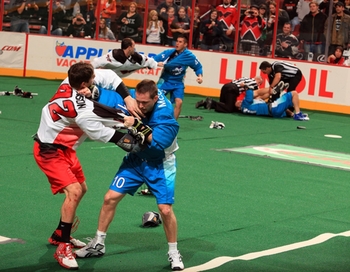 (Photo: T & Z Bauders)
These divisional rivals have met twice already this season, with sparks (and fists) flying as a result. There is no love lost between these two squads, and they are both vying for home field advantage in the playoffs.
Consequently, it wouldn't be too surprising to see the intensity amped up to 11 once again as both teams try to set the tone for a possible collision in the postseason.
The Knighthawks have won both previous contests against the Wings this season, so if they take yet another one and the two teams wind up tied at 7-9, Rochester gets home-field advantage. If the Wings win, however, they finish at 8-8 and earn a home game.
The Wings will be trying to get things back under control after dropping four straight, so they will be looking to come out hard. Dan Dawson, who is trying to finish with a new single season assists record, will be particularly motivated to fill up the Knighthawk net.
The Knighthawks have also stumbled to the finish line, losing four of their last five. They'll be looking to forward Cody Jamieson and goalie Matt Vinc to step up and get them back on track.
An interesting sidebar will be watching the performances of top rookies Kevin Crowley and Johnny Powless. Crowley, the first-overall pick for Philly in last year's draft, is still among the favorites to win the Rookie of the Year award. Powless has come on strong lately for the Knighthawks, picking up 20 points over his last four games.
I'm going to stick with the stats on this one, and they tell me that Rochester should be able to continue their domination of the Wings this year. I'm expecting a 13-12 Knighthawks win.
Colorado Mammoth (11-4) vs. Minnesota Swarm (8-7)
(Photo: Michael Martin)
Colorado blew a chance to lock up the best record in the league and home field advantage throughout the playoffs last weekend with an upset loss to the Edmonton Rush.
Minnesota by contrast is riding a three-game winning streak.
The Swarm and Mammoth will be facing off against each other in the first round of the playoffs, so this game will give both teams a chance to feel each other out and set the tone for next weekend. Although it doesn't mean much to the Mammoth in terms of positioning, a Swarm win would lock down the third overall seed in the playoffs and a home game in the finals if they get that far.
All eyes will be on Colorado's John Grant Jr. in this contest as he is just six points shy of breaking the record for points in a season, set by John Tavares in 2001. In his extraordinary year, Grant has not been held under six points yet, so he's looking very likely to reach that milestone.
A problem Colorado will have to overcome will be the absence of team captain Gavin Prout, who missed last week's game against Edmonton as well. Taking the second best scorer out of the Mammoth's offense could put a major dent in their output.
During the Swarm's current hot streak they've scored 42 goals and given up just 28, so they have been effective on both ends of the floor. Callum Crawford and Ryan Benesch are clicking on the offensive end. The rookie goalie Evan Kirk is leading the NLL in goals against average at 9.81, and fellow rookie net-minder Tyler Carlson has posted a solid 11.90 goals against as well.
I'm going to go out on a limb here and predict that Minnesota keeps their streak alive and sneak past the Mammoth 13-12.
Toronto Rock (8-7) vs. Edmonton Rush (6-9)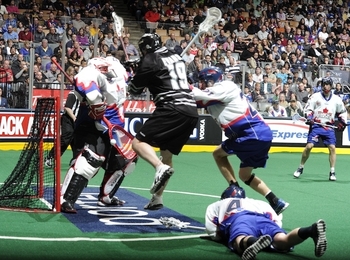 (Photo: torontorock.com)
A win last weekend secured a first-round home field playoff game for Toronto.
Across the country in Edmonton, a victory over Colorado put them in the playoffs for the second time in their 10-year franchise history.
The Rock will be seeking to carry their momentum into the postseason while the Rush will be looking to establish themselves by winning two of their last three against the top three teams in the NLL.
Toronto has won four of their last five and are looking solid after struggling through injury issues in the early going. Garrett Billings has been carrying the team on his back all year long and, at 106 points, has a shot at breaking the single season scoring record, but he'll need to notch a big 10-point night to do it.
Nick Rose has been a revelation in net since coming to the Rock mid-season in a trade with Calgary. His 10.63 goals against since joining Toronto has been a big part of their late-season success.
Edmonton has won four of their last six games and last weekend held the two top-scoring teams in the NLL to just 20 goals over two games.
Aaron Bold has been outstanding all year between the pipes for Edmonton, posting a 10.37 goals against average. Kyle Rubisch is leading the league in forced turnovers, with 37, and is fourth in loose balls with 144 as the defense's centerpiece.
Toronto has been looking like the defending champs in the NLL for a month now, and I get the feeling that they're starting to believe in another title run. I give them the edge in this game, 12-11.
Buffalo Bandits (6-9) vs. Washington Stealth (4-11)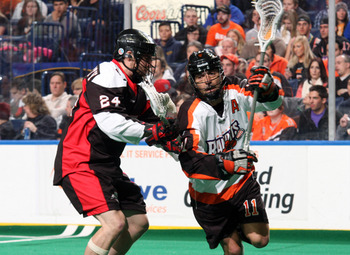 (Photo: bandits.com)
In spite of a rocky season full of ups and downs, the Bandits are in the playoffs.
The Stealth, however, have come up short and, after going to the Champion's Cup Final two years in a row, they will be packing up their lockers and going home after this game.
As has been the case for what seems like forever, John Tavares is powering the Bandits offense and currently sits at sixth in the league in scoring with 75 points, with the most power play goals of anyone, at 20. Not bad for a guy entering his mid-40s.
Washington hasn't been able to find any kind of consistency all year. In spite of having some very talented shooters, the offense has been spotty, picking up the second fewest goals in the NLL (163). The defense has also been spotty, giving up the most goals in the West Division (187).
Frankly, Buffalo having team goon Brandon Francis suspended for a head shot two weeks ago probably works in the Bandits' favor, as they have to rely more on their skills and less on intimidation now. This should put them over the top for a 13-11 win over the Stealth.
Keep Reading