NBA Playoffs 2012: 5 Bold Predictions for the Miami Heat in the Playoffs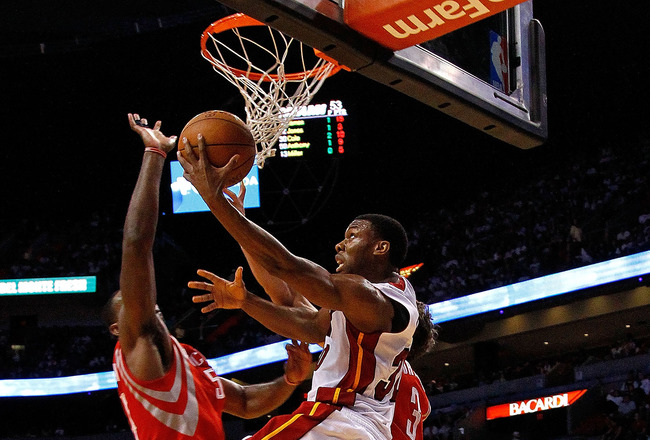 Mike Ehrmann/Getty Images
Miami is a shoo-in for the 2012 NBA Playoffs and it's time to predict what awe-striking moments this roster will provide its fans this postseason. Just a name a few from the 2011 NBA Playoffs:
James and the Heat exorcise their Boston demons
Heat only give up three games in 2011 Eastern Conference Playoffs
James closes out Boston and Chicago series
LeBron and Miami Heat collapse against Dallas Mavericks
Wade takes Robin role against the Chicago Bulls
The Heat are geared to make some ridiculous strides in this year's postseason with both the redefined game of James and the urgent role for ostracized Big Three member, Chris Bosh. Here are five bold predictions for the Miami Heat in the 2012 NBA Playoffs.
Dwyane Wade Will Average 30-Plus Against Chicago Bulls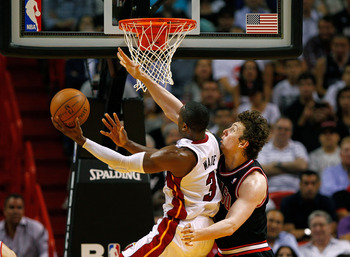 Mike Ehrmann/Getty Images
Dwyane Wade is quite the struggler against the Chicago Bulls franchise, at least in the playoffs last season.
Against the team last year in the Eastern Conference Finals, Wade would go incredibly blocks of time without scoring and it was not for lack of trying as in two games of the series he found himself shooting less than 40 percent and only averaged 18.8 PTS in those five games it took Miami to close Chicago out.
He just could not find his rhythm and it was up to both Chris Bosh and LeBron James to make sure that Miami had a fighting chance against a team led by the 2010-11 regular season MVP, Derrick Rose. Wade has not been himself throughout the 2011-12 regular season and the only answer could be that he is saving the juice he has left for the main event.
Even if you take into account the injuries that have landed him on the bench, one can only assume that he has eased up a bit from the D-Wade everyone is used to. Wade is always a landmark in the playoffs and he keeps thing electrifying as he makes shots he shouldn't and is unofficially listed as Miami's closer by the media.
Expect him to redeem himself against Chicago, a franchise growing over time as one of Miami's greatest foes in the league, and showcase exactly why he is still the team's captain and why fans mistake the Heat for still being a team primarily under his leadership.
He has taken a step back and this has allowed LeBron to shine as the probable regular season MVP but the playoffs is somewhere in which Wade cannot help but to put his name all over it.
Wade needs to wipe the hold Chicago has over him clear and focus on the task at hand. He will break out and what better time than when he's playing against his hometown franchise.
LeBron James Will Shut Carmelo Anthony Down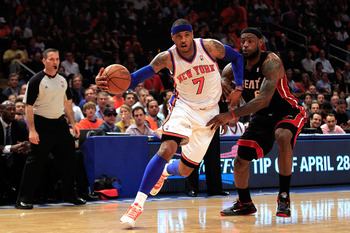 Chris Trotman/Getty Images
A couple of pivotal game losses to the Boston Celtics, the Chicago Bulls and the Memphis Grizzlies in the month of April have forced Miami to realize that they are locked into the No. 2 seed of the 2012 Eastern Conference Playoffs.
However, it's not so bad.
It means they'll be facing the NY Knicks in the first round of the playoffs, unless the Philly Sixers can swoop in and take the No. 7 seed away from them by winning games against the New Jersey Nets and the Milwaukee Bucks.
The Knicks are facing the LA Clippers Wednesday, which will not be an easy bout. It's a possible loss that could land the franchise as the No. 8 seed. For right now, the Knicks-Heat matchup in the first round of the playoffs is supreme to all others. The LeBron-'Melo matchup would be the main attraction as well as watching how coach Mike Woodson handles Amare Stoudemire in the rotation.
James is Miami's best defender so it would only be right if Carmelo Anthony is his defensive assignment. LeBron is going to have the opportunity once and for all to prove why coach Erik Spoelstra makes sure he is guarding the opposing franchise's best offensive threat.
He attempted to use Shane Battier and Dwyane Wade on Anthony during their last meeting, however that obviously did not work. Anthony beat out both of these veteran players and fans found themselves taking to Twitter wondering why James was not guarding 'Melo all along.
There is too much on the line this season for Miami to undervalue LeBron defensively and for him not to live up to his defensive potential. 'Melo will be one of his toughest jobs this season, but it is inevitable that James has been playing on an entirely different level.
Anthony or not, LeBron is not going to allow him to work over the Heat. No 42 point scoring clinics. No raining jumpers like there's no tomorrow. Anthony is going to have to fight for every point he scores and LeBron is just the man to make sure this happens.
Norris Cole Will Be a Breakout Player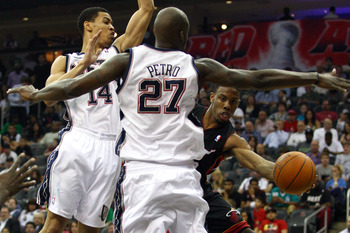 Chris Chambers/Getty Images
Norris Cole has faded into black this season.
Despite his 20 PTS performance earlier in the season to help close out a win against the Boston Celtics and a steal-turned-dunk that landed the rookie on his face against the New York Knicks, Cole has not been more than a regular ol' backup.
That should all change come the playoffs, where it is doubtful that Coach Spoelstra will keep him out of the rotation. Cole is the kind of player that thrives under pressure and his athleticism, speed and improving role playing with Miami should have earned him the title as a solid postseason option for the contending squad.
Mario Chalmers is going to have moments in which he just can't deliver and Cole has already proven that he can operate besides the likes of Wade, James and Bosh. He is more athletic than Chalmers which creates a better matchup problem for other playoff franchises like the NY Knicks.
The Knicks rookie guard Iman Shumpert has had an impressive season, especially with Jeremy Lin's benching extending indefinitely. Shumpert-Cole would be incredibly interesting to see as both have merited mention as a couple of the better rookies in the league with such high ceilings.
Chalmers is undoubtedly Miami's starting point for the playoffs and that will not change. Still, Coach Spo's hand may be forced to try Cole out for size.
LeBron does a great job managing that position as Miami's point forward, but as previously stated, he will have his hands full.
James Jones Will Average 10 MIN Per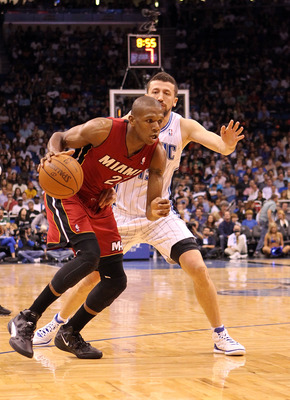 Sam Greenwood/Getty Images
James Jones has been kept this season and I, for one, can't understand why.
Coach Spo' is ready and willing let Mike Miller shoot for the stars as soon as he's healthy, but refuses to make Jones a more integral fraction of Miami's offense. It may be because Miller is more rounded in his overall game as he is a hustling rebounder and a nice option beyond the arc when he has the hot hand.
Still, Jones is Miami's sharpshooter and if he is there, why not utilize him. His involvement is going to be especially important when Miami is facing squads with multiple perimeter threats.
The Heat's perimeter defense is shaky at times therefore if they can't beat them, they may as well use Jones and join them. Miami's Big Three doesn't need to use the playoffs to dust off those flailing jumpers they consistently put up last season, so bringing Jones in to do exactly what he was offered a contract for does not seem so far off.
LeBron James Will Close EVERY Series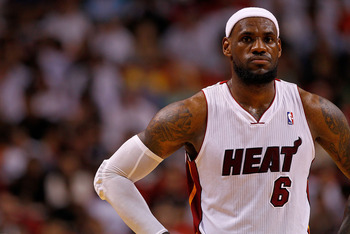 Mike Ehrmann/Getty Images
It is his time to shut everyone up, or at least begin to. Miami is LeBron's team if you hadn't noticed and with Wade seemingly taking the Robin approach to the season, it is almost inevitable that James is going to be the 2012 NBA Playoffs star for Miami.
He has everything to lose and everything to gain at this vital stage in his career. Without a ring LeBron will never be a shoe-in for the conversation of the top 10 players of all time, even if his statistics and level of talent warrant it.
James has the flash, the persona, the style and the individual accolades that scream greatness.
However, without a ring that shows he can forge leadership in a collective manner that rouses the men behind him to the greatest victory the NBA has to offer a franchise, he's nothing to those who continue to use his lack of a ring to discredit him in the record books.
This is James' time to prove himself as a perennial leader amongst men who are great in their own right (i.e. Wade, Bosh). It will only be the icing on the cake when he does it in the fourth quarter of games that are decided all the way until the last moment.
LeBron will be clutch. He's done it before, just last season actually. Why not again? Why not now?
Keep Reading

Miami Heat: Like this team?