WWE Raw Review: A Weak Cena-Lesnar Ending Makes Edge's Appearance a Waste
April 24, 2012

There are very few people on the microphone that can hold a candle to Edge, and on RAW last night, it was no different.
It was a wonderful surprise for us fans to see a man that unfortunately had to end his career early. Edge could have been a top star for a few more years, but all the TLC and ladder matches finally caught up with his body, and now he is rightfully called a Hall of Famer.
Edge cut a promo on Cena's personality, and although he is just one of many superstars to point this out, this was different. Edge brought realism and intensity to his words. He acknowledged the deep rivalry between himself and Cena and saw a much different man than the one who threw him into the Long Island Sound.
Because of Brock Lesnar's tardiness, this pushed the contract signing off until the end of the show, and it had the viewers wondering what changes Cena's persona would take.
What happened? Well, just next to nothing. Cena put a chain around his neck. That's it.
So Edge cuts a great promo, and it only amounts to that lame ending? Cena looks more vulnerable than he ever has in his career, and the promo at the beginning of the show gave him an opportunity to get his focus back.
Instead, Cena looks like no match for Lesnar. And while Brock was not fantastic on the microphone, thanks to the booking of this feud so far, he looks to be in a whole other league.
Why would I want to buy this PPV after that go-home show? The main selling point is Brock vs. Cena, and it looks like Cena has no chance in hell. He has barely put up a fight, and since the slap two weeks ago, he has become more vulnerable than ever.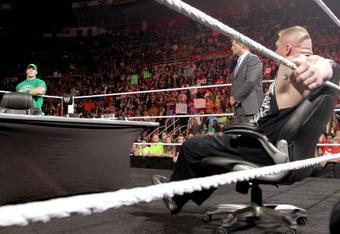 The WWE had Edge in a great spot, and they wasted his appearance. Cena still looks like he does not belong, and that type of storyline is not going to draw viewers in the masses. The two men needed to be treated more equal, and they were not. 
On the other hand, CM Punk is earning his paycheck these days, and the Punk vs. Y2J match on Sunday is the one to watch. Punk put on one hell of an act, but once again, his WWE Championship was overshadowed by a Cena feud.
And do not even get me started on the whole Divas debacle. I am sure Bleacher Report will provide more than enough articles about the state of that so-called division these days.
Nonetheless, outside of Punk and Chris Jericho and a good Daniel Bryan and Sheamus encounter, this go-home episode of RAW did not achieve the goal of making viewers feel the need to buy the show.
Sure, Cena might win, but why even buy the show when he has been booked as a weak kid in the corner? The brawl two weeks ago was a great segment, and it gave the feud plenty of momentum. Even the Brock promo video from last week (which was shown multiple times on last night's show) was great work.
Unfortunately, many people will only remember the weak ending before Extreme Rules. Creative had Edge to work with, and they dropped the ball in a big way.