WWE Extreme Rules 2012: Fan Diary Day 2, Looking Back at My First Live Show
April 24, 2012

Yesterday in Day 1 of my Extreme Rules fan diary I discussed how I became a fan of professional wrestling. Today I will look back on my first live WWE event.
I was 12 years old when I attended my first live WWE event. None of my family were really into wrestling so I had given up hope that anyone would ever want to go with me, but my dad surprised me with tickets for him, myself and a friend of mine.
I was so excited. I had been watching on television for a while, but to see it in person was a whole different experience altogether.
We went down to the Rosemont Horizon on June 9, 1996, for the show. It was a beautiful day and I remember seeing a long line of limos which I thought had to belong to the WWE superstars, though now I realize it was probably just fans who decided to upgrade the experience with a limo.
We went to the merchandise stand before taking our seats and I used my saved-up allowance to buy a WWE foam replica belt and a Shawn Michaels t-shirt. The Heartbreak Kid was my absolute favorite at the time, and probably still would be had he not retired.
We took our seats and waited for the show to begin. I looked around and saw signs with the names of all the popular wrestlers of the day.
I had brought two signs myself—one for Ultimate Warrior and one for Shawn Michaels. I also had a toy urn I had ordered from WWE Magazine that I held up during the Undertaker's entrance.
I was anxious for the action to begin as the national anthem began to play. We stood up and held our hands to our chest as two impatient young girls behind me were complaining about having to stand so long. I didn't think two minutes was that long, but oh well.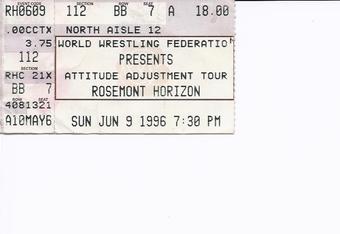 Justin Hawk Bradshaw vs Barry Horowitz was the first match on the card. I remember it being short and had Bradshaw go over Horowitz with his Clothesline from Hell.
Marty Jannetty and Leif Cassidy (Al Snow) vs Aldo Montoya (Justin Credible) and Duke the Dumpster Drose was the second match of the night and it saw the team of Jannetty and Snow go win over the randomly-paired team of Montoya and Drose.
At the time I had no idea who Justin Credible was, but I did see that Aldo Montoya had some talent which had yet to be showcased in WWE.
The next match was Savio Vega vs Owen Hart. This was the first match where we really saw two guys who knew what they were doing put on a great show in the ring. I can think back to all the boos Owen got as he came to the ring and I wish I had not lost the pictures I took of Owen that night.
Marc Mero vs Hunter Hearst Helmsley was short from what I recall and Mero got the win. I am not sure if Sable was with Mero at the show, but I do know I had the biggest crush on her dating back to her WCW days.
The recently-returned Ultimate Warrior faced Vader in a match which ended by count-out when Vader left the ring and refused to fight Warrior.
Now that I think about it, that may not have been pre-planned. Warrior had a crappy reputation and it would not shock me to learn someone like Vader would bail on him mid-match. Either way, I was a fan back then so I held my Warrior sign up high.
The first and only title match of the night was The Smoking Gunns vs The Godwins with Hillbilly Jim. I know that The Smoking Gunns won the match but the thing that sticks out to me the most was how on the next Raw these two teams faced off and had almost the exact same match.
I remember because it had the same interference ending with Sunny coming in and causing a DQ. That was my first experience with wrestlers holding the same match more than once—and I mean the same moves from beginning to end, not just the same ending.
The British Bulldog, one of the most talented powerhouses in the businesses, faced an equally-powerful Ahmed Johnson in a match which ended when Goldust appeared on one of the upper levels and taunted Johnson, causing him to run to the back to try and find Goldust, being counted out in the process.
Future Hall of Famer Steve Austin squared off against Jake "The Snake" Roberts in a match which took place just two weeks before Stone Cold delivered his "Austin 3:16" speech after defeating Roberts at The King of the Ring, forever changing the WWF and helping to usher in the Attitude Era.
Undertaker vs Mankind was the match that excited me the most because the two had only just started feuding after Undertaker was attacked by Mankind following WrestleMania 12.
The two had a brutal match which lasted close to 45 minutes if I remember correctly. They went in and out of the ring several times, but the Dead Man eventually put down the demented Mankind with a Tombstone Piledriver.
The main event was WWF Champion Shawn Michaels vs Intercontinental Champion Goldust. Michaels had his Kliq cam with him that night and everyone went crazy when he would pan to them in the audience, even though we knew it was not a TV taping and no one would ever see the footage.
The match was awesome as both men pulled out all the stops to entertain us. Michaels got the win after a Superkick to Goldy.
Marlena tried to make an impact in the match, but was shut down by the ref who sent her packing after she got on the apron one too many times.
Once the night was over we started our hour-long drive home. The whole way back all my friend and I could talk about was how awesome the show was.
I have kept the program and ticket stub in a plastic sleeve all these years because it was a special night for me. It was my first live show, but it was also special because it was something my father did as a surprise for me with no reason behind it other than he wanted to do something nice for me.
It is memories like this that make me remember why I like pro wrestling so much. It can bring people together and create some very fun times to look back on.
Thank you for reading Day 2 of my Extreme Rules fan diary. Check back tomorrow for Day 3, where I will take a look at WrestleMania 11, the first WrestleMania I got to watch live as it happened on PPV.
As a special bonus, I decided to include another scanned image from my program. Considering this is from a program from a house show that took place over 15 years ago, I might just be the only person who still has a quality copy of this. To view the full size image visit this link.
This is a one-page comic series WWF used to put on the programs. If you look closely I think you will recognize one of the names listed as writer.