WWE: Brock Lesnar's Character Is Being Handled Perfectly Right Now
April 24, 2012

With an emphatic F-5 to John Cena, Brock Lesnar shook the WWE Universe to the core three weeks ago, making his long-anticipated return to the squared circle.  In what can only be described as a true "mark-out moment," Lesnar sent the Miami crowd into a frenzy, and as those famous chants of "holy (not suitable for PG programming)" began to die down, the question remained: Where does Brock Lesnar go from here?
After aligning himself with John Laurinaitis the following week, it seemed as if Lesnar were shaping up to become one of Big Johnny's lackeys, a henchman to do the bidding of the Raw GM on his path to achieving tyrannical control of the company.  The imposing Lesnar could certainly play the part well.  All signs seemed to be pointing to the formation of some new corporation-esque stable.  Cena versus The Establishment.
Not so fast.  Lesnar is not back to do anyone's bidding but his own.  He has come back to ignite a hostile takeover of the WWE as we know it.  And it is perfect.
Images of Lesnar's in-ring gear to be featured at Extreme Rules revealed that "The Next Big Thing" would no longer don his black trunks.  Instead, Lesnar's new look will be shaped after his UFC attire, complete with sponsor logos.  The interviews and promos Lesnar has been cutting have exhibited a clear MMA, pre-fight style, raw and real.  It's not the F-5 to Cena that the WWE is milking, after all; it's the very real right hand that busted Cena's mouth open. 
Tonight, on the three-hour Raw SuperShow, Lesnar demonstrated his lack of respect for not only Cena, but for the WWE, and for Laurinaitis as well.  He showed up late to his contract signing, he sent Josh Mathews to the hospital in an unprovoked backstage attack, and he bullied Big Johnny into accepting his list of demands.  What once seemed to be a partnership has become a springboard for Lesnar to strong-arm his way into getting whatever he wants.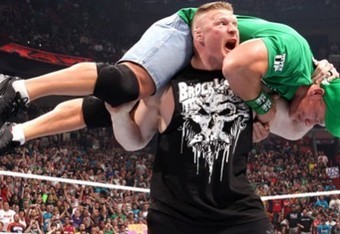 This works.
The "unstoppable heel monster" gimmick is extremely tiresome, and unless it is pulled off perfectly, results in the reactions that Lord Tensai is currently getting.  For Lesnar to play that part, he would have to be paired up with a much stronger manager.  Paul Heyman was one thing.  "People power" Johnny?  Not so much.
Now, Lesnar is back and has a character that makes him intriguing.  He is the Frankenstein monster that has grown out of control and has come back to wreak havoc in his old stomping grounds, for all the wrong reasons.  He is a bully who, left unchecked, will take over the company.
In a surprise, passionate promo, Edge returned to implore John Cena to find it within himself to beat Brock Lesnar at Extreme Rules.  Claiming that the love that they share for the business is not shared by Lesnar, Edge demanded that Cena find himself in time to stop Lesnar from spitting in the face of Shawn Michaels, The Undertaker and anyone who lives and breathes WWE wrestling.  With Lesnar as the established heel, prima donna, money-grubbing thug, the door is wide open for the WWE to play with Cena's character.  Whether or not it decides to remains to be seen.
Either way, Brock Lesnar's return was guaranteed to shake it up, and it certainly did.  Now, the way that Lesnar is being portrayed is keeping that fire burning and should lead to an exciting storyline if handled correctly.