Portland Trail Blazers Must Shop for Big Men This Offseason
April 24, 2012

Ronald Martinez/Getty Images
As the 2012 season winds down, what looked to be a lost year for the Blazers has transitioned into considerable optimism, as Portland prepares for one of the most important offseasons in the team's short history.
At the top of their list of needs sits a starting center and point guard. To fulfill those needs, the Blazers will be afforded the help of two potential lottery picks and $24 million of cap space, courtesy of New Jersey and Brandon Roy's retirement. Not a bad situation to inherit for whoever will assume the mantle of general manager for the Blazers.
The quest for a solid starting center will be perhaps the most captivating story of the offseason. Since the 2007 NBA Draft, Portland's search for a big man has been an arduous and frustrating process, full of untapped potential and disappointment. Marcus Camby momentarily filled the void left by Greg Oden's non-career, but was neither young nor talented enough to elevate the Blazers to the elite of the Western Conference. 
How exactly the Blazers acquire their center of the future will rely heavily on the outcome of the NBA lottery on May 30 and the NBA draft on June 28. 
If the lottery were to happen today, the Blazers would likely find themselves at the seventh and 11th picks in the draft. Unfortunately, this year's pool contains only two lottery-caliber centers in Andre Drummond and Tyler Zeller. Most recent mock drafts have Drummond going to the Kings at the number five spot, leaving Zeller as the only remaining prospect ranked highly enough to justify being selected at seventh or 11th.
While Portland may opt for Zeller with one of their two picks, it's an unlikely scenario. Zeller is well-liked by scouts but is by no means a can't-miss prospect, and his history of injuries may scare away a management team scarred by a history of centers with durability issues. With Zeller as their only legitimate big man option in the draft, the Blazers will likely use their lottery selection to fill their hole at point guard and shore up their depth at other positions.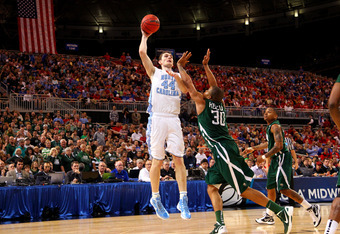 Dilip Vishwanat/Getty Images
This leaves free agency as the best opportunity for the Blazers to obtain their starting center for next season. Portland's luxuriously spacious cap makes this an enticing option. The amnesty clause used on Roy's contract means management should have almost $24 million to work with heading into the offseason. Re-signing Nicholas Batum and 2011s present surprise, J.J. Hickson, will be the first priorities, but the Blazers should still have a sizable amount of money to lure a talented free agent to Portland this offseason.
Who should the Blazers target? 
The most attractive option at this point is Indiana center Roy Hibbert. The former Georgetown standout has progressed nicely in his four years in the league and reached career highs in points, rebounds and minutes per game last season. Hibbert could be prepared for a breakout season in 2012-13, and his 7'2" frame would be a strong complement to LaMarcus Aldridge in the Blazers frontcourt. 
To grab Hibbert, Portland will have to lure the restricted free agent away from the Pacers. The Blazers will need to offer Hibbert a qualifying bid at $3.7 million to have a chance of signing him away, but his agent has indicated that Hibbert may choose to "gamble" on his restricted free agent status and take his talents elsewhere.
Hibbert has proven himself to be a durable and reliable center in his four years with the Pacers and, if his recent "maturation" continues, could evolve into one of the strongest centers in the NBA. His strong presence in the low post would complement the face-up style of Aldridge, and his rebounding skills would be a huge boost to a team that finished 25th in total rebounds this season. If the Blazers can add Hibbert to their roster, they could instantly become one of the most potent frontcourts in the league, as well a contender in the Western Conference.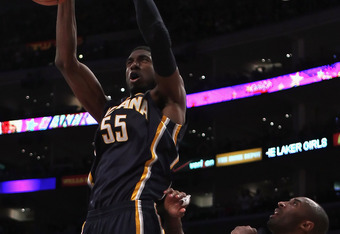 Jeff Gross/Getty Images
If Hibbert eludes Portland, its options for filling the hole in the low-post become slightly more muddled. Brook Lopez, Javale McGee and Chris Kaman are all restricted free agents in 2012. Even though none are as intriguing or likely as Hibbert, all three could potentially contribute in a big way for Portland if given a chance. 
As Rip City faithful prepare for an intriguing and crucial offseason, cautious optimism should be the prevailing emotion. With a new coach, two valuable draft picks, a new GM and an abundance of money to play with, the Blazers are in position to drastically alter the course of the franchise for the better. With the addition of a talented young prospect at point guard and Hibbert in the frontcourt, Portland could go from the cellar of the West to a dangerous contender in a matter of months.
2011-2012 was a season of letdowns and frustration for fans, players and management. But out this tumultuous year has come both closure and opportunity. The McMillan-Roy-Oden era meant to save the franchise may have passed without reaching fruition, but with its demise and dismantling now final, fans can now put their disappointment in the past and look to a very promising future. 
A future that will hopefully include one very talented big man.