Kasey Kahne, Jeff Gordon Highlight 5 Good, 5 Bad at Kansas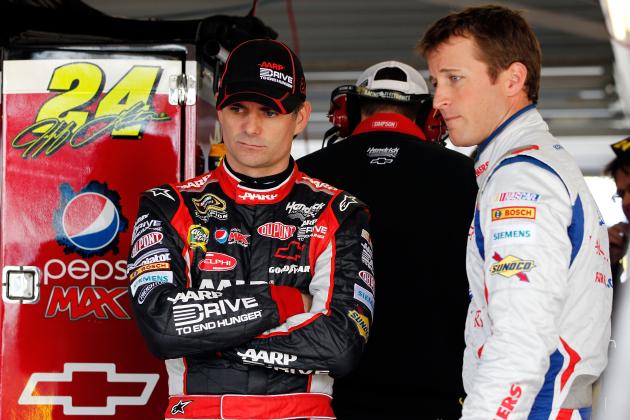 Tyler Barrick/Getty Images
Kasey Kahne(right) had a good day at Kansas while Jeff Gordon(left) did not
The boys of NASCAR hit the plains this weekend for their semi-annual trip to the great state of Kansas.
Sunday's STP 400 marked another terrific day for the Roush Fenway Racing and Hendrick Motorsports camps, but it was Team Toyota who dominated the day with Michael Waltrip Racing's Martin Truex Jr. leading 176 laps and Joe Gibbs Racing's Denny Hamlin taking the checkered flag.
But Sunday's trip to Kansas was not cool for everyone, despite the chilly temperatures. Several drivers were plagued with engine failures and just plain bad runs, most of whom you will see on this list as well.
Who was good and who was bad Sunday at Kansas? We've got you covered!
Begin Slideshow

»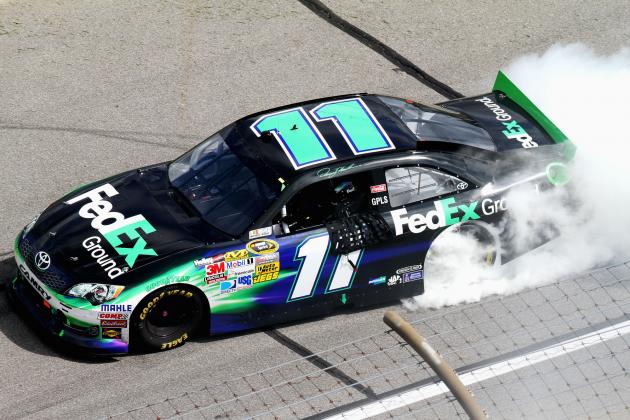 Jerry Markland/Getty Images
Denny Hamlin came out on top Sunday at Kansas
When the season began, who had Denny Hamlin tied for the most wins in Sprint Cup eight races into the season?
The 2010 Sprint Cup Series runner-up came into the 2012 season looking to rebound after a rough 2011. So far, the Chesapeake, VA native has not been disappointed.
Hamlin has already eclipsed his win total from 2011, doing so in impressive fashion on Sunday leading the final 31 laps and holding off a hungry and dominant Martin Truex Jr. en route to his 19th career Sprint Cup victory.
It was a run Hamlin badly needed after accumulating just one Top 10 in the five races since his first 2012 win at Phoenix.
Now that Denny has shown he can run up front again, the new fifth-place points man deserves a closer look in the upcoming races, particularly at Richmond and Darlington, where he's a past winner.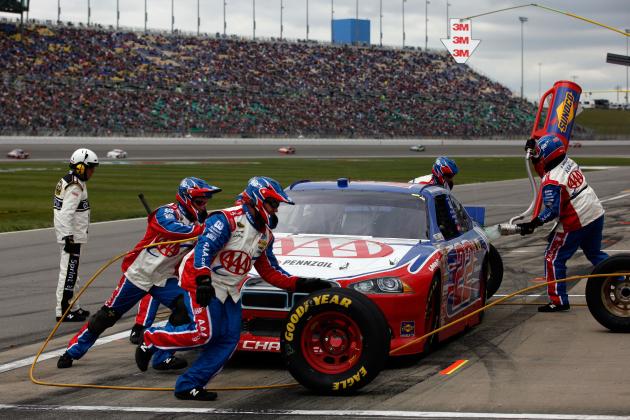 Chris Graythen/Getty Images
This was all-too-common of a site for AJ Allmendinger at Kansas
The man who started first at Kansas did not finish there on Sunday.
AJ Allmendinger claimed his second-career Sprint Cup Pole on Saturday and led the first 44 laps Sunday at Kansas.
It would all go downhill from there.
Allmendinger ran out of fuel prior to the first green-flag pit stop, dropping him from the lead back to seventh. On a restart just a few laps later, Allmendinger's engine dropped to seven cylinders and he would putt around the track off the pace for the remainder of the day.
Allmendinger went on to finish 32nd, 10 laps down.
On the bright side, Allmendinger did show some speed before the engine failure. Unfortunately, Sunday's issue marked the second mechanical problem in four intermediate-track races in 2012 for the Dinger.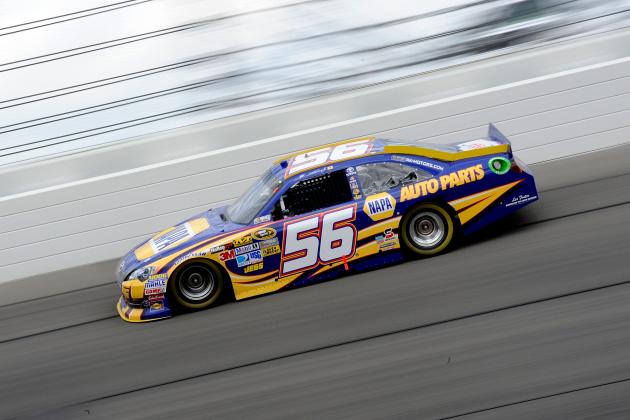 John Harrelson/Getty Images
Martin Truex Jr. owned the day at Kansas, but fell just short of the win
There is no superlative to describe the afternoon Martin Truex Jr. had at Kansas.
Simply put, Truex was dominant. The New Jersey native led by far the most laps on Sunday, taking 176 of the 267 circuits in the top spot.
Unfortunately, Truex fell just shy of earning his first Sprint Cup victory since 2007 after the handling on his car went away following the final pit stop of the day.
However, Truex showed the NASCAR world on Sunday that he has arrived. Sure, he's been in the sport for seven seasons now, but he has officially solidified himself as a legitimate contender, not just for a Chase slot, but for a possible title in 2012.
Truex's second-place effort moved him to second in the standings.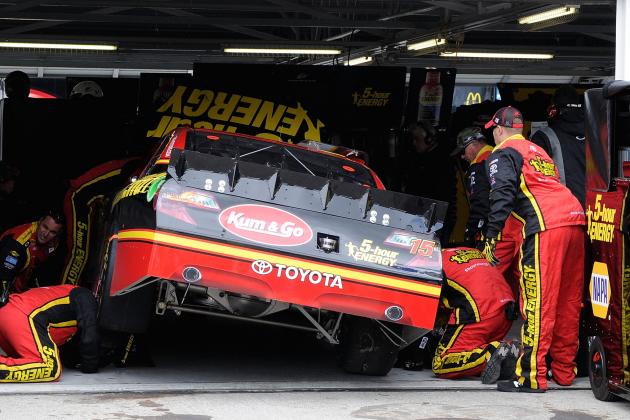 John Harrelson/Getty Images
Clint Bowyer was one of many drivers to be plagued by engine failure on Sunday
Despite it being prom season, this weekend's homecoming was not a good one Emporia, Kansas' Clint Bowyer.
Martin Truex Jr's teammate actually started out pretty strong on Sunday, riding around in the Top 10 for the early portion of the race.
Then the bottom fell out.
Bowyer began reporting engine problems to his crew just after the first green-flag stop and spun out moments later trying to get to pit road, bringing out the race's first caution. Bowyer's crew would make repairs, but his day would finally go up in smoke after completing 125 of the 267 laps.
Bowyer finished 36th, dropping to 11th in the standings.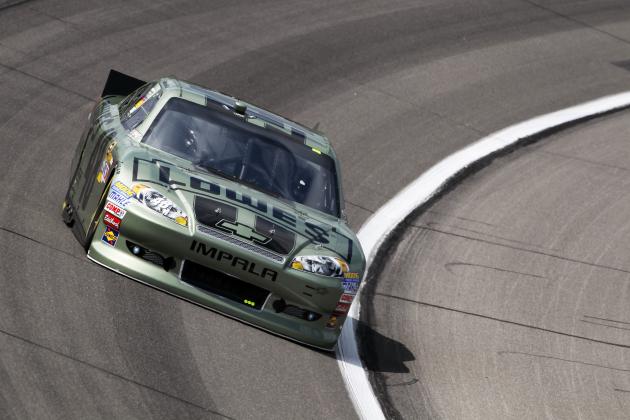 Jamie Squire/Getty Images
Jimmie Johnson picked up another solid finish Sunday at Kansas
For the second week in a row, Jimmie Johnson was the closest driver to earning Rick Hendrick's 200th Sprint Cup win as a car owner.
Johnson led two laps at Kansas and ran in the Top 10 most of the day en route to a third-place outing.
At one point, Johnson appeared to be the only driver on the track capable of competing with Martin Truex Jr., racing side-by-side with the dominant car of the day for a good portion of the middle of the race.
Johnson admitted after the race that he just didn't have anything for the Toyotas, but his sixth Top 10 in the last seven races sure is nothing to sneeze at.
Johnson now sits seventh in the standings, his best position of the year to date.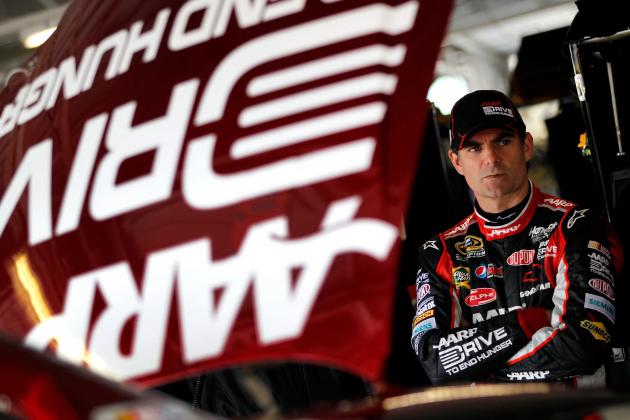 Tyler Barrick/Getty Images
Engine problems bit Jeff Gordon as well at Kansas
It's been well-documented so far in 2012 that if Jeff Gordon didn't have bad luck, he'd have no luck at all.
That proved true once again on Sunday, when the two-time Kansas winner had another Top 10 stripped away from him late in the going.
Gordon managed to avoid trouble all afternoon long, running consistently around the back of the Top 10 for most of the day.
But as it always happens, Gordon would be plagued with engine trouble like so many others late in the going, relegating the four-time champ to a 21st-place finish.
The finish knocked Gordon back one spot to 18th in the standings.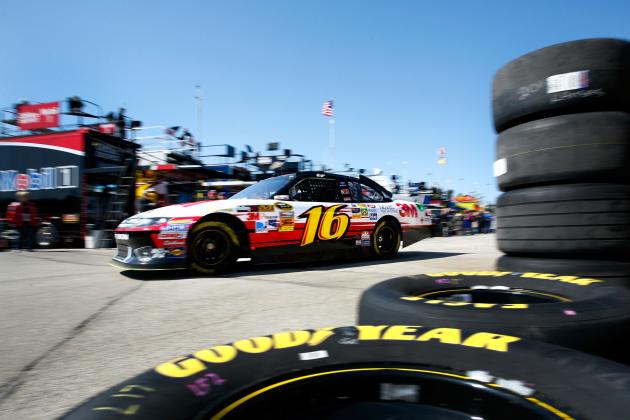 Tyler Barrick/Getty Images
Greg Biffle(pictured) and teammate Matt Kenseth continued their terrific 2012 on Sunday
Perhaps no team in NASCAR is as good as Roush Fenway Racing in 2012.
Roush teammates Greg Biffle and Matt Kenseth came into Sunday's race at Kansas ranked first and second in the standings respectively.
And had it not been for a stellar day from Martin Truex Jr., the Roushkateers would have actually bolstered their cushion on the competition.
Biffle would end the day with a solid fifth, with Kenseth one spot ahead of him in fourth.
Biffle now leads the standings by 15 points over Truex, with Kenseth in third 17 points back.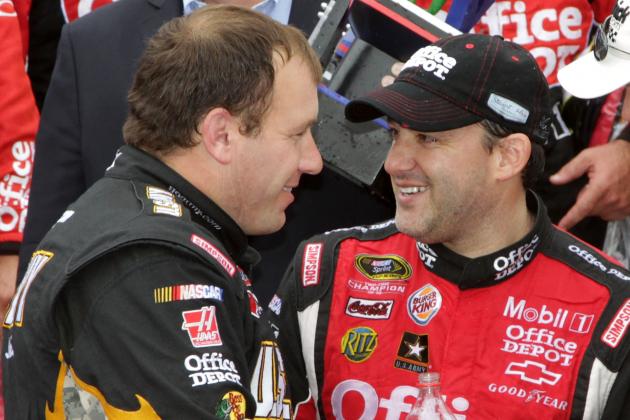 Jerry Markland/Getty Images
Tony Stewart(right) and Ryan Newman(left) both struggled once again at Kansas
Before the Easter break, it appeared no team in NASCAR could beat Stewart-Haas.
Now it appears Stewart-Haas can't beat anybody.
That may be a bit of an overstatement, but it cannot be ignored that since the break, Stewart-Haas Racing has yet to place a car in the Top 10 and just barely placed a car on the lead lap for the first time since the break on Sunday.
Tony Stewart struggled to find the handle on his car all afternoon, finally salvaging a 13th-place effort. Ryan Newman finished off the lead lap for the second-straight week, ending the day two laps down in 20th.
For a team that had three wins after the season's first six races, its struggles in the last two events have been very surprising.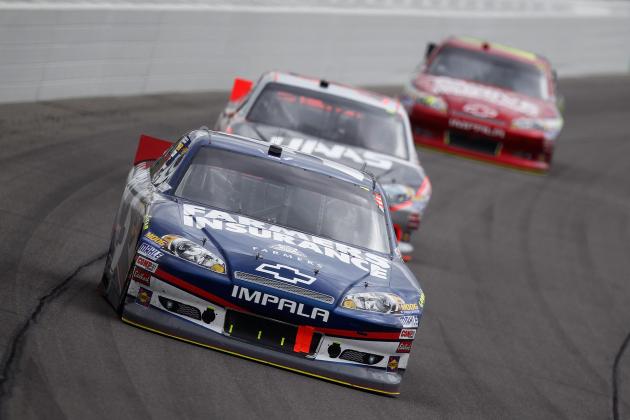 Geoff Burke/Getty Images
Kasey Kahne pieced together another Top 10 at Kansas
Things are finally starting to come together for Kasey Kahne.
Hendrick Motorsports' newest member brought home his No. 5 car in the Top 10 once again on Sunday, marking back-to-back Top 10s for the Enumclaw, WA driver for the first time since November of last year.
Kahne was solid if not spectacular on Sunday, running in the Top 10 virtually all afternoon en route to an eighth-place finish.
Kahne's back-to-back Top 10s have catapulted him from 31st to 26th in the standings.
If the No. 5 team can start turning those Top 10s into Top 5s, Kahne's escalator to the top of the standings could start to speed up.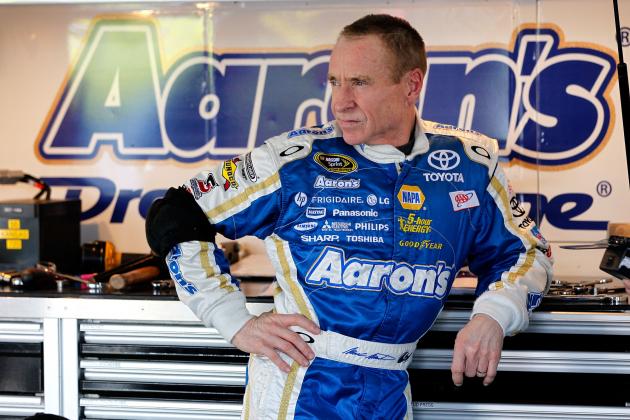 Tyler Barrick/Getty Images
Mark Martin had a great day -- and an engine -- go bad at Kansas
Unfortunate, not bad, may be the best way to describe Mark Martin's day at Kansas.
Martin, like so many others, had a Top 10 car on Sunday before engine failure struck him out of nowhere like a bolt of lightning, turning his Dream Machine into a nightmare.
Martin would end the day in 33rd, and the engine failure earned him his first DNF with Michael Waltrip Racing.
Fortunately, as he's not racing for points, the misfortune does not have as big of an effect on Martin as it would for, say, his teammate Martin Truex Jr.
Still, Martin hoped for a better day at a track where he won in 2005.