New York Mets: 10 Reasons the Pitching Staff Can Keep Up Hot Start All Year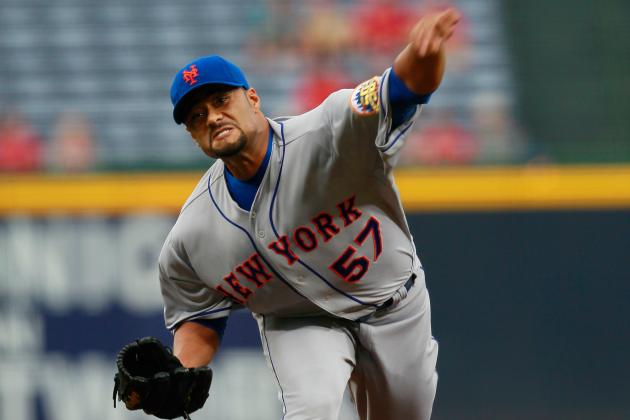 Kevin C. Cox/Getty Images

Through 16 games, the New York Mets have gotten off to a semi-surprising 8-8 start. The most exciting takeaway, as well as the main reason for the .500 record, is the stellar pitching that Terry Collins has gotten out of everybody (well, almost everybody) on his staff.
Jonathan Niese, Dylan Gee and even Mike Pelfrey (didn't see this coming) all have a sub-3.00 ERA. Johan Santana and R.A. Dickey have started the season on a lackluster note, but there's no reason to doubt the two will turn it around.
The bullpen has been bad, with the exception of Jon Rauch and Tim Byrdak. Seeing as GM Sandy Alderson made a couple of moves that brought in quality arms like Ramon Ramirez and Frank Francisco, the pen needs to be better than it has been thus far.
We've seen some typical New York Mets moments in this small sample of games, but we've also seen some games that the 2011 team wouldn't have pulled out (1-0 victory on Opening Day against the Atlanta Braves, 4-3 walk-off triumph over the San Francisco Giants on Saturday after a heartbreaking top of the ninth).
The starting pitchers will continue their hot start, helping the Mets to exceed expectations and establish themselves as a contender in the National League playoff race.
Here we will evaluate each starting pitcher's performance, while providing evidence to make the case that the early success will continue as the season progresses.
Begin Slideshow

»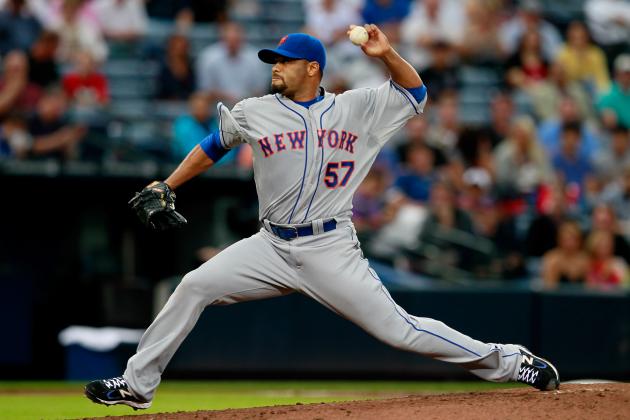 Kevin C. Cox/Getty Images

Johan Santana (or "Brohan," as I like to call him) followed up his encouraging Opening Day start against the Atlanta Braves with a tough-luck loss against the Washington Nationals and Steven Strasburg, then a real stinker against the Braves.
The two-time Cy Young winner has pitched to the tune of a 3.97 ERA. Not good for a guy of Santana's caliber.
In a recent article, I wrote that the key to Santana's success in 2012 would be for him to maintain a consistent velocity differential between his changeup and his fastball.
Over the course of his career, Santana has been in the range of a 10-mph difference between the two pitches. This season, he is right on par with that average, posting an 88-mph average for his fastball and a 78-mph average for his changeup.
His 3.97 ERA is a fluke, as he allowed just one earned run prior to his abysmal 1.1-inning performance against the Braves on April 17. He just didn't have it that day, throwing just four first-pitch strikes out of 11 batters faced.
Jason Bay's first-inning error in left field certainly didn't help him, as the Braves jumped out to a quick 1-0 lead.
Don't worry about Santana, folks, he'll have his ERA back under three in due time.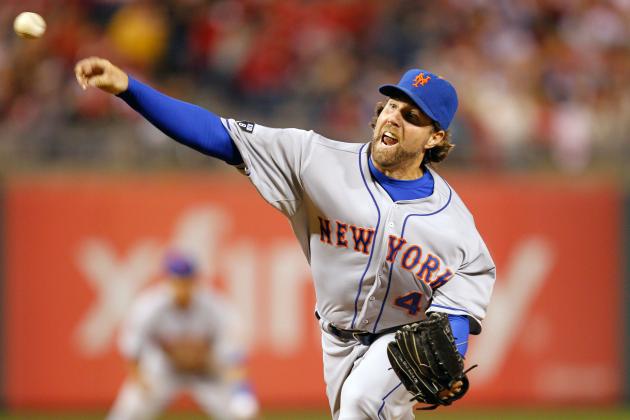 Brian Garfinkel/Getty Images

R.A. Dickey hasn't gotten off to the terrible start that his 5.71 ERA indicates. He had two great showings against the Atlanta Braves and Philadelphia Phillies before allowing almost three times as many runs in one start (eight) as he had all season (three).
That is to be expected with a knuckleballer like Dickey. Most of the time he's got great movement on the ball, sometimes it's a meatball. In Dickey's case, that poor start was due to some timely hitting by the Braves, as Freddie Freeman, Juan Francisco and Dan Uggla all hit two-run bombs before Dickey was relieved.
Prior to that start, Dickey had posted a 2.08 ERA. His current 1.67 WHIP is way above his average for the last two seasons (1.21), so expect that to plummet over the next few starts.
Terry Collins might not get the 2.84 ERA that Dickey racked up in 2010, but he's definitely going to get something closer to his favorite knuckleballer's 2011 ERA of 3.28.
Dickey's ability to develop his knuckleball in 2006 singlehandedly saved his career and made him one of the New York Mets' best acquisitions.
There's no reason to believe that his ERA won't hover somewhere around the 3.50 range for the season.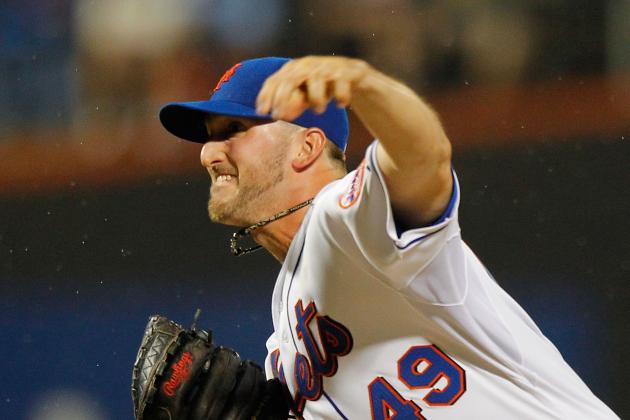 Paul Bereswill/Getty Images

After receiving an extension at the beginning of the season, Jonathan Niese has been great for the New York Mets. Niese retired the first 15 Atlanta Braves hitters he faced in his first start since inking the extension, making the front office look like a bunch of geniuses for signing such a team-friendly contract that includes 2017 and 2018 club options.
Paying around $5 million a year for a pitcher with such high upside is highway robbery.
Niese's early success has to be contributed to his increased reliance on his cutter. Last season, he threw his cutter just 17 percent of the time. Through three starts in 2012, almost 30 percent of his pitches have been cutters.
And we already know that his 12-6 curveball is deadly.
He's basically stopped using his changeup (5.1 percent in 2011 versus 1.3 percent in 2012), as his attempt to integrate that pitch into his arsenal hasn't boded well for him yet.
His ability to keep hitters off the bases has to be looked at as a huge step for Niese. In 2011, he posted a 1.40 WHIP. He's lowered that number to 1.13 in 2012. A .274 batting average against kept Niese from making a quantum leap last season. He's brought that down to just .200 so far in 2012.
These trends should continue, so watch out for Niese in his 30 or so starts remaining this season.
After getting his nose fixed prior to this season in an attempt to suppress his late-inning breathing problems, it seems Niese is destined to become a front-end starter for the Metsies in the future.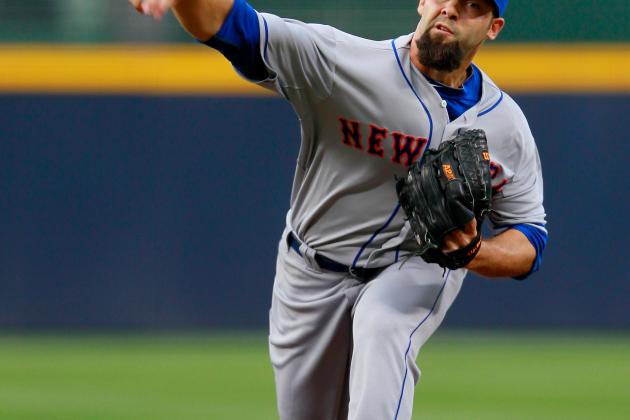 Kevin C. Cox/Getty Images

The 25-year-old Dillon Gee came out of the blue in 2011, delighting New York Mets fans with a 7-0 start to his career. This season, Gee has shown glimpses of his 2011 pre-All-Star form as well as his 2011 post-All-Star form.
In his first start of 2012, he had a typical "bad Gee" start. It went like this: Let up an early-inning home run, mow the opposition down for the next four innings, get to the sixth, let up a couple of hits, get pulled, then get no help from the bullpen in stranding the inherited runners.
If 5.1 innings pitched and three earned runs is the "bad Gee," sign me up.
His next start reminded us just how effective he can be. That one went like this: 15-of-27 first-pitch strikes, let up a run on a series of dinky hits and timely ground-outs, followed by allowing just two hits for the remainder of the game.
That time he went seven innings, allowing one earned and four hits. Pretty impressive for a sophomore with just one full season under his belt.
He doesn't overwhelm hitters, but he does have five pitches at his disposal. He's strayed away from his fastball a bit in 2012, throwing it just over 47 percent of the time, as opposed to 55.5 percent in 2011. I would think that's a good idea as he tops out around 89 or 90 mph.
I love his curveball. It's basically a slurve that curves a bit more than it slides. He's shown that he is capable of painting the outside corner with all of his breaking balls, which gives reason to believe that he will maintain a sub-4.00 ERA for the duration of the season.
His changeup has become something to behold, keeping hitters off-balance with the velocity differential that I've been making such a big deal about.
Don't even try to tell me you wouldn't be confident in Gee's ability to out-pitch almost any other team's No. 5 starter.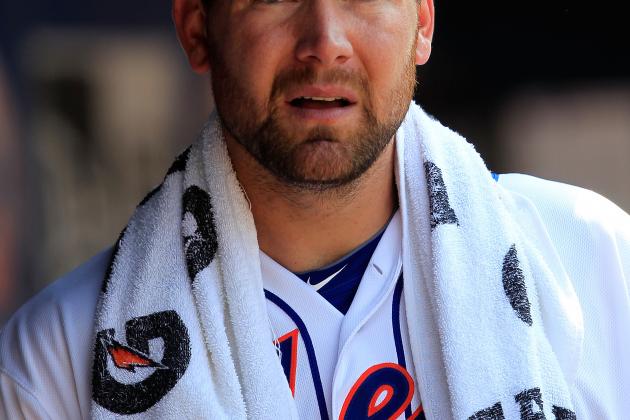 Chris Trotman/Getty Images

Will 2012 be the year that Mike Pelfrey finally proves his worth and solidifies himself as a definitive MLB-caliber starting pitcher?
Who knows? You really never know with a guy like Pelfrey, whose pitching skills seem to rely on his ability to keep a clear head.
Big Pelf has a 2.29 ERA this season (am I dreaming?) despite the fact that he has posted a 1.42 WHIP so far. Keeping guys off base is huge for Pelfrey, because once one man gets on, it usually turns into an avalanche of baserunners.
I suspect this is due to the fact that he has a problem pitching from the stretch, which is caused by his lack of experience with runners on.
At Wichita State, Pelfrey averaged around one strikeout per inning to go with a sub-1.00 WHIP for the three seasons he was there. He never had to learn how to pitch out of the stretch because he hardly ever had men on-base.
That's why I love baseball. In what other sport can a player's past dominance wind up hurting him in the future?
His control seriously suffers with men on. In 2011, he walked 42 batters when there was a man already on base, as opposed to just 13 walks with the bases empty.
Do you see the avalanche trend yet?
Pelfrey has been inducing a high amount of ground balls in 2012. He's gotten 29 hitters out on ground balls, and just 16 on balls hit in the air (11 of which came in his last start).
For a guy who allowed 21 homers last season, it's crucial that he continues to use his sinker effectively.
If Pelfrey keeps the bases empty, he will enjoy a career season.
Pelfrey should also be motivated by Philip Humber's perfect game. The two pitchers were once highly-touted Mets prospects and of course the team traded away the guy who threw the 21st perfect game in MLB history.
Something tells me Pelfrey will figure it all out this season and become the pitcher the Mets always hoped he would be.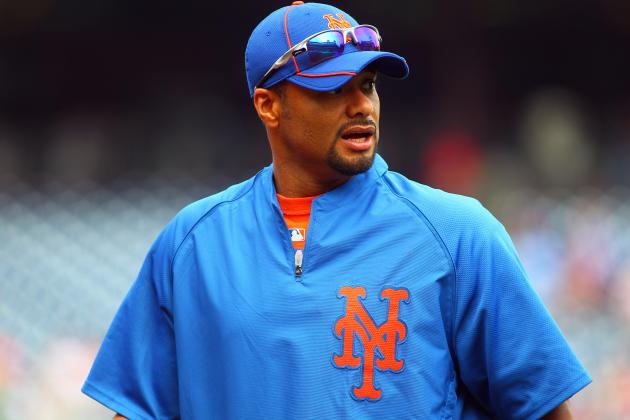 Rich Schultz/Getty Images

The starting rotation for the 2012 New York Mets has been nothing short of great. As a whole, the five starters have posted an ERA of just 3.48.
More impressive, 57 percent of the starts made have been quality ones. For those who don't know, a start is categorized as a quality start if the pitcher goes at least six innings and allows no more than three earned runs. That 57 percent mark is good for No. 10 in the MLB.
Based on the statistics and trends, the Mets' starting pitchers seem like they are set to enjoy prolonged success as a whole.
Here's a breakdown of the five starters and how they complement one another.
You have a consummate professional and fierce competitor in Johan Santana, whose role as a mentor and veteran role model are just as valuable to the team as his pitching.
Then you have R.A. Dickey, the easygoing, knuckleballing, mountain-climbing, 37-year-old author who gives it his all every start and provides an effective bridge between Santana and the back-end of the rotation.
Jonathan Niese, the No. 3 starter, has made a case that he has the potential to one day become the ace of this Mets rotation, or at the very least, a No. 2 starter. He's committed to his craft as evidenced by his rhinoplasty, in which he went under the knife to improve his performance.
The left-righty-lefty trio gives the Mets a chance to win two out of three in any series.
Mike Pelfrey and Dillon Gee could be interchangeable at the fourth and fifth spots, but for now it seems as though Terry Collins will continue to run out Pelfrey in between Niese and Gee. Nobody needs the support of Santana and Dickey like these two do, as Niese has already gotten his support via his contract extension.
These five are a close-knit bunch. During Saturday's game, Gary Cohen told the audience about the rotation's daily meeting with Dan Warthen and catcher Josh Thole (the topic of the next slide), in which the seven of them review the last pitching performance and game plan for the next one.
The combination of talent and chemistry between the five starters will make for a fun season to watch.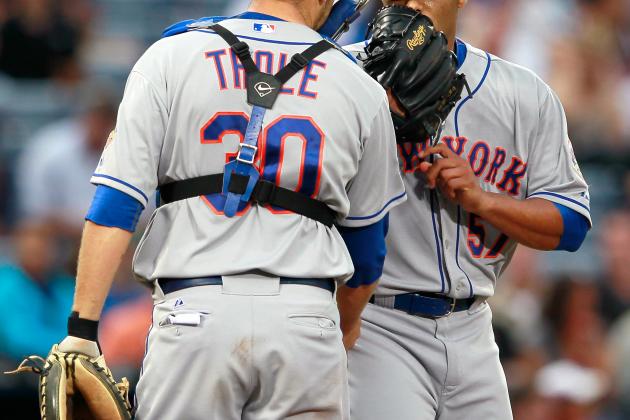 Kevin C. Cox/Getty Images

Call me crazy, but I don't think it's far-fetched to say that Josh Thole is partially responsible for the early success of the New York Mets' starting rotation.
Even as a young, ripe catcher in one of the biggest baseball markets in the country, Thole has begun to refine his craft, devoting himself to becoming the best catcher that he can be.
Thole and backup catcher Mike Nickeas meet with Dan Warthen before games and discuss the strategy that they will employ. After that, they bring in the day's starting pitcher to clue him in on the game plan.
The 25-year-old catcher has had his fair share of issues behind the plate, but calling a good game hasn't been his problem in 2012.
Really, how often do you see the starting pitchers shake him off? Not too often.
Warthen has done a great job as well. It's not his first time around the block with a rotation like the Mets have. In 1996, he was the pitching coach of the San Diego Padres, with a rotation comprised of Joey Hamilton (28 years old), Bob Tewksbury (35), Fernando Valenzuela (35), Andy Ashby (28) and a No. 5 spot which teamed up Scott Sanders (27) and Sean Bergman (26).
That Padres team won the National League West, compiling a 91-71 record.
Yeah, that rotation was a bit older, but it is still comparable. The aging aces in Santana and Valenzuela to act as a mentor for the younger guys, as well as flash their brilliance from time to time. Tewksbury and Dickey are both old, but effective. And Ashby, Sanders and Bergman are akin to Mike Pelfrey, Dillon Gee and Jon Niese.
Before you lose your mind about these comparisons, know that they are rough estimations and only used to compare the pieces that Warthen has to work with.
If anything, the potential of the 2012 Mets rotation far surpasses that of the 1996 Padres.
That staff pitched to the tune of a 3.72 ERA. If the Mets can stay in that ballpark—and they do have the ability to do it—they're going to win a lot of games.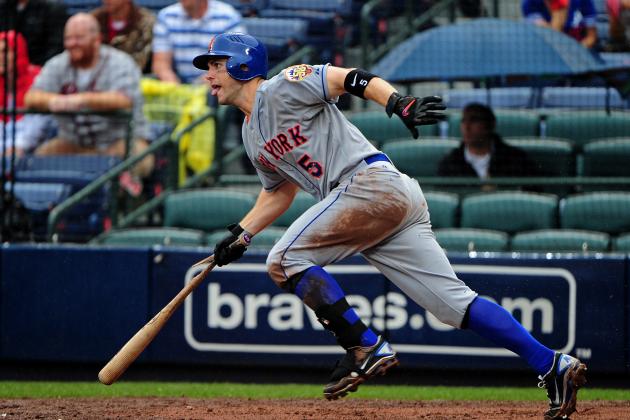 Scott Cunningham/Getty Images

The New York Mets are 26th in runs scored, but they won't stay at bottom of the barrel for the rest of the season.
In 2011, the team finished at No. 12 in the league, scoring 718 runs.
Just to get the issue out of the way, yes, I know that the Mets no longer have Carlos Beltran and Jose Reyes. Arguments that attribute the team's offensive prowess to contributions made by Beltran and Reyes conveniently leave out the fact that David Wright missed 60 games and Ike Davis played in just 36.
The problem with the lineup is that they can get 12 hits but only scored two or three runs. The lack of power is a bit concerning, but that will change once Davis finds his groove and Lucas Duda starts hitting for some power.
And yes, Duda will start hitting for power. He's 6'4", 250 pounds, he's not going to hit singles for the rest of his career.
Kirk Nieuwenhuis has shown promise in a small sample. In his last eight games, he's gotten 10 hits and scored six runs, providing evidence that he is a worthy replacement when leadoff hitter Ruben Tejada is out of the lineup.
Once the hitters start getting hot and jumping on opposing pitchers early in games, the starting rotation will have more room for error, as well as more chances to get a "W." It's actually quite amazing that the Mets have gotten off to an 8-6 start while scoring fewer than four runs per contest.
Obviously the lineup can't compete with the best ones in the league, but the Mets will most likely find themselves in the middle of the pack at the conclusion of the 2012 season. That's more than enough for the rotation to work with.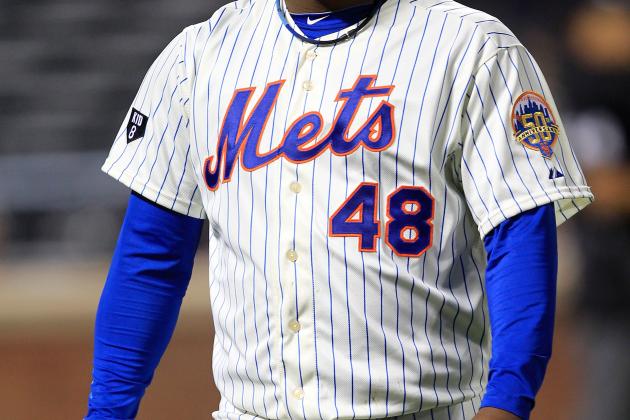 Chris Trotman/Getty Images

The New York Mets bullpen has been pretty bad collectively. The arson squad, as I've begun to call the group of arms in the Mets pen, has posted a 4.43 ERA in 44.2 innings pitched.
Do you know why they are the arson squad? Because every time Terry Collins calls upon one of them to come in and put out a fire, they just throw more gasoline on it.
With the exception of Jon Rauch and Tim Byrdak, the relievers have had a hard time commanding their pitches.
After picking up a save in each of the Mets' first three games, Frank Francisco has allowed 10 baserunners and six earned runs in just 3.1 innings. But don't worry, the New York Post reported that Dan Warthen worked with the closer to fix some mechanical issues.
Ramon Ramirez has a 6.00-plus ERA in just 7.1 innings, but that number will soon enough be on the downturn, as Ramirez had just a 2.08 ERA in 95.2 innings pitched for the San Francisco Giants over the last season-and-a-half.
Bobby Parnell has had a sub-par season thus far, following his dominant spring training performance in which he didn't allow a single earned run. That will change. Parnell has a high-90s fastball and has figured out how to throw it for strikes. Guys like that don't just suck it up all season.
If Ramirez, Parnell and Francisco get back on track, this bullpen could be one of the best in the league. Parnell and Ramirez would split seventh-inning time until one of them proves themselves over the other. Rauch would remain the setup man as a bridge to Francisco (barring Francisco doesn't lose the job) and Byrdak is one of the best lefty specialists out there, posting a .206 batting average against versus lefties over the last three years.
The defense has been spotty at best, particularly in the later innings.
We've seen Kirk Nieuwenhuis and Ruben Tejada team up to botch a pop-up in shallow center. We've seen a tailor-made double-play ball go right through the wickets on Daniel Murphy. We've seen Jason Bay get turned around on a couple of fly balls, failing to make catches that he should have.
The team has totaled 10 errors, putting them at No. 16 in the majors. That's not too brutal, but the errors have come at untimely instances.
The Mets did everything they could to lose the game in the ninth inning of Saturday's contest against the Giants. They looked like the Bad News Bears in the field, but they were able to pull it out.
Defensively, the team will improve. The infield, with the exception of Murphy, is filled with above-average defenders. In the outfield, Bay and Nieuwenhuis can cover substantial ground, which makes up for Lucas Duda's lack of range. Duda, however, makes up for his sluggish tempo with his above-average arm.
You won't see incompetence in the field for too much longer and the starting pitchers will benefit from the improved fielding effort.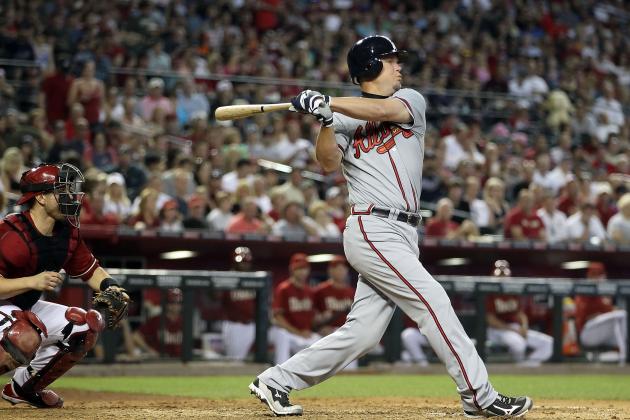 Christian Petersen/Getty Images

The New York Mets have played 12 games against division opponents in 2012. They have won seven of those 12 games.
Seven out of 12 doesn't seem that impressive, but when you spread that out over a 162-game season, it is crucial. The difference between 6-4 and 5-5 is the difference between the 2011 seasons of the New York Yankees (.599 winning percentage) and Toronto Blue Jays (.500 winning percentage).
The parity in the National League East is remarkable. The Philadelphia Phillies have pitching, but nothing else, at least until Ryan Howard and Chase Utley return. The same goes for the Atlanta Braves. The Miami Marlins and the Washington Nationals can do a little bit of both, but aren't overwhelming in either respect.
Odds are, the five National League East teams won't fare exceptionally well against other National League opponents, meaning that whoever comes out with the best division record could be crowned division champion.
In 44 starts against division opponents, Johan Santana has accumulated a paltry 2.69 ERA in 284.2 innings pitched. R.A. Dickey has posted just a 3.29 ERA against NL East opponents in 30 starts throughout his career. Dillon Gee has an ERA of 4.01 against NL East opponents in 19 starts. Jonathan Niese is about the same, boasting a 4.06 ERA in 28 starts against division opponents. Mike Pelfrey is the only current starting pitcher who doesn't pitch well against other teams in the division, with a lofty ERA of 4.97.
The Mets will play each team in their division 18 or 19 times. Last season they finished with a division record of 33-39. If they can turn that into 40-32 this season, they will have a shot at winning the National League East.
Based on career trends, the Mets will get good starting pitching against the Braves, Phillies, Marlins and Nationals, giving them a leg up on the competition.