Johan Santana: Should New York Mets Trade Ace Once His Value Is Restored?
April 11, 2012

Nick Laham/Getty Images
Beloved New York Mets ace Johan Santana has finally made his return to the mound at Citi Field after an 18-month hiatus.
Now the question is, will GM Sandy Alderson make the two-time Cy Young Award winner the centerpiece of a mid-summer deal once his value is restored?
Unfortunately, there is not a definitive answer quite yet. But as the 2012 season progresses, light will be shed on this exceptionally consequential issue.
The main factors that will go into Alderson's imminent decision pertain to what Santana needs to do to restore his value as one of the premier pitchers in the league, as well as what players the Mets could receive in return for shipping their All-Star starting pitcher elsewhere.
As you probably know, Santana began his 2012 campaign on the right foot by hurling five scoreless innings against the Atlanta Braves on Opening Day. By doing so, he proved to other big league clubs that he still has a formidable arsenal of pitches at his disposal.
His performance was reminiscent of the Santana of old, but was hardly a replication, as he was lifted after just 84 pitches. That was no fault of his own though, as Terry Collins has no choice but to treat his team's best pitcher like a fragile piece of fine China.
His most recent effort is a good foundation, but in order to restore his value, Santana must string together multiple starts of seven-plus effective innings. If he is able to display effectiveness deep into games, his value will skyrocket, as other teams will dispel the notion that he is a high-risk, high-reward acquisition.
But what does effectiveness mean?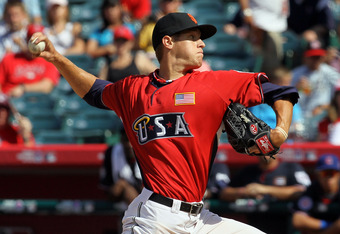 Stephen Dunn/Getty Images
It means that Santana must obliterate the idea that his decrease in velocity has inhibited his ability to mow down the opposition. That won't be a problem for the Venezuelan starter, though, as he has exhibited a steady decline in velocity from 2006 through his first outing of 2012.
Over that span of time, he racked up a 74-44 record and a measly 2.92 ERA. Santana's saving grace has been his capability to keep hitters off-balance by maintaining the difference in velocity between his fastball and changeup.
A loss in velocity typically puts a pitcher on red alert, but it shouldn't. Since he won the Cy Young Award in 2006, the average speed of his fastball has fallen by one mph every year (93, 92, 91, 90, 89 and 88 on Opening Day in 2012).
In 2010, when he compiled a 2.98 ERA, he averaged a 10-mph disparity between the two pitches. In his first start of 2012, he displayed that same difference.
Through the smallest of samples in this young 2012 season, Santana has provided concrete evidence that the sole concern potential suitors should have is of his health, not his talent.
Dan Uggla, who launched 36 home runs last season, had this to say about Santana: "Looks like the same dude to me. The only difference I can see is like, he's not throwing quite as hard. But it didn't seem to matter."
Uggla may be a little biased, as he has just one hit in 21 at-bats against the lefty, but he is still a major league hitter capable of assessing opposing pitchers.
If Santana is able to stay healthy leading up to the trade deadline, there will be no shortage of teams vying for his services down the stretch.
But who will those teams be?
It's too early to tell, as contenders and pretenders have yet to be determined, but it's highly unlikely that any front office will be apt to eat Santana's remaining contract (upwards of $50 million combined in 2013 and 2014) while also sending blue-chip prospects to Flushing.
Even if Alderson can find a front office willing to sacrifice their future to win in the present, would there be prospects that would be in the Mets' best interest to acquire?
Of course pitching prospects are always in high demand, but the Mets are in better shape than many teams in that respect. Top-tier prospects Matt Harvey, Zack Wheeler and Jeurys Familia all appear to be within a year or less of joining the big league squad.
Santana can help Wheeler further develop his changeup, as the 21-year-old righty unequivocally needs to improve in that department. 
Harvey has recently added a change up to his repertoire to accompany a blazing fastball, a slider and a curve.
Nobody can help a young pitcher refine his changeup more than Santana, who is known for having one of the best changeups in the game.
Thus, Santana's value as a veteran mentor to the rising pitchers greatly outweighs his value in helping the Mets bring in a surplus of young talent, as a team full of young players stripped of all its veterans hardly succeeds.
For all the bashing Mets brass has received in the past few years for possessing a depleted farm system, six of the eight Opening Day position players were homegrown.
The jobs of Ike Davis, Daniel Murphy, Ruben Tejada, David Wright, Lucas Duda and Josh Thole are secure for the time being, as their skipper has displayed inordinate confidence in every one of the Mets' former farmhands.
Thus far, these young players are exceeding expectations, radiating confidence while showcasing uncanny team chemistry.
If it's not broken, don't fix it.
Where else is there to improve? 
The bullpen was expected to need some help, even after the offseason acquisitions of Frank Francisco, Jon Rauch and Ramon Ramirez, but the group has been a pleasant surprise four games in.
Plus, it wouldn't make sense to trade an All-Star-caliber pitcher to bolster the bullpen more than halfway through the season.
Other than young arms, the Mets could feasibly get a corner outfield prospect to replace the utterly disappointing Jason Bay. That wouldn't make much sense either, as the organization believes they have their outfielders of the future in Brandon Nimmo, Cesar Puello and Kirk Nieuwenhuis.
That doesn't leave much else.
Trading Santana prior to the July 31 trade deadline would be akin to the 1977 "Midnight Massacre" in which Tom Seaver was traded to the Cincinnati Reds for a bucket of balls and a used jock strap.
While Seaver remains a Mets legend, atop the franchise list in both popularity and success, his situation was similar to the one Santana finds himself in.
Before being traded, Seaver was an aging star, but still effective. He was 31 years old when he was dealt, just two years younger than Santana. Depriving Mets faithful of Santana's services before his duty to the team has been successfully fulfilled would result in a public relations disaster.
In 1978, Seaver made 36 starts to the tune of a 2.54 ERA. That's exactly what will happen if Santana is sent away.
There is no doubt that Alderson is a quality GM and has made numerous personnel decisions over the course of his career that have proved favorable (especially since joining the Mets), but to trade Santana at a time when the Mets finally seem to be able to put a semi-quality product on the field would be detrimental to the present and future of the organization.
This is a situation that needs to be handled with care.
If the Mets remain relevant into the dog days of the season, Alderson would be wise to keep the team he has intact, as it would be nothing short of a crime to trade Santana unless a king's ransom can be received in return.
Depriving the team of one of its best leaders and consummate professionals would decimate any chance the team has at remaining in contention for the duration of the season.