WWE: A Plan for the Tag Team Division to Be Reborn (Part 1)
April 24, 2012

Welcome to the first in a series of articles that is a plan to revitalize the tag team division for the WWE.
It has been said that the WWE often views these sites and has put a stop to certain story lines or changed the way a story was going based upon fan input. Switching it up to keep the story theirs and somewhat unpredictable.
This article is not here to do that, in fact the opposite, I encourage any of the WWE writers to full on steal my ideas, thoughts and plans. Let us begin the plan and walk-through of bringing the tag division back to life.
Throughout history the tag team division has had its highs and lows, the massive amount of teams and gimmicks in the 80s, the extreme TLC matches of the 90s gave us some of the greatest matches of all time.
In my time as a wrestling fan, I have always been a huge fan of the tag division, I have looked through the past and pulled over 20 teams for inspiration in pumping new blood into the current situation.
Past teams that I feel have been major players in the tag division that were looked at as research as to what makes a great tag team were, in no particular order: New Age Outlaws, The Outsiders, DX, The Dudleys, The Road Warriors, Demolition, The Hart Foundation, The Hardys, Edge & Christian, The Freebirds, Kaientai, Harlem Heat, The Wild Samoans, The Rockers, The British Bulldogs, and more.
I'm certain there are many others, The Von Erichs, Nikolai Volkoff and The Iron Sheik, but this list here I feel represents a good portion and they all had good chemistry that really made that division and those tag team championship belts valuable.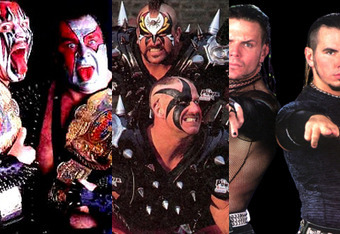 Pulling from history and what works is one part of this experiment, a benefit of having those belts not being assigned to a brand is a huge advantage and another important piece. The tag team champions can and should bounce back and forth between Raw and Smackdown.
The superstars that will be used for this must be currently active on the roster and will not be pulled from other companies. While I would love to add Christopher Daniels and AJ Styles to the mix, we are keeping this in the current WWE Universe.
First, we are continuing that currently the tag team champions are Primo and Epico with Rosa Mendes as their valet. I like these two as champs; however, we need to build their characters; they're like a modern-day Los Guerreros without the fun.
They have the skills in the ring, they're high flyers, they have an attractive valet that can distract opponents; now we just need to really meet them. They are real life cousins with even the same last name, that needs to be played up. We need vignettes of the two of them doing stuff outside the ring.
First vignette:
We see Primo and Epico lying on lawn chairs next to a pool, discussing places they've been and the teams they've beaten since being champs. Discussing moves back and forth and how they can play off one another. The tag belts are in front of a chair between the two of them.
Primo: What's left, cousin?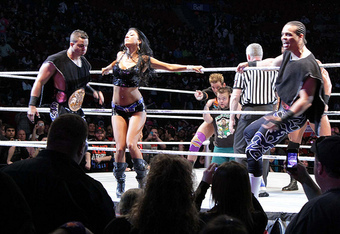 Epico: Staying on top, cousin.
Primo: What if some new team comes along and beats us?
(Both look at each other and laugh)
Primo: So is that the only reason we keep fighting?
Enter Rosa dressed very sexy sitting on chair between them. 
Epico: MMMMMM no. (both smile as does Rosa)
Primo: Estamos en el fuego (subtitles: We are on fire)
Epico: Si. Estamos en el fuego
Rosa: Estamos en el fuego. Tan caliente (subtitles: We are on fire. So hot.)
The team of Epico and Primo are now that of a fighting champions, willing to fight to keep the titles, keep Rosa around and to keep on fire. They've never behaved too "heelish" so keeping that line blurred as to whether they are truly bad can be kept.
The first week of the plan begins on Monday Night Raw, John Laurinaitis comes out on Raw and to discuss an email he had sent out to the superstars, he knows the people want to see the tag team belts defended and they want good solid tag teams.
He has issued a challenge to all the superstars on both shows to create a tag team, fight, win, and work your way up for a tag team shot. If a new winning team is crowned the tag team champions, they will get a $100,000 bonus!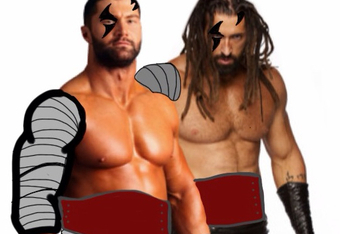 Primo and Epico are furious; they approach the general manager and tell him they're extremely upset and that he basically has put a bounty on their heads.
He calms them down and tells them if a new team comes around and they're able to defeat them while building a solid match, they'll get a bonus of $50,000 for every team they take out on a weekly basis.
Plus if they defend the titles and win, then they will get the $100,000 bonus. This makes them much happier and we hear them say they're off to train, Rosa says she's off to keep an eye on the competition. 
Monday Night Raw continues and we see the first new team emerge. Mason Ryan teamed with Tyler Reks come to the stage brandishing face paint tribal markings.
Their forearms are wrapped as are their right arms all the way up to the shoulder. The song "Warrior" by Disturbed is played as they are introduced as The Thracians.
Michael Cole gives us the wikipedia definition of Thracian, and their history as gladiators. These two warriors coming to the ring, growling and seething at two guys in the ring we've never seen before.
Quick work is made of the opponents and their tag team finisher, which devastates the crowd, is when Reks Irish whips one of the men into the ropes when he comes back to him he catches him, lifts him up to a spine buster at the same time Mason is running from behind Reks hitting the opponent with a running lariat similar to JBL's clothesline from Hell.
The clothesline hits the while the opponent is in the air from the spinebuster that seconds later drives the man into the mat. 
Winners: The Thracians, Laurinaitis comes out and applauds. Primo, Epico and Rosa are watching in back on a monitor. 
This ends the first part to the revitalization and we have our first new team of nine new teams, The Thracians.
Stay tuned all this week as I bring about a new era in the tag team division. Follow my friend and promoter on twitter @captainoutstanding. Follow me @boompage on twitter and check out my site www.theboompage.com for more WWE, pop culture and other cool stuff.
Check out part two of this article here: Tag Teams Reborn Part 2