Marlon Byrd Trade Doesn't Necessarily Signal a Callup of Brett Jackson by Cubs
April 22, 2012
Ezra Shaw/Getty Images
Many Cubs fans feel that just because they traded centerfielder Marlon Byrd to the Boston Red Sox, it automatically follows that prospect Brett Jackson and perhaps even first baseman Anthony Rizzo will be called up to the big league club immediately. But that is not necessarily so.
One clue that the Cubs didn't trade Byrd simply to immediately call up Jackson is that Cubs GM Jed Hoyer admitted that they had been talking about acquiring relief help since the winter and we know that the Cubs had no intention of taking Jackson to Wrigley Field on April 5th.
Now, that isn't to say that having an outfield prospect like Jackson didn't factor into the decision to jettison Byrd. It's always nice to trade from a position of organizational strength to fill a need. 
But another reason that the Cubs may wait to bring up Jackson is that they don't want his arbitration clock to start ticking too early. That way, they can avoid the so-called "Super Two" exemption that allows players with less than three full years of major league service to be eligible for arbitration.
But the most important reason is that the current Cubs regime doesn't want to bring up prospects until they are ready. This is especially true in the case of Rizzo, who Hoyer himself openly admitted to bringing up too soon with the Padres last season.
The point being, the next time Rizzo is brought up they want it to be the last time.
As for Jackson, he is off to a slow start at Iowa. More importantly, they want to avoid the suggestion that he is coming up to be some sort of "savior" for a Cubs team that is seriously floundering at this point.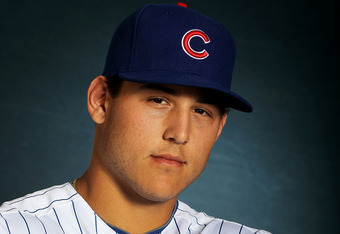 Jamie Squire/Getty Images
There is already enough pressure on rookie ballplayers without having the added pressure of trying to turn around a Cubs season that is not close to meeting even the muted expectations for the 2012 season.
Look, Cubs fans, I understand that if they're going to lose anyway, we'd all rather see them losing with true prospects rather than veterans with bloated contracts. There is always more empathy for a rookie struggling than there is for a veteran like Byrd, who was hitting just .070 at the time of the trade.
Still, I strongly support the idea of waiting until the front office truly feels that a player is ready. They could still be wrong, of course, but it shows that they are doing their due diligence at least.  
Meanwhile, I hope that Cubs fans aren't expecting too much from Jackson, and I don't mean too soon. I'm talking about his ceiling overall. He is expected to be a solid average major league regular, but not a star by scouts.
I would be thrilled if Jackson surpasses that projection, but my fear is that if he ends up being a .260-.270 hitter with 20 homers and 20 stolen bases that fans won't be satisfied. Hey, we forget how hard that is hard to do—not many players ever achieve those numbers.
In his organizational prospect review write-up, ESPN scout Keith Law had this to say about Jackson: "Jackson has solid tools across the board, but they're mitigated by a longstanding problem with contact that really limits his offensive upside.as a rookie."
So, as a rookie, he may struggle like many rookies often do, and that coupled with the awful start to this Cubs season could put added pressure on the kid.
I do believe he will be brought up at some point this season, and probably before the All-Star break. But as a knee-jerk reaction to the Byrd trade? I'm guessing not.
So I'm fine with playing the waiting game. After all, why shouldn't we—As Cubs fans, we're used to waiting. Painfully used to waiting.