Boston Red Sox Fans, Fenway Park Celebrate Past, but Lament Recent History
April 21, 2012

The Boston Red Sox celebrated 100 years of Fenway Park memories with pre-game festivities that included video reminiscences, appearances from 212 former players and a musical performance by The Boston Pops. What a day! 
However, despite the frivolity and heartwarming nostalgia, the history that unfolded in the storied arena yesterday was not really about a burly ballplayer named "Babe" making his Red Sox debut as a pitcher, or about a man named "Teddy Ballgame" hitting .406.
The focus was not Carlton Fisk's classic gesticulations as he willed the flight of his home run fair in the 1975 World Series either. It wasn't even about the Green Monster, or names like Williams, Yazstremski, Rice and Lynn or about the magical lifting of the curse back in 2004 and the repeat of glory in 2007.
No. The history lesson at Fenway Park yesterday was far more simple and a lot more recent. And it's one that the Red Sox are struggling to swallow. 
Be careful what you wish for. 
The regret and burgeoning unrest in Boston became quite evident when Terry Francona, the former manger who was vilified publicly last year for his failure last season as Red Sox manager despite all of his prior success, was lionized by the Fenway faithful after he was introduced. Francona's presence engendered the most significant response from the sellout crowd. And the message was loud and clear:
"Welcome home old friend—wish you were still here."
This is quite a contrast to the sentiments being thrown Bobby Valentine's way these days. Valentine has begun his tenure as Red Sox skipper in such an inauspicious manner that it has Red Sox Nation in full panic mode and asking the same question: Why is Francona not our manager?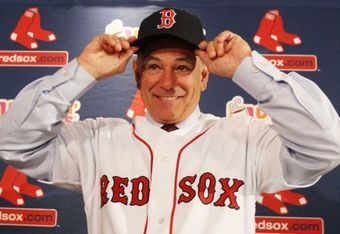 The unrest is not only attributed to the 4-9 start to the season, although a few more wins would certainly have taken the sting out of Francona's absence. It's more than that. It's the haughty abrasiveness of Valentine, the Kevin Youkilis/Dustin Pedroia maelstrom and the overall disconnect between one man and a great city that has Red Sox fans wondering if the team should have just left well enough alone. 
I wonder what management is thinking.   
Chants of "We Want Ti-To," "We Want Ti-To" reverberated throughout the ballpark at various moments, ushering in a swelling restlessness that hijacked the afternoon's focus while throwing a spotlight on the emerging strife in Beantown.
Clearly, the Red Sox have an issue on their hands. 
The hasty, somewhat inexplicable ousting of Francona last year, is emblematic of a mentality in professional sports these days that places far too much emphasis on the distasteful aphorism "what have you done for me lately?" Far too many organizations act impulsively in order to remedy fortunes when problems arise. 
Francona was removed by the Red Sox as manager after a second consecutive season in which the Red Sox missed the postseason, with last year's disappointment being highlighted by the historic collapse that included a 7-20 record in September.
Still, the Red Sox's decision to part ways with Francona is a rather inexplicable end to the relationship between a team and a manager that presided over the most successful run for the franchise since the early 20th century.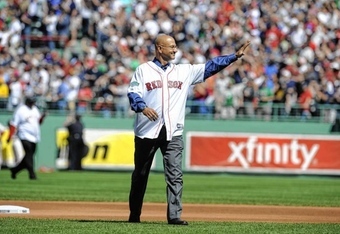 More and more it appears that if managers do not produce results that are deemed reasonable by ownership, they become expendable rather capriciously in favor of the next new name. In this case, Francona was viewed as a man who had lost touch with his players. A change was needed.
Enter Bobby V.
True, Valentine is a respected baseball man who has had his share of success both here and in Japan. And he is a well-known name. But Valentine's resume does not automatically ensure success in Boston and certainly does not preclude what Francona did in his tenure with the team.  
But we live in a society that demands instant gratification and a move had to made, if for no other reason than just for the sake of making a move.
How foolish. This myopic view of managers and coaches does organizations a great disservice and more often than not ends up hurting the franchise and its loyal followers. Red Sox Nation take note. 
What was touted a few months ago as an exciting new chapter in Red Sox history is looking less and less like the Allied Forces' liberation and more and more like Custer's last stand. 
For more visit my book blog on www.goodreads.com and www.franknappi.com.