New York Yankees: Dominant or Not, Ivan Nova Is the Best Starter on the Team
April 21, 2012

Jim Rogash/Getty Images
June 3, 2011. That is the last time Ivan Nova lost a game pitching for the New York Yankees. Even on that day, he only gave up two earned runs in six innings pitched.
CC Sabathia is the workhorse, ace and stud of the staff. Hiroki Kuroda is the reliable veteran brought in to eat innings. Michael Pineda is the hot prospect with the 90 97 MPH fastball. But Ivan Nova is the best of the group, and he was only paid a measly $432,900 in 2011.
Although Nova has a sneaky fastball and a sharp curve, he does not employ put-away stuff with the likes of Sabathia or Felix Hernandez. The results, however, are there, and it is because of perseverance.
The easiest argument against Nova is his run support. It ranked as one of the highest in the American League, and Ivan has used it to avoid any losses in the record. The ERA was only 3.70, and it is around the same amount after a solid performance against Boston yesterday afternoon.
These debaters quickly forget that almost half of the Yankees' regular-season games are against contenders in the American League East. The weakest of them is the Baltimore Orioles, and even they are anchored by a veteran manager in Buck Showalter and a solid cast of rising stars.
Think it's difficult holding down an ERA under four in the AL East, and the entire American League in general? Ask Jason Marquis, who walked into Yankee Stadium for his first start in the AL and gave up four earned runs in just five innings. Ask Hiroki Kuroda, who is quickly learning that the parks are just a bit smaller on this side of the country.
For Nova, he is able to control the amount of balls that leave the park. In 2011, he gave up 13 home runs. That is just about on par with Sabathia, who gave up 17 in a couple more games started. His WAR stat for the year was a plus-3.6, which is well above the starter threshold of 2.0. If Ivan continues to make strides in his game, he should be able to reach All-Star status by the end of the season.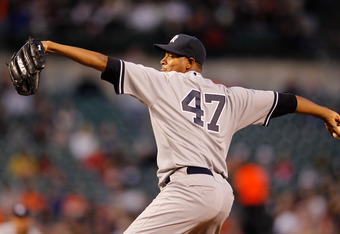 Rob Carr/Getty Images
Most of all, the sophomore pitcher has been able to handle the huge pressure of pitching in a Yankees uniform with relative ease. So far, he has been able to stay quiet and fly under the radar. Many great pitchers were just not the same when put under a microscope. Kenny Rogers and Randy Johnson pop up to mind very quickly.
It is yet to be seen how Nova will deal with increased exposure, but his demeanor suggests that he can take whatever the press throws at him. And if he does that, his future in the major leagues looks very bright.
Check out The Inside Move, which is a insightful and intuitive blog about all-things baseball.