Don Mattingly: What a Young New York Yankees Fan Saw That Made Mattingly a Hero
April 21, 2012

Rick Stewart/Getty Images
Don Mattingly turns 51 years old today.
As I sit here to write, I find myself oddly nervous.  I have written a number of articles and have been criticized a number of times, but the fact that Don Mattingly is my subject and the slightly delusional notion that he might eventually critique my writing is turning me back into the little boy that idolized him in the 1980s.
I have shaken his hand once, as a grown man with children of my own, and being in his presence makes me trip over my speech in ways matched only by being in the presence of supermodel Paulina Porizkova can.
So it is with a heavy heart that I repeat what so many before have already said: Don Mattingly is not a Hall of Famer.
But really, why does that matter?
The arguments for and against his induction revolve around his stats.
You want him in?  Look to Kirby Puckett for a contemporary with eerily similar numbers.
You want him kept out? Look to Wade Boggs for a more robust body of work.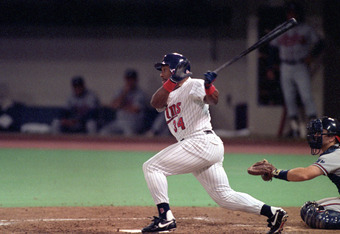 Rick Stewart/Getty Images
You argue "greatness over a short period of time?"  Make a Sandy Koufax reference.
None of the numbers will tell you what your eyes could, if you had the chance to see him play day in and day out.
His slick fielding made excellence the standard at first base in the Bronx, a mantle that Tino Martinez would take upon himself until the dark ages of Jason Giambi.
(Sorry Giambi, I know you grew up idolizing Mattingly, too, but that's not the only thing you and I had in common: We both suck at fielding.)
At one point in his career, he was unquestionably the most dangerous hitter in baseball.  Mind you, that point was during 1984-1986, when Mattingly was 23-25 years old.  An athlete's prime is typically when he is 28-32 years old.
This makes what happened in 1987 so much more important.
I was 10 years old in an era when you found out information only as fast as you could turn pages in a newspaper, and that was what I was doing when I saw it.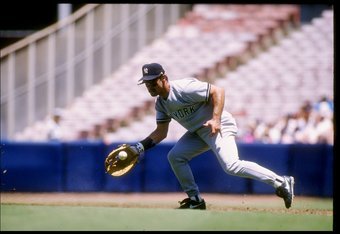 Jonathan Daniel/Getty Images
In the upper left-hand corner of the page, a picture of Mattingly swinging, accompanied by a short article that detailed a back injury he had suffered.  Somehow, I knew this was bad.
It was. 
The injury did not "cut short" Mattingly's career so much as it completely altered its trajectory.  He played for eight more years and his numbers waned, reaching a low point when fans in Yankee Stadium actually booed him.
They booed Donnie Baseball!  Jeremy Lin should take heed.
For before New York knew Jeremy Lin, Donald Arthur Mattingly was the kid who came out of nowhere.
Drafted in the 19th round as roster filler, undersized and known to have little power, Mattingly worked harder than any of his peers to help him transcend his talents.
He learned under Lou Piniella how to hit for more power, and he added that to his ability to make contact and go the other way.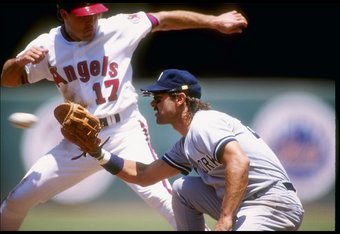 Stephen Dunn/Getty Images
In the minors, after having been tried out in the outfield and even third and second base, Mattingly was moved to first base.  He overtook the more highly-touted first base prospect, Steve Balboni (Steve Balboni!), on his way to becoming not only a staple at first base for more than a decade, but also a nine-time Gold Glove winner.
His tireless, blue-collar effort is what put him on a Hall of Fame path; it was that same effort that eventually stripped him of his abilities, as his back wore down from all the extra swings and ground balls he took in practice.
He was as fine a role model as you could ever ask out of a professional athlete.  He gave everything his body allowed him to give, and when he thought he had nothing left, he gave more.  Yet when his career hit bottom, his fanbase turned.
Thankfully, this was not the end of his story in pinstripes.  For one brief week, he turned back the clock.
Knowing that 1995 represented his only chance to win a World Series, Don Mattingly let it all go against the Seattle Mariners in the ALDS.  He hit .417 with a home run and should have been the series MVP with the Yankees holding a 2-0 edge in a best-of-five series.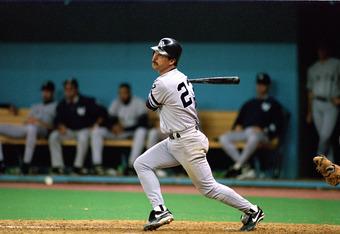 Stephen Dunn/Getty Images
He should have—except the Yankees lost the next three games.
I was a freshman in college that year, traveling all over campus to find dormitory common areas where people were watching the game.  When the season ended, it was hard to wrap my head around the idea that Mattingly would not get a ring.
Now I see that does not matter.
The fact that he is not in the Hall of Fame and does not possess a World Series ring does not lessen who he was.  For me and for a generation of kids, Mattingly was a hero because he played the game the right way.
In Mike Shalin's book, "Donnie Baseball: The Definitive Biography of Don Mattingly," Shalin recounts a story from April of 1986.
Don Mattingly, Wade Boggs and Ted Williams gather to discuss hitting in a Florida restaurant with Peter Gammons, who was then with Sports Illustrated.
Here's the exchange as the discussion is coming to an end:
Wade Boggs:  "Ask Don the question you asked me about the bat burning."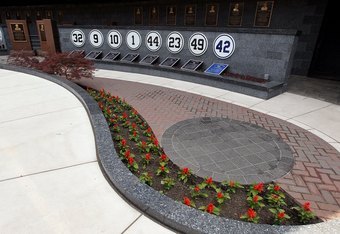 Jim McIsaac/Getty Images
(Williams had earlier asked Boggs this question when they were en route to the restaurant, and Boggs did not know what Williams was talking about.  Williams' description and Boggs' response are from the earlier conversation.)
Ted Williams: "Five or six times, hitting against a guy with good stuff, I swung hard and—oomph—just fouled it back.  Really hit it hard.  And I smelled the wood of the bat burning.  It must have been that the seams hit the bat just right and the friction caused it to burn, but it happened five or six times."
Wade Boggs: "Awesome."
Ted Williams: (To Mattingly) "Have you ever smelled the smoke from the wood burning?"
Don Mattingly: "I've had it happen.  Yeah.  Twice for sure.  All of a sudden, I smelled a real big burn, and at the same time I was thinking, I just missed that one.  Two or three times.  I've never told that to anyone, because I didn't think anyone would believe me."
The "smell of the wood burning" is a microcosm of Mattingly's best years: Both would be fittingly described as rare, incredible and also brief.   But the shortness of the experience takes nothing away from its greatness.