Orlando Magic: 3 Stan Van Gundy Replacements Who Could Make Dwight Howard Happy
April 20, 2012

Kevin C. Cox/Getty Images
Although Dwight Howard denies it, reports claim he said he would no longer play for Orlando Magic head coach Stan Van Gundy.
If this is in fact true, the Magic will be forced to change coaches this offseason.
After all, a coach is a lot easier to find than a super-athletic seven-footer.
So, who should be by their phones waiting for a call from the Magic this offseason?
Let's take a look at three potential Van Gundy replacements.
Nate McMillan
McMillan was unfairly forced out of his job in Portland. From all indications, he's a very likable guy and a great coach.
He managed Portland's countless injuries every season and had his team in the playoffs more often than not.
He'll be less abrasive and less critical of his players than SVG and guys like Howard will like that.
If the Magic get McMillan as their coach, they have a much better chance of keeping Howard long-term.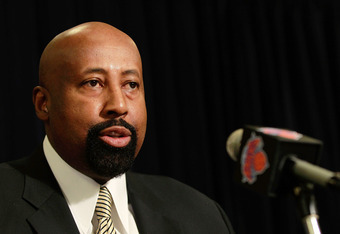 Chris Trotman/Getty Images
Mike Woodson
Woodson has turned things around for the Knicks since taking over for Mike D'Antoni.
He's much more defensive-minded than his predecessor and seems to be more likable to his players.
The Knicks should try to make him their full-time coach this offseason, but Orlando should at least offer him a contract.
We are seeing now what he can do with a solid defensive center (Tyson Chandler). He'd be an even greater coach if he were paired with the best defensive player in the league (Howard).
Jerry Sloan
Sloan is one of the NBA's greatest coaches of all time, winning 1,221 games with the Utah Jazz.
Sloan demands the most from his players on both ends of the court and will make Howard's teammates better defensively.
He's also a smart enough coach to know that Howard needs to get more touches in the post offensively.
For a roster laden with veterans like Howard, Jameer Nelson, Ryan Anderson and Hedo Turkoglu, Sloan would be a great fit.