Lance Berkman: Roster Depth, Schedule Will Help Cardinals Endure Injury
April 20, 2012

Brian Kersey/Getty Images
Only one other team has scored more runs than the St. Louis Cardinals in the National League. Their prolific offense is a big reason why the Cards lead the NL Central with a 9-4 record going into this weekend. That's the third-best mark in the league.
But how much will that run production suffer now that first baseman Lance Berkman is going on the disabled list with a strained calf?
Additionally, center fielder Jon Jay suffered a shoulder sprain after running into the outfield wall on Thursday. He'll miss some time, but it appears that the injury isn't serious enough to warrant a DL stint.
The Cardinals have already found a suitable replacement for Berkman at first base, with the emergence of Matt Carpenter. The question is whether or not Carpenter can maintain a level of production that includes a .965 OPS and 11 RBI. 
At the very least, manager Mike Matheny doesn't have to worry about how to fit Carpenter into the lineup for the next couple of weeks. Surely, he didn't want that to happen at Berkman's expense, however.
Replacing Jay in center will be Skip Schumaker, who was activated off the DL. As MLB.com's Jennifer Langosch reports, the original plan was to keep Schumaker (out with a strained oblique) on a minor league rehab assignment for another week. But Berkman's injury accelerated that timetable.
(Viva El Birdos also points out that the poor play of Daniel Descalso and Tyler Greene at second base may have increased a need for Schumaker.)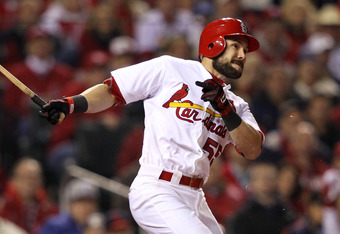 Jamie Squire/Getty Images
Bringing Schumaker up likely became even more urgent after Jay hurt himself. Joe Strauss of the St. Louis Post-Dispatch posted the lineup for Friday's game against the Pittsburgh Pirates, and Schumaker is batting seventh. That's probably where he'll remain as long as he subs for Jay. 
(UPDATE 7:35 p.m.: Schumaker left Friday's game after running into the outfield wall. Langosch reports on Twitter that Matheny made the call to remove Schumaker after he got the wind knocked out of him.)
But losing Berkman and Jay at the same time doesn't give the Cardinals much wiggle room. They probably can't afford another injury and expect to maintain the same level of offensive output.  
Allen Craig's return will surely help, but he probably won't be able to contribute for another couple of weeks. Langosch reports that Craig (who had offseason knee surgery) is nearly ready to begin a minor league rehab assignment of his own. However, he will likely need some more time to get ready, as he's still playing in extended spring training games. He's also only hitting, with defense to come later. 
In the meantime, the pitching staff will have to continue their excellent performance for the Cardinals to stay in first place. Kyle Lohse, Jake Westbrook and Lance Lynn have each pitched well in their first few starts of the season.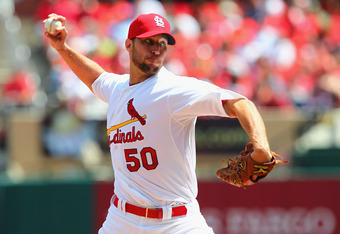 Dilip Vishwanat/Getty Images
The only outlier has been Adam Wainwright. It was probably too much to expect for him to resume being a Cy Young Award contender just a year after having Tommy John surgery. But a 9.88 ERA after his first three starts isn't what we're used to seeing from him.
As the Post-Dispatch's Rick Hummel writes, Wainwright has had particular trouble with the long ball, giving up five homers. Those have accounted for 11 of the 15 runs he's allowed.
However, the schedule might be what helps the Cardinals most in the immediate future. Six games against the Pirates and Chicago Cubs ought to give the Cards a wider margin for error. A three-game series with the Milwaukee Brewers looms menacingly after that. But those games are followed by another matchup with the Pirates and a three-game set versus the Houston Astros. 
After that stretch, the lineup could be back at full strength. And just in time too, as the schedule gets much more difficult in May, with a trip out west and series against the Atlanta Braves and Philadelphia Phillies.
If Berkman isn't back and Wainwright hasn't worked out more kinks by then, an impressive start to the season could eventually be obscured rather quickly.