St. Louis Cardinals: Who Is This Matt Carpenter Guy?
April 18, 2012

Jeff Curry/Getty Images
The St. Louis Cardinals expected to get meaningful contributions from a guy named Carpenter this season.
And they have, but not from pitcher Chris Carpenter. He's out with nerve damage in his shoulder, remember?
Matt Carpenter has 11 RBI for the Cards after driving in a run with a sacrifice fly in Tuesday's 2-1 over the Cincinnati Reds. (That's tied for the leading total on the team.) Filling in for Lance Berkman at first base, "Little Carp" is batting .409/.400/.818 with one home run, two triples and those 11 RBI in 25 plate appearances.
Carpenter really broke out on Sunday, going 4-for-4 with a homer, triple and five RBI. The Cards' media relations department told the Post-Dispatch's Derrick Goold that Carpenter was the first St. Louis rookie to get four hits and five RBI in a game since 1970. 
Not bad for a guy who didn't appear to have much of a future with the big league club.
(You know, I probably shouldn't admit this, but I'd never even heard of Matt Carpenter until I went searching for a first baseman for my fantasy baseball team earlier this week. That RBI total popped out on the waiver wire.)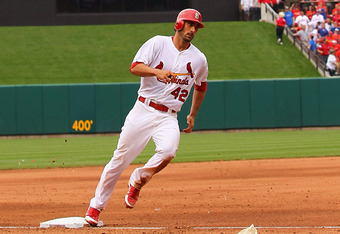 Dilip Vishwanat/Getty Images
Carpenter has been almost exclusively a third baseman during his three seasons in the minors, but David Freese pretty much has a lockdown on that position now. And he was never going to play first base while Albert Pujols was around. The same applies with Berkman taking over there. 
Now that Berkman has recovered from his calf injury, it looks like Carpenter will go back to obscurity. Unless his production has earned him a regular spot on the Cardinals' bench. A batter with a talent for drawing walks (205 in the minors, with a .408 OBP) would seem to be ideal for pinch-hitting duty. He could also presumably help keep Berkman and Freese healthy by filling in for them occasionally. 
(Ironically, Carpenter has only drawn one walk during his big league tour. You'll notice his OBP is lower than his batting average.)
The Cardinals also have an excellent first base prospect in Matt Adams (as explained here by our colleague Mike Rosenbaum), which doesn't appear to bode well for Carpenter's future with the organization.
But that's the future. We're dealing with what's happening now. And right now, Carpenter is a big reason why the Cardinals are 8-3 and leading the NL Central.