Arkansas Football: Documents Reveal the Final Days of Petrino's Time at Arkansas
April 20, 2012

Wesley Hitt/Getty Images
Whatever news outlets in Arkansas are paying beat writers covering Arkansas athletics, it isn't enough.
Thursday afternoon, the university released documents through the Freedom of Information Act pertaining to Jeff Long's investigation into former head coach Bobby Petrino's motorcycle accident and subsequent cover up with mistress Jessica Dorrell. That investigation led to Petrino's dismissal earlier this month. This comes on the heels of the release of Petrino's phone records last week.
Chris Bahn of ArkansasSports360.com weeded through the nearly 300 pages of documents and discovered several nuggets of interest. Of note in the documents were the revelations of when Petrino and Dorrell's relationship started, when it ended, why they were on the motorcycle together and the fact that both shared the affinity for Hot Tamales candy—no pun intended.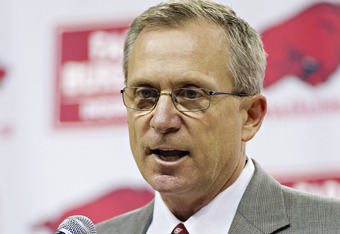 Wesley Hitt/Getty Images
The information included in the documents is fascinating, but what I find more fascinating is the speed in which Arkansas is filling Freedom of Information Act (FOIA) requests.
Filling these requests takes time. Usually, the information is specific to one or two people within the athletic department, and that person is the one charged with compiling it.
It took Auburn a year to release documents pertaining to the Cam Newton investigation; and Oregon strategically dumped documents about the Willie Lyles situation on Friday afternoons throughout the last 12 months.
That tells me that Long is being as transparent as possible, and he wants the information out there for everyone to see. Is there some sort of ulterior—and perhaps sinister—motive to bury Petrino? Maybe and maybe not. But it's clear that Arkansas is doing as much as it can to wipe its hands of Petrino and move on as quickly as possible.