NHL Playoffs: The 5 Most Important Players in Game 5 for the Red Wings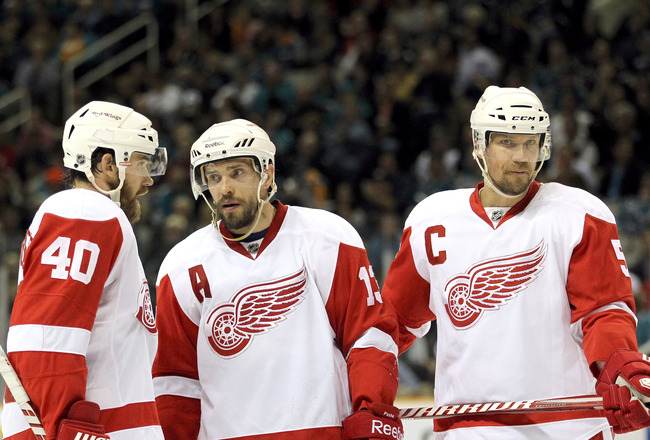 Ezra Shaw/Getty Images
The Red Wings spent much of the season thinking that they were on the short list of favorites to win the Stanley Cup. They battled for the league lead until the final weeks of the season.
A rash of injuries, which saw 10 players miss games in March, derailed their regular season quest. Most assumed that once they regained everyone, they would be able to pick up where they left off.
That has not been the case. They now enter the fifth game of their series with Nashville trying to hold off elimination. Even more surprising than being down 3-1 in the series is that after they dominated teams at home, they lost both home games in this series.
If the Red Wings have a chance to stay alive, then they need players to step up. These are the most important players for the Red Wings in Game 5. If they do not rise to the top, then the Red Wings will be hitting the golf course much earlier than was expected.
Pavel Datsyuk

http://www.youtube.com/watch?v=pG9KoCMH74I

There are many that consider Pavel Datsyuk to be the best all-around player in the game. His puck-handling skills are magical. He is the best defensive forward in the game and can score from anywhere on the ice.
As the video shows, he is capable of a quick steal and score at any time. He needs to step up into the best player role though. While his knack for setting up teammates is tremendous, it is time for him to be a little bit greedy.
Datsyuk must carry the team to the win on Friday night. He needs to continue his great defensive play but also add scoring as well. While he is never easy to defend, he is usually more likely to make a pass. This does help the defender, as they only have to slow him instead of containing and stopping him also.
If he starts driving to the net more, as well as simply taking more shots from anywhere, it will help open things up for his teammates. An offensively-determined Datsyuk will force the defense to pay even more attention to him. Not only does one player need to pay closer attention to him, but others will likely have to shadow as well. This will result in openings for teammates.
None of that happens, though, unless Datsyuk is in full attack mode.
Johan Franzen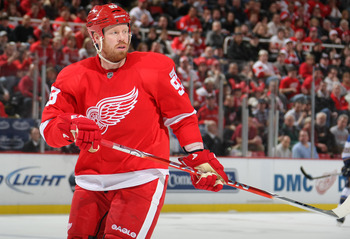 Dave Sandford/Getty Images
Johan Franzen is known as the mule, but he needs to be a workhorse in this game.
He has been the leader in goals for the team the past two seasons. Despite that, he tends to disappear at times and has long stretches where he does not score.
He is almost as likely to get a hat trick as he is to not scoring at all. In Game 5, he needs to have a big game.
Jimmy Howard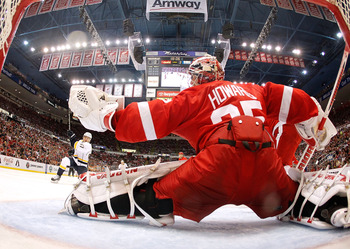 Gregory Shamus/Getty Images
After a great regular season, Howard has been a little off in the series. The team is not behind in the series due to his play, but it is time for him to steal a game.
He played great shutout hockey for two periods in Game 4. Bad play in front of him and fortunate bounces were able to beat him. He needs to overcome such inevitable plays in this game.
While it is difficult to ask a goalie for a playoff shutout, Howard may just need to do so in this game. The offense has not been able to play at its usual high scoring level, so the team needs Howard to shut the Predators down.
Tomas Holmstrom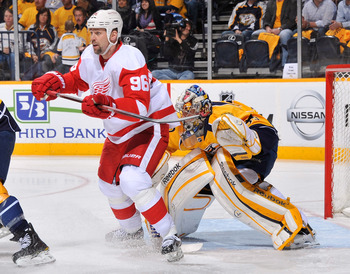 Frederick Breedon/Getty Images
This might be Tomas Holmstrom's last game. He has been slowed by injury and just is not the same Homer as before. He needs to turn back the clock and bring the team some of his magic from the past.
He does have one goal and one assist so far in the series. He needs to put together another good game. Even if he does not end up on the score card himself, he needs to set up shop in front of the goalie and distract him.
Frustrating Pekka Rinne should be Holmstrom's primary goal for this game.
Niklas Kronwall and the D

http://www.youtube.com/watch?v=fk3qIjz5EDM

Nashville has some quick players that have skated around with ease. It is time for someone to end up on their butt.
Now I am not calling for a Raffi Torres type of hit or even a Shea Weber WWE type of move. Instead it needs to be a clean, hard, teeth-rattling type of hit and more than one. Ideally, Kronwall will not be the only player delivering such punishing blows. The defense needs to be much more physical.
The Predators have been able to freely skate with little consequence. Several hard hits will not only ignite the team, but it will also make the Predators a little nervous. That nervousness leads to more cautious play, and it will cause them to play back on their heels instead of attacking.
That combined with hopefully more aggressive play from Datsyuk, Franzen and Holmstrom will lead to a Game 5 win for the team.
PJ Sapienza is a featured columnist covering the Detroit Red Wings as well as many other sports. You can follow him on Twitter.
To read his most recent articles see:
Shea Weber's Hit and Brandon Shanahan's Blown Move
10 Questions Facing the Detroit Tigers
Keep Reading

Detroit Red Wings: Like this team?