Baltimore Ravens Take the Greater of 3 Evils by Signing Backup QB Curtis Painter
April 19, 2012
Andy Lyons/Getty Images
Earlier today, I reported that the Baltimore Ravens worked out three veteran quarterbacks in anticipation of signing one of them to potentially be the No. 2 for starter Joe Flacco this season.
Of those three—which were, in case you missed it, former Raven Kyle Boller, former Pittsburgh Steeler Dennis Dixon and former Indianapolis Colts...starter...Curtis Painter—it seemed unlikely that Painter would get the nod.
The workout was simply a way for current Ravens quarterbacks coach Jim Caldwell to bring in his former Colts charge and at least get a team's eyes on him.
But no, it apparently was more than just that, as the Ravens have decided to bring Painter on to compete with current backup Tyrod Taylor for the No. 2 spot.
The only explanation for signing Painter is Caldwell, who was the Colts' head coach last season when Painter started—and lost—eight games for the team that ended the year the worst in the league. Boller, a former Raven, has seen his starting days rapidly fade away, while Dixon, who seemed to be the front-runner in this competition, still aspires to take the reigns of an offense someday.
Perhaps, the Ravens only had interest in Dixon in order to glean some intelligence on the rival Steelers, or perhaps, his aspirations to one day start turned Baltimore off.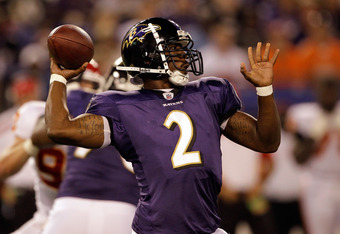 Rob Carr/Getty Images
There's no guarantee that Painter will remain with the team come September. There's reason to believe his addition was only a way to spur Taylor on to more rapid development in hopes he'll someday be Flacco's successor.
Head coach John Harbaugh said as much on Monday, noting that while he is satisfied with Taylor as the backup, no player is guaranteed a roster spot, and that competition is always ongoing.
Taylor should retain that No. 2 spot if what we saw of him last preseason is any guarantee, meaning that Painter is likely a camp body and little more; otherwise, he may head up the practice squad.
When it comes to inducing confidence in a fanbase, Painter is practically incapable of doing so. In his nine games and eight starts last season, he completed just 54.3 percent of his passes, for 1,541 yards, six touchdowns, nine interceptions and three lost fumbles.
Clearly, of the three quarterbacks the Ravens were looking at, they took the greatest of the evils. But hope isn't lost—if Flacco goes down with injury in 2012, it will be Taylor, and not Painter, who will get the nod.