NFL Draft 2012: 5 Biggest Draft Mistakes in Buffalo Bills History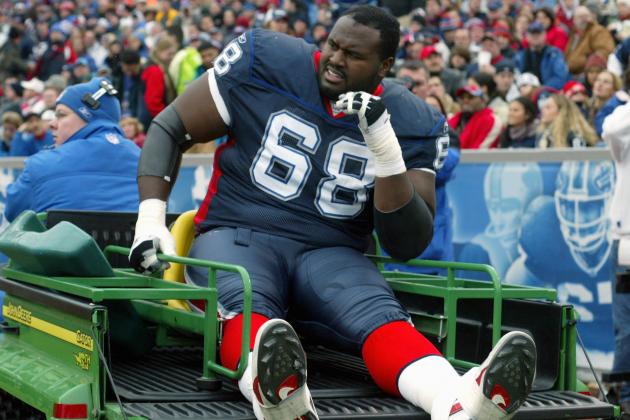 Rick Stewart/Getty Images

It's been a while since the Buffalo Bills have been a dominant, let alone a relevant, franchise in the National Football League, and most of that comes from poor drafting by the front office. The 2011 Bills' draft class was strong, as almost every selection saw significant playing time, but it hasn't always been that way over the last 10 years.
There have been hits and misses, and in this slideshow, we'll take a look at five of the biggest mistakes the Bills' front office has made on draft day.
Begin Slideshow

»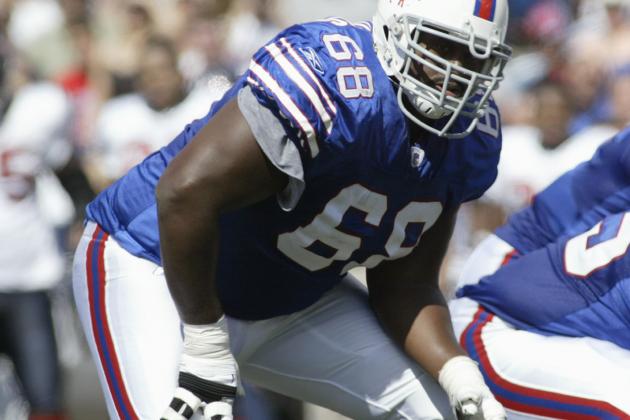 Rick Stewart/Getty Images

Mike Williams was a mammoth tackle out of the University of Texas, and the Buffalo Bills used their No. 4 overall selection in the 2002 NFL Draft on him, with the hopes of solidifying their offensive line for the next decade.
At 6-foot-6 and a whopping 370 pounds, Williams was generally considered the consensus top tackle in the draft, and looked like he had all the tools of a future perennial Pro Bowler. Instead, he started his career at right tackle, before moving to the left side, where he was eventually replaced by undrafted free agent Jason Peters. And we all know how that turned out.
Williams lasted just four seasons with the team before being cut, making 47 starts, while Bryant McKinnie, the tackle taken just three spots behind him in that draft, has started over 130 games as a franchise tackle.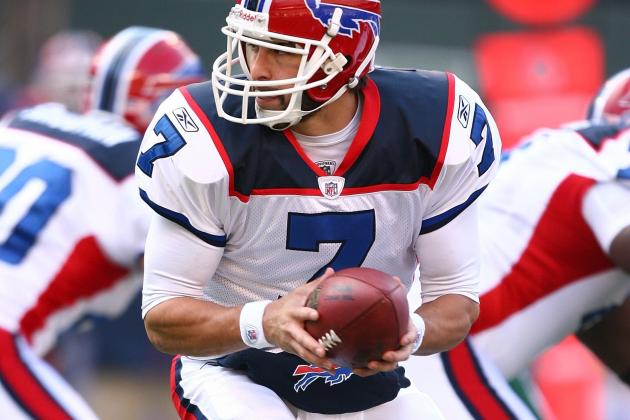 Al Bello/Getty Images

After the Bills selected wideout Lee Evans in 2004, they traded back into the first round to take Tulane quarterback, J.P. Losman with the 22nd overall pick in the draft. To move back into the first round to select Losman, the Bills sacrificed their 2005 first-round pick to the Cowboys, thus hurting Buffalo the following year as well.
It was the first time the Bills used a first-round pick on a quarterback since 1983, when they selected Jim Kelly. Backing up the incumbent starter, Drew Bledsoe, Losman got off to a shaky start to say the least, as he missed most of his first training camp with a broken bone in his leg, and his career seemed to follow that rocky road.
When Losman took over for Bledsoe, he never seemed to adjust to the NFL game, until 2006, when he threw 19 touchdowns and 14 interceptions. However, he regressed back to his former self, and finished his five-year stint with the Bills with a 10-23 record, throwing 33 touchdowns and 34 interceptions.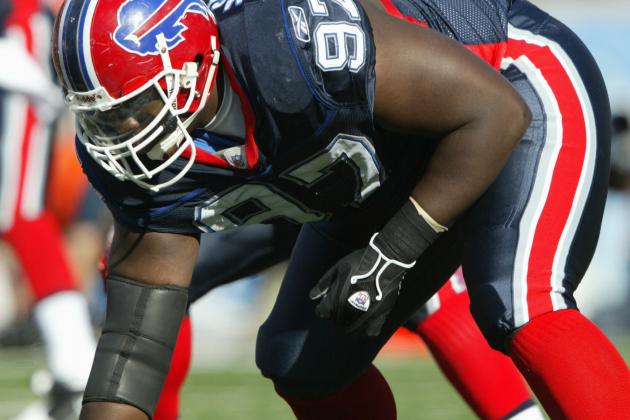 Rick Stewart/Getty Images

With the Donohoe-Mularkey regime awkwardly having just ended, Marv Levy was asked on short notice to return to the Bills to assume a V.P. role with the Bills. A hallmark of Levy's selections were that the Bills would select only "character players," without any off-the-field issues.
The Bills were expected to select Haloti Ngata in the 2006 NFL Draft, but instead they opted to select safety Donte Whitner out of Ohio State. In order to fix the need at defensive tackle, they traded back into the first round to pick John McCargo, who many draft pundits had a mid-round grade on.
McCargo missed the majority of his rookie season with injuries, before appearing in 44 games for the Bills, in which he recorded just 2.5 sacks and 32 tackles. The Bills were blessed with two "nice guys," one who performed at an average rate (Whitner), and one who never performed at all (McCargo).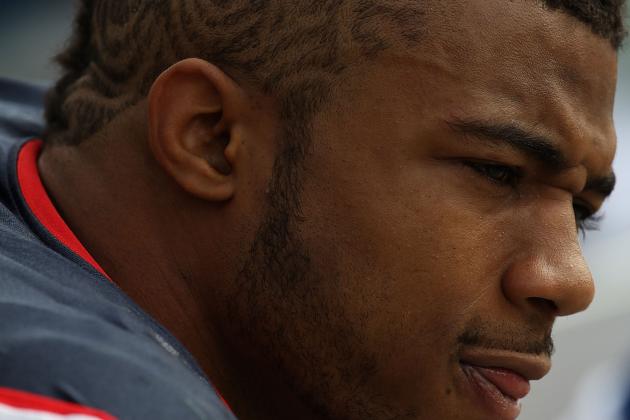 Jonathan Daniel/Getty Images

Aaron Maybin is a name that brings a sting to most Bills fans. Selected 11th overall by the franchise in the 2009 NFL Draft, Maybin never made an impact, making just one start for the team in his two years. He never made it through his third training camp, as he was released prior to the 2011 season. A major speed rusher at Penn State, Maybin struggled with his technique in beating solid pass protectors, and couldn't even find his way on the field in special teams situations.
A "one year and workout wonder," Maybin reportedly gained 30 pounds prior to the 2009 Draft, interesting the Bills, who felt with the added bulk would make him a more effective edge rusher. Once he reported to the Bills, the weight was mysteriously lost, and he was never able to play at much more than 225 to 235 pounds.
To make matters worse, Maybin signed with the AFC East rival New York Jets, and recorded six sacks in 2011. To their credit, Rex Ryan found a way to effectively utilize Maybin, at the lower weight, in a way that neither the Dick Jauron nor Chan Gailey coaching staffs could.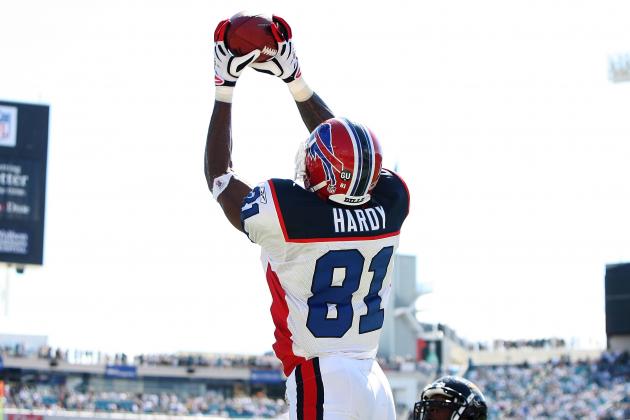 Doug Benc/Getty Images

After no wide receivers were picked in the first round of the 2008 NFL Draft, the Buffalo Bills realized a strong need to find a big time wideout to complement Lee Evans. They thought they had found the answer with the giant 6-foot-6, 220-pound James Hardy, out of Indiana. After a stellar collegiate career in which he became the Hoosiers' all-time leader in receptions (186), receiving yards (2,690) and touchdowns (36).
However, after tearing his ACL in his rookie season, his inability to run and learn the proper route trees, and his ability to allow minor injuries keep him off the field, Hardy was released after the 2009 season. Hardy had one solid game as a pro, against the Jacksonville Jaguars, catching a game-winning touchdown. However, he finished his two-year career with the Bills with just 10 receptions for 96 yards and two touchdowns.