Bo Ryan: Wisconsin Coach Should Be Vilified for Restricting Transfer Options
April 19, 2012

Andy Lyons/Getty Images
Wisconsin basketball coach Bo Ryan made a good point on ESPN's Mike and Mike radio show on Thursday morning. He said that by restricting the transfer options of redshirt freshman Jarrod Uthoff, he was doing what any other coach in the country would do.
But Ryan has taken it too far—that's where he's wrong.
Update: Thursday, April 19 at 3:30 p.m. EST
Andy Katz of ESPN reported on Thursday:
Wisconsin met with Jarrod Uthoff and has announced that all transfer restrictions have been lifted except for Big Ten schools.

— Andy Katz (@ESPNAndyKatz) April 19, 2012
After Uthoff decided to transfer because he felt he didn't fit in the Badgers' system, Ryan blocked him from transferring to any Big Ten schools. Now, that was predictable, and it's very common to restrict players from the rest of the conference.
But Ryan also blocked Uthoff from all Atlantic Coast Conference schools, Iowa State and Marquette. By the end of it all, Ryan had blocked Uthoff from 25 schools across the country.
I can understand restricting Uthoff from the Big Ten, but when it exceeds that, it becomes excessive and borders on the lines of simply being vindictive. Yes, a player has somewhat of an obligation to a school after signing a contract, but that doesn't mean you have to set up numerous road blocks to his transfer.
College players should have rights too, and Ryan and Wisconsin are frankly stepping all over those rights.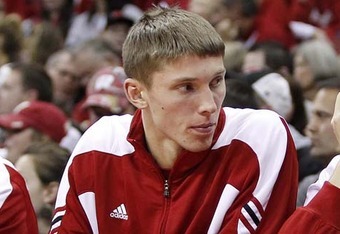 Now, another argument from Ryan is that he feels like he's being singled out. He has a point there because we've seen this throughout the years. But that doesn't mean he still shouldn't be criticized for his actions.
These are young kids trying to find their way, and potentially ruining their collegiate careers because they simply changed their minds is way over the top.
Uthoff was a Top-100 recruit in 2011, according to ESPNU. That is also what makes restricting players so hypocritical. Wisconsin is laying down the law on Uthoff because he is a top player—if he was a scrub, they'd let him go wherever he chose.
Why should different rules apply just because you are good at basketball? That seems counterintuitive.
This is the perfect example of the ugly nature of college basketball. The fact that schools have been doing it for years marks one of the NCAA's problems.
Follow me on Twitter. We can talk about NCAA basketball together.