Aaron Ramsey: A Defense of the Young Welsh Playmaker
April 19, 2012

Julian Finney/Getty Images
Aaron Ramsey has become perhaps the most polarizing figure in this season's Arsenal team. The former Cardiff City starlet has become a scapegoat for certain sections of disgruntled fans.
In making preseason predictions for the Gunners, this author believed that Ramsey would use this campaign to make the crucial Cesc Fabregas position his own.
However, Fabregas didn't become the player he is today overnight. He learned on the job and the team developed with him.
Ramsey deserves the same allowances, since this is the first season as a regular starter for a player barely two years removed from a serious injury.
Yet Ramsey is still a clever player with legitimate goal-scoring potential. The creative flair is there, and Arsenal should not give up on Ramsey's potential. He is a cultured midfielder, possessing good technique. 
Ramsey began the season well, scoring a vital and well-taken goal away to Marseille in the UEFA Champions League. He played a superb reverse pass to split open the Chelsea defense, leading to Arsenal's first goal in a 5-3 win at Stamford Bridge.
As Arsenal's lone goalscorer in a 2-1 North London derby defeat at White Hart Lane, Ramsey was showing the awareness, movement and guile needed to become an elite attacking midfielder.
Yet the pressure and criticism appear to have gotten to Ramsey. A player who could once be criticised for trying too many cute ideas now lacks the confidence to try anything other than a safe pass.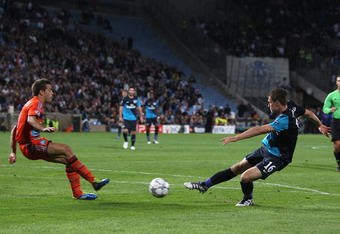 Michael Steele/Getty Images
Instead of finding the right balance between being adventurous, while still remaining efficient, Ramsey is afraid to take a chance and plays with hesitancy.
Ramsey's problems can be solved with the continued faith and encouragement from Arsene Wenger to play without fear and take some chances. Ramsey has the ideas in possession and must begin to once again trust his instincts.
His passing range can only be refined by working on it on the pitch. He needs to be trusted in his best position as the most advanced member of Arsenal's midfield trio.
Tomas Rosicky has the tenacity and energy to sit a little deeper, just as he did to good effect early in the season. This would grant Ramsey license to remain in the areas where he can directly affect the game.
Still only 21, Ramsey has not lost the attributes that could make him a vital playmaker for the Gunners. He just needs a gentle reminder.