Arsenal FC: 20 Bold Predictions for the New Premier League Season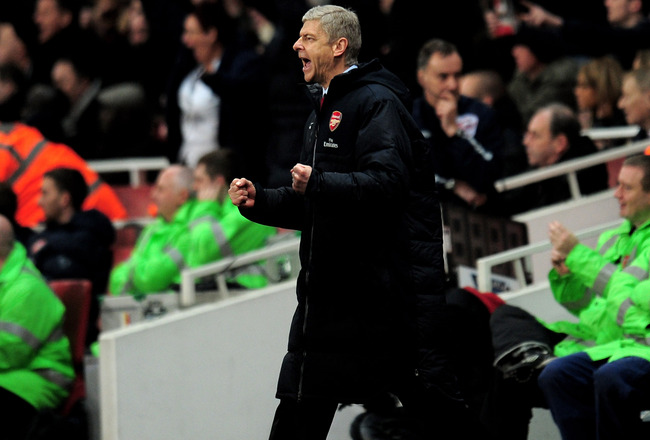 Shaun Botterill/Getty Images
No subject in the game is more contentious than Arsenal's prospects for the coming Premier League campaign.
Journalists, television pundits and most especially Arsenal fans all have strongly contrasting views on the Gunners' chances this season.
Arsenal's summer transfer business has so far been dominated by drawn-out sagas involving their own players.
Sufficient reinforcements have yet to be added and the squad is still populated by overpaid flops with price tags other clubs are understandably unwilling to meet.
These factors have inspired a whole host of aficionados to confidently assert that Arsenal will have a job on their hands simply to retain their precious top-four status.
But weren't the same things said last summer and the summer before and the summer before that? Granted it's difficult to have an abundance of confidence regarding the 2011/12 version of Arsenal at the moment.
A drab preseason has offered little evidence that the late-season malaise that saw the team tumble out of four competitions has lifted at all.
But a new season inevitably brings some optimism, however misguided and illogical that optimism may be.
With that in mind, here are 20 bold predictions for Arsenal's Premier League season.
20. Wojciech Szczesny Will Win the PFA Young Player of the Year Award
Wojciech Szczesny's fine debut season in the Arsenal first team was overshadowed by his part in the calamitous error which saw Arsenal defeated in the Carling Cup final.
But Szczesny was a revelation between the sticks last campaign. The young Pole proved to be manner from heaven for Arsenal fans whose nerves could no longer bear the sight of Manuel Almunia tending goal.
With his tremendous height and cat-quick reflexes, Szczesny is restoring a healthy measure of confidence in the Arsenal goalkeeping position.
The biggest difference with Szczesny is that when he is faced with a one-on-one, you expect him to save it. Put Almunia or Lukasz Fabianski in a similar position and you expect a goal.
Szczesny's commanding aura will continue to grow this season. If Arsenal's defensive frailties in the Emirates Cup are any indication, then the 21-year-old can expect to be called upon early and often throughout the season.
Szczesny will answer the call. His stature and reputation will increase as he becomes a No. 1 Arsenal fans can be proud of.
19. Gervinho Will Receive Five Man of the Match Awards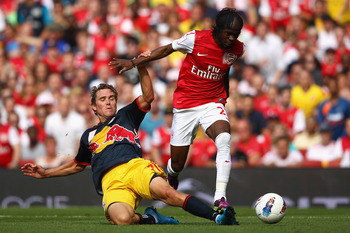 Richard Heathcote/Getty Images
Say what you want about Arsene Wenger, and there are those who could say plenty, but the man can spot a forward.
If preseason is anything to go by, then Arsenal fans have plenty of reasons to be optimistic about what Ivory Coast frontman Gervinho will add to the mix.
Arsenal's only marquee signing of the summer so far has tantalised and dazzled in exhibition games. His speed and eye for goal will be tremendous assets.
Gervinho's clever, well-timed runs make him the perfect fit in an Arsenal side full of quality passers. One of the most impressive things about Gervinho is his willingness to switch flanks and drift through the middle.
Too often during the last two seasons, Arsenal's attacking intent has been undermined by a static front three.
Gervinho's pace, directness and strength will allow him to take the Premier League by storm. He will quickly adapt to the rigours of the English game.
Gervinho will assume the role played in the past by Freddie Ljungberg and Marc Overmars. Despite a plethora of wide attackers, Arsenal will find Gervinho difficult to replace once he departs for the Africa Cup of Nations.
18. Jack Wilshere Will Reach 10 Assists and Five Goals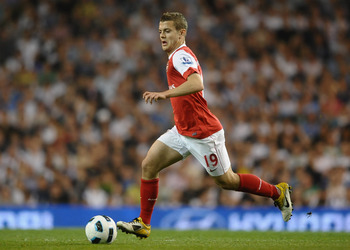 Laurence Griffiths/Getty Images
Jack Wilshere will take the next step in his development after emerging as the Gunners' most consistent performer in 2010/11.
For Wilshere, the next step is adding more end product to his game. This season Wilshere will be forced to take on more responsibility in helping complete Arsenal's attacking moves.
The likely departure of Cesc Fabregas will provide Wilshere with the necessity and freedom to become more of a factor in and around the opposition box.
Utilising his intricate ball skills and cultured left foot, Wilshere will post a respectable 10 assists and five goals in the league.
By season's end, Wilshere will have successfully navigated the next stage of his maturation into a vital figure in the Arsenal first team.
17. Emmanuel Frimpong Will Emerge as This Season's Jack Wilshere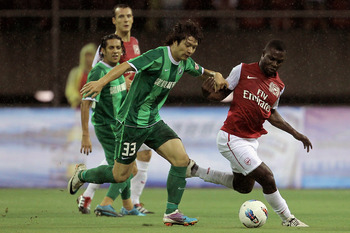 Lintao Zhang/Getty Images
Combative midfielder Emmanuel Frimpong will emerge as the next youngster to break into the Arsenal first team.
Frimpong has already offered glimpses of his immense promise during preseason. He has the power, composure and neat passing to be a useful contributor in the Arsenal midfield.
Frimpong will shine in early Carling Cup and Champions League outings. He will begin Premier League life as a late substitute.
Frimpong will gradually take advantage of increased opportunities in midfield to stake his claim for more regular inclusion in Arsenal's starting 11.
By the end of the year, Arsenal fans will be fervently hoping Frimpong is not also lost to the Africa Cup of Nations.
16. Tomas Rosicky Will Play in 50 Percent of the Premier League Fixtures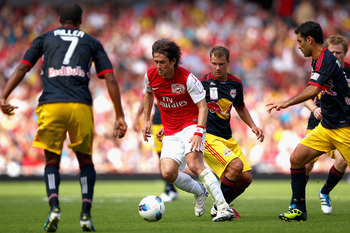 Richard Heathcote/Getty Images
Tomas Rosicky will enjoy his most consistent and productive campaign for Arsenal since his debut season.
The Czech schemer's Arsenal career has been prevented from ever really taking off due to a multitude of injury setbacks.
But 2011/12 will be the season Rosicky finally rebounds and turns in what will be considered, for him, a good number of appearances.
Following the departure of Cesc Fabregas, Arsenal will be more reliant on Rosicky's creative instincts. Rosicky will be given all the incentive he needs to play more minutes, by a desire to remind everyone that when healthy, he is capable of filling the Fabregas role.
The 30-year-old can still be incisive and increased playing time will also see Rosicky rediscover his lost goal-scoring touch.
15. Andrey Arshavin Will Eclipse His 15-Goal Target
Incredibly talented but furiously inconsistent playmaker Andrey Arshavin will eclipse his own target of 15 goals for the season.
The temperamental Russian forward will emerge from the fringes of first-team consideration to become one of Arsenal's key performers in 2011/12.
A standout performance somewhere in August will lead to the light finally coming on for Arshavin and he will never look back.
With the return of his confidence, Arshavin will blaze a trail through bewildered Premier League defenses. His electric pace and dynamic footwork will consistently prove too much.
A fast and furious start to the campaign from Arshavin will see him net double figures by the end of 2011. He will tail off slightly after the turn of the year but his 16-17 goals will prove invaluable to Arsenal's eventual league finish.
14. Robin van Persie Will Win the Golden Boot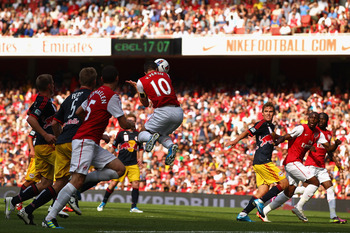 Richard Heathcote/Getty Images
Despite being hindered by his customary spate of injuries, Robin van Persie has developed into a truly world-class striker during the last three seasons.
The Dutchman has now achieved the status of a guaranteed star performer for Arsenal. In the 2011/12 league season, van Persie will avoid his traditional early injury layoff.
He will instead hit the ground running and maintain his superb scoring form. Becoming more confident and assertive with each game, van Persie will finish with a league tally of 20-23 goals.
The impressive haul will be enough to earn van Persie the Golden Boot and might even fire Arsenal to that elusive piece of silverware.
13. Robin van Persie Will Get Injured in March and Miss Title Run-in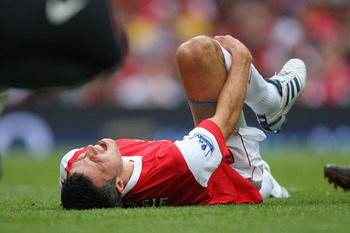 Clive Rose/Getty Images
After seeing Robin van Persie go most of the season without injury, Gunners fans will be subjected to the kind of cruel twist of fate they have become accustomed to during the last six years.
Van Persie will finally succumb to injury in late March, just when it appears he might actually survive a full season unscathed.
He will miss the final two crucial months of the Premier League campaign. By then, he will have blasted in a very respectable number of goals. But will they be enough?
12. Theo Walcott Will Finally Convert to Central Striker and Flourish
Robin van Persie's injury will provide Theo Walcott with the opportunity to showcase his talents as a central striker. Arsene Wenger will experiment with Walcott through the middle at various times during the season.
The England international will eventually master the timing of his runs and become the perfect outlet for Arsenal's craft and invention.
His pure speed and composed finishing will encourage Wenger to incorporate more 4-4-2 looks as the season progresses.
Walcott will finish the campaign with 15-18 goals and leave no more doubts regarding best position.
11. Samir Nasri Will Struggle To Fill the Void Left by Cesc Fabregas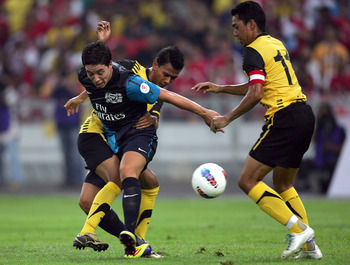 Stanley Chou/Getty Images
Samir Nasri will fail in his attempts to emulate Cesc Fabregas' contribution to the team. With the departure of Arsenal's Spanish maestro looking increasingly likely, Nasri is expected to assume a similar role within Arsene Wenger's tactical structure.
But when Nasri has operated centrally, the Gunners have struggled to manage the same level of incisiveness and penetration they are capable of when Fabregas is pulling the strings.
Nasri spends too much time going sideways when deployed as the playmaker. Without an immediately apparent option, the Frenchman is too quick to pass the ball laterally or backwards.
Arsenal need a player with the same speed of thought and eye for a through ball as Fabregas for their prime midfield position.
Nasri will struggle before eventually moving back to the flanks where he will regain some of his best form.
10. Aaron Ramsey Will Emerge as the Natural Successor to Cesc Fabregas
Arsenal will struggle initially to replicate the effect Cesc Fabregas had on the team. After trying a variety of combinations, Arsene Wenger will eventually come to rely on Aaron Ramsey to act as the creative fulcrum of his side.
Ramsey has everything it takes to be the next great playmaker for Wenger. He has the flair and guile to provide the perfect flourish to Arsenal's attack.
Ramsey has the varied passing range and goal-scoring potential to seamlessly replace Fabregas. As the season progresses, Wenger will be unable to leave the talented young Welshman out of his starting 11.
9. Arsenal Will Again Have the Premier League's Best Defense from Open Play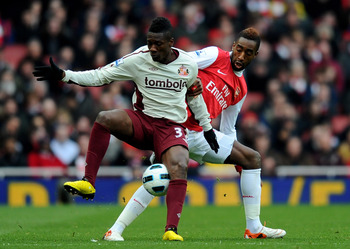 Mike Hewitt/Getty Images
The idea of this current Arsenal squad leading any single defensive category almost defies explanation. But the fact remains that Arsenal were the stingiest defense from open play in the Premier League during 2010/11.
The Gunners will repeat that feat this season. Arsenal's efficient short-passing attack allows them to retain the ball for long periods during games.
Opposition teams are not usually afforded the time to construct wide open attacking passages of play. Arsenal's defense is also littered with players whose strengths are quickness and anticipation.
Defenders such as Johan Djourou and Laurent Koscielny tend to excel when pitted against players who rely on skills along the ground.
8. Marouane Chamakh Will Finish the Season on Loan
Richard Heathcote/Getty Images
Marouane Chamkah's alarming fall from grace will culminate in the player being shipped out on loan in the second half of the campaign.
It's hard to pinpoint just what has specifically gone wrong for Chamakh. Whatever the cause, the Moroccan striker's form has been dreadful since the turn of the year.
His performances in preseason have been abject. It's difficult to associate the forlorn figure who is the demise of so many of Arsenal's passing moves with the bullish target man who began his career in North London with such promise.
Chamakh's problems will unfortunately continue. By October, he will be a mere afterthought in Arsene Wenger's first-team consideration.
Chamakh will return from international duty and be loaned out late in the season for what could well be the ignominious end to his Gunners career.
7. Arsenal Will Do the Double over Manchester City
Richard Heathcote/Getty Images
New Manchester City left-back Gael Clichy will experience two painful reunions with Arsenal. Arsene Wenger's young charges will beat mega-rich Manchester City in both league meetings.
The contrast in philosophy and approach between the two clubs has grown starker during the summer. The tussle for the services of Samir Nasri, plus the litany of ex-Arsenal players and targets wearing the colours of City, make this a steadily simmering rivalry.
Arsenal will have the better of things during the new Premier League season. The Gunners' attack-first approach and quick movement will catch defensively resolute City cold.
Arsenal will score first and early taking City out of the comfort zone of manager Roberto Mancini's insular tactics.
Whether or not Arsenal will get the better of an impressive City squad when it comes time to collect trophies is a different matter altogether.
6. Arsenal and Tottenham Hotspur Will Play out the Match of the Season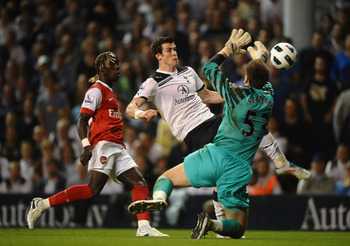 Laurence Griffiths/Getty Images
The two North London derbies last season were classics. Though they were extremely painful for Arsenal fans everywhere, the contests were true adverts for football at its exciting best.
The new Premier League campaign will see the two fierce rivals deliver the match of the season. One of the fixtures will be the game that stands out in every fan's mind once the season has concluded.
There was a time not so long ago when Arsene Wenger owned Tottenham Hotspur. During these glory years, it never felt as if there was a danger of defeat heading into a derby match.
Since Harry Redknapp's arrival at White Hart Lane, things have unfortunately begun to balance out. Spurs possess the players with the flair to expose Arsenal's defensive frailties.
Playing against their local enemy brings out the best attacking intent from this particular Spurs side. This desire to go all out for goals is sadly rarely seen from the current Spurs squad in contests against Manchester United.
But Spurs can be relied upon to embark on an all-out offensive whenever they cross paths with Arsenal. For their own part, Arsenal are a certainty to abandon caution in almost every game, often to their detriment.
The result is lots of goals, dynamic forward play and plenty of incident. The recent derbies have been the perfect personification of the level of drama inherent in football's flowing nature.
5. Carl Jenkinson Will Earn His First Under-21 Caps During the Season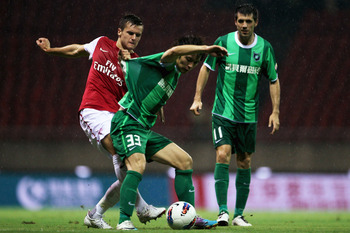 Lintao Zhang/Getty Images
Former Charlton Athletic starlet Carl Jenkinson looks like a real find by Arsene Wenger. A bizarre own goal aside, Jenkinson has made a commendable first impression upon Arsenal fans thanks to a solid preseason.
The energetic right-fullback is a good crosser of the ball and is the resourceful, decisive type of defender Arsenal could use.
Jenkinson will learn well from the solid Bacary Sagna. He will look good in Carling Cup action and improve his game going forward.
The versatile Jenkinson will make a clutch of substitute appearances in the league. The 19-year-old's rapid rise and promising form will be rewarded with his first international caps at under-21 level.
4. Alex Song Will Be Shown the Most Red Cards in the Premier League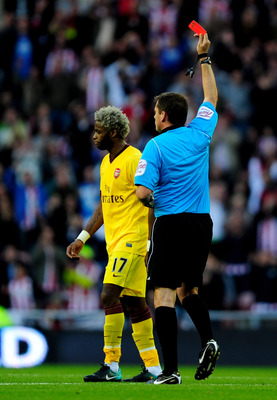 Jamie McDonald/Getty Images
Despite the distinct possibility that he could represent Cameroon in the Africa Cup of Nations, Alex Song will still find the time to receive the most red cards during the Premier League season.
Song's awkward and clumsy tackling style combined with his inconsistent positional awareness frequently gets him into trouble as Arsenal's back-four shield.
In fairness to Song, many of his mistakes and bookings are borne out of his desire to get better and his willingness to shoulder the burden of adding some steel to Arsenal's midfield. Song's robust style is often missed when he is out of the team.
But Song has become an easy target for referees thanks to persistent infractions. Although quite how Darren Fletcher has managed to avoid similarly regular disciplinary admonishment remains a mystery.
Song will continue to exert his physical presence at the heart of the midfield. His eagerness and unpolished technique means he will also increase the growing number of red cards against his name.
3. Arsenal Will Claim Only Their Second Premier League Win at Britannia Stadium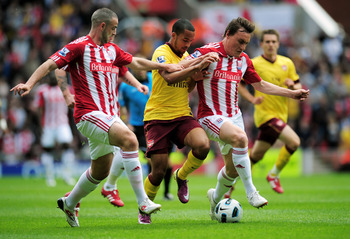 Shaun Botterill/Getty Images
Stoke City's Britannia Stadium has been a den of iniquity for Arsenal ever since the Potteries outfit entered the Premier League in 2008.
Out of four visits, Arsenal have claimed only one win. That 3-1 triumph back in late February 2010 was marred by the horrific injury suffered by Aaron Ramsey.
This season will see Arsenal defeat their least favourite opposition at their least favourite ground. This ugly rivalry has been defined by the contrasting styles of the two protagonists.
Arsenal's stylish approach play has been strangled by the rugged ferocity of Stoke City. Both sets of supporters have dug their heels in and defended their respective team's methods.
Arsenal limply surrendered their faint title hopes with a 3-1 reverse at the Britannia Stadium back in May. The scenes were particularly painful. Stoke's raucous support delighted in subjecting Arsene Wenger to a largely distasteful torrent of abuse.
Arsenal were widely mocked as the weaklings of the playground. Their supposed snobbery had been put in its place by alleged "good old-fashioned hard work and determination."
Professional pride dictates that Arsenal must put things right this time around. The team cannot afford to simply write off these three points at the start of every campaign.
Stoke are an efficient and resolute side whose tough reputation sometimes unfairly precedes them. They are fodder for no team in the Premier League.
But Arsenal must still break their sequence of defeats against City. Victory over their antithesis would convince many that Wenger's side has the resilience to be considered genuine contenders for major prizes.
2. Arsenal Will Finish Above Liverpool, Tottenham and Manchester City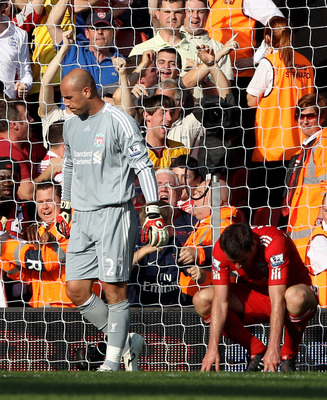 Clive Brunskill/Getty Images
Arsenal will trash the exaggerated claims of their demise as one of the leading clubs in the country and finish above Liverpool, Tottenham Hotspur and Manchester City.
The seemingly annual doom and gloom surrounding Arsenal's Premier League prospects has intensified this summer.
Critics are confidently suggesting that Arsene Wenger's team will fall out of the prestigious top four. Some have even claimed that the Gunners face an uphill battle for a Europa League spot.
While there are many concerns regarding the team and the manager's business pace continues to infuriate some, Wenger simply will not allow Arsenal to lose their top-four status.
His personnel decisions and reluctance to spend big can baffle, but Wenger's desire to see Arsenal succeed can never be doubted.
Think back to any number of touchline tantrums and meltdowns during the last three seasons for ample evidence of Wenger's yearning for Arsenal to once again reach the summit of the English game.
With star players apparently queueing up to leave and a fanbase becoming increasingly bitter, Wenger's famous stubborn streak will actually work in the team's favour.
Using the negative atmosphere as a boon, Wenger will push the team forward with a drive approaching mania.
It will be good enough for Arsenal to remain in the top four. They will outshine Kenny Daglish's overpriced Liverpool squad, maintain their status as the leading team in North London and even exceed the standing of heavy-spending Manchester City.
Wenger's buoyancy will only go so far. That leaves the question of whether or not this squad has the talent to leapfrog Chelsea and Manchester United.
1. Arsenal Miss out on the League Title but Find Solace in Another Competition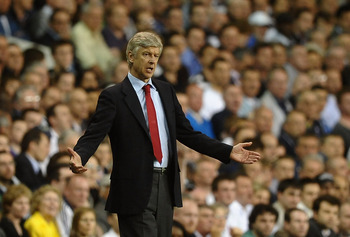 Laurence Griffiths/Getty Images
Sadly, the 2011/12 Premier League season will ultimately end in disappointment for Arsene Wenger and Arsenal.
Arsenal will finish third, though the gap between themselves and the top will be much smaller this time around.
The team's title aspirations will once again evaporate in April and May. Nothing bold about that prediction given recent history.
But a silver lining will be present this time. Arsenal will find ample consolation from the blow of failing to retain the the league championship for the first time since 2004.
Arsenal will see action in a significant final during the month of May and finally end their trophy drought. Call it a feeling.
Keep Reading

Arsenal: Like this team?