Brian Wilson Officially Done in 2012, but San Francisco Giants Will Be Just Fine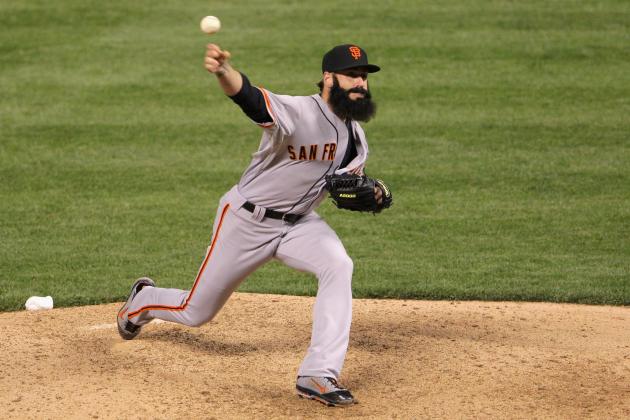 Doug Pensinger/Getty Images

If you're a San Francisco Giants fan, you better savor that picture because you won't see Brian Wilson throwing another pitch for the club in 2012.
By all accounts, Wilson went under the renowned knife of Dr. James Andrews on Thursday to have his right elbow surgically repaired. The colorful closer came up gimpy while finishing Madison Bumgarner's gem against the Colorado Rockies and, though he successfully shut the door, an ugly outing got uglier in the aftermath.
The initial story of a tweaked ankle was merely a distraction, allowing the injury bug to pick the Gents' pocket. In reality, Willie suffered a partial tear of his ulnar collateral ligament, necessitating his second visit to Dr. Andrews in less than a decade and costing him the rest of the season.
Ironically, the right-hander's first save of the '12 campaign will also be his last—unless he's got a medical miracle stashed in his famous beard, that is.
Make no mistake, the loss of Wilson stings in more ways than one, but it isn't a soul-crusher like Buster Posey's exploding ankle and it's far more survivable than a serious injury to (baseball gods forbid) Madison Bumgarner, Matt Cain or Tim Lincecum.
Begin Slideshow

»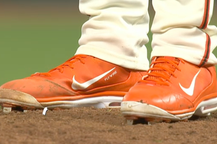 The pain from the loss of Brian Wilson is two-fold.
There's the obvious hurt—the one left by his absence at the backend of one of Major League Baseball's best bullpens. Wilson's notched at least 36 saves in each of the last four seasons while enjoying an 88 percent success rate over the same span. During San Francisco's championship season in 2010, B-Weezy led all of baseball with 48 saves, finished seventh in the National League Cy Young voting and landed in the top 15 of NL MVP voting.
Those are some large, bright orange shoes to fill.
But the Giants will also miss Wilson's clubhouse presence.
His antics might be getting tedious to the general public, but he remains a critical part of SF's heart and soul. He offers a perfect antidote to the monotony of a 162-game major-league season, naturally absorbing the negativity that accompanies the inevitable slump and replacing it with a light-hearted nonsense that continues to endear him to the hometown faithful.
And yet...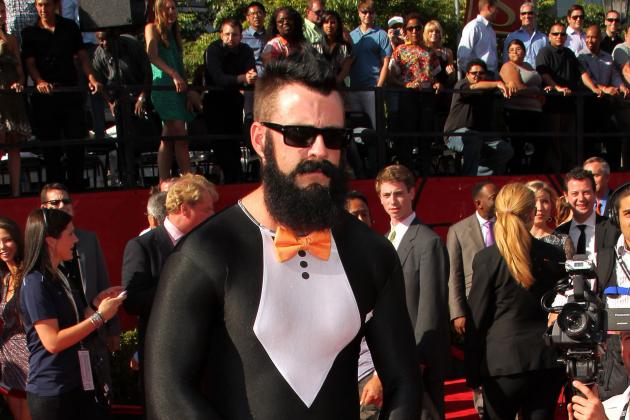 Frederick M. Brown/Getty Images

There's no rule of which I'm aware that says a player on the disabled list must be excluded from the dugout, the clubhouse or team functions.
And as the above picture thoroughly demonstrates, Brian Wilson need not be on a diamond to make a splash.
It's true that his leadership and clubhouse presence won't carry quite the same weight because he won't be actively contributing on the field, but it will still be there and it will still be influential. It's clear that the setback hasn't yet robbed the closer of his bravado or his enthusiasm, and there's no reason to think it will.
His voice might not be as loud, but it will be heard and that will help soften the blow of his on-field absence.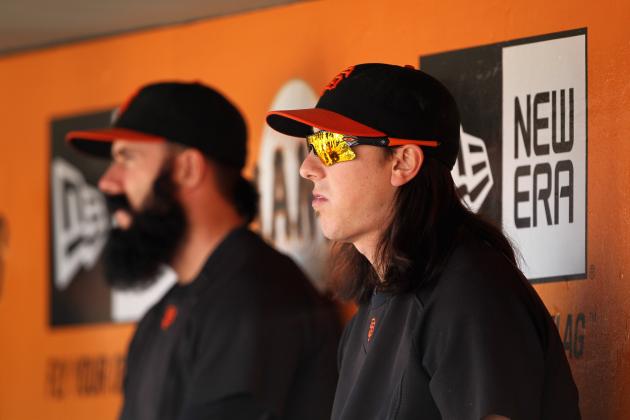 Ezra Shaw/Getty Images

In the last four years while Brian Wilson has been maturing into one of the game's best closers, he's thrown just shy of 265 innings. By comparison, Tim Lincecum tossed 217 frames in 2011 alone.
Matt Cain threw 221.2 innings. A 21-year-old Madison Bumgarner hurled almost 205.
You get the idea—a good starting pitcher sees the mound almost as much in one season as a good closer does in four. And starting pitchers only play every fifth day, so let's not even discuss the regular position players.
Of course, all innings aren't created equally and there is definite truth to the idea that the final three outs are unlike and more difficult than the other 24 (or more). There is also truth in the idea that not every pitcher possesses the requisite mentality to handle the pressure of those final outs.
However, there is zero truth to the idea that "not every" is synonymous with "rare"—not all pitchers have the mentality, but plenty of them do. Look around the league and you'll see new names emerging to handle ninth-inning duties all the time.
All.
The.
Time.
Consider John Axford, Grant Balfour, Rafael Betancourt, Kyle Farnsworth, Frank Francisco, Javy Guerra, Joel Hanrahan, Jim Johnson, Craig Kimbrel, Brandon League, Sean Marshall, Jason Motte, Chris Perez, Henry Rodriguez, Hector Santiago, Sergio Santos, Jordan Walden—and that's literally just in the last few years.
Will Santiago Casilla or Sergio Romo or alleged closer-of-the-future Heath Hembree grab the reins and be as good as the Beard? No, probably not, but it's happened before and it will happen again, so it's quite possible.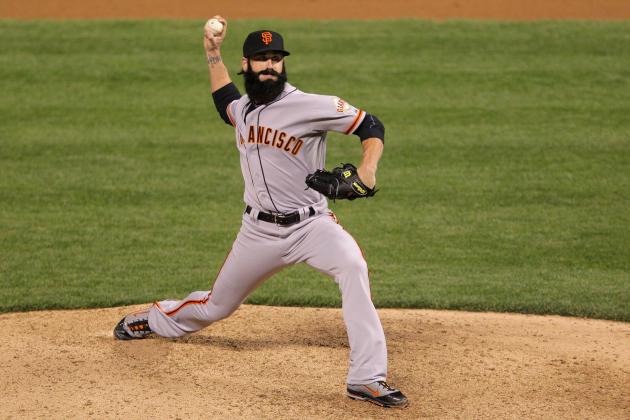 Doug Pensinger/Getty Images

Francisco Rodriguez owns the single-season saves record after slamming the door 62 times in 2008 for the Los-Angeles-but-not-really-because-they're-in-Anaheim Angels. Only nine men have surpassed 50 saves in the history of the statistic. Most years, the league-leader in saves hovers in the mid-40s or less.
Now consider that it takes roughly 90 wins to make the postseason from the NL West based on the history of the division winner and NL Wild Card winners.
Do the math there.
If your closer is having the best season in the history of the game, you'd still have to win about 30 games without him to make the playoffs. If your closer is having "just" a historic season, but not the best, you're going to have to win about 40 games without him.
And if your closer is merely having an excellent year, but not flirting with history?
You're going to have to win roughly 50 games without him to qualify for the postseason.
Closers are important, they're just not that important.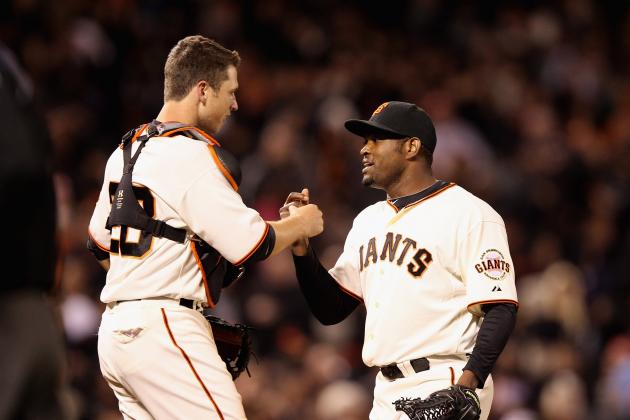 Ezra Shaw/Getty Images

In 2011, the San Francisco Giants' bullpen had the second-best earned run average in all of baseball, behind only the Atlanta Braves' firemen. They also had the second-best batting average against and the second-best OPS against, to the Braves again in both cases. The SF relievers were top five in WHIP, top five in strikeouts per nine innings and top 10 in strikeouts per walk.
Since coming to the Giants, Santiago Casilla has thrown 111.2 innings, posting a 1.77 ERA, a 1.16 WHIP, 8.3 K/9, a batting average against under .200 and an OPS against under .600.
Since coming to the Giants, Javier Lopez has thrown 74 innings, posting a 2.31 ERA, a 1.10 WHIP, 7.2 K/9, a .201 batting average against and an OPS against under .600.
Sergio Romo, a career Gent, has thrown 181.1 innings. In those sparkling frames, he's posted a 2.28 ERA, a 0.89 WHIP, 10.7 K/9, 5.51 K/BB, a .190 batting average against and a .547 OPS against.
Jeremy Affeldt has been a left-handed weapon as a Giant. Clay Hensley has looked terrific since donning the orange and black, and even Guillermo Mota has had his moments for the club.
Do you see where I'm going with this?
The current San Francisco bullpen has always been more than a one-man show.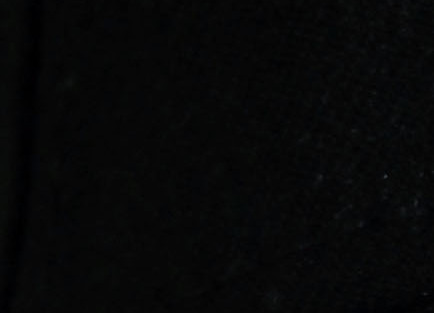 Jamie Squire/Getty Images

Let's be crystal clear here—I'm not trying to marginalize Brian Wilson's role or importance to the team.
The dude is an incredible closer and an even more impressive source of entertainment, but therein lies the rub.
He happens to occupy a position that is, by its definition, overrated. It doesn't matter who the closer is—even the hallowed Mariano Rivera—he's overrated by the very fact that he is a closer. The last man out of the bullpen possesses an uncommon skill to be sure, but Major League Baseball is populated by men with uncommon skills. Uncommon skill is the bar to entry.
They can be difficult to replace, but they are eminently replaceable.
That means the most unique aspect of Wilson is the one that won't be totally lost—his clubhouse presence.
Wilson even thinks the injury might actually increase that influence because it will give him more time for the light-hearted antics that can alleviate the stress and help overcome the adversity that inevitably faces every MLB team.
And considering that first bit of adversity is officially here, I say let the games begin.