The Microscope: Westbrook's Troubling Inefficiency (and More)
April 19, 2012

The Microscope is your recurring look at the NBA's small-scale developments—the rotational curiosities, skill showcases, coaching decisions, notable performances and changes in approach that make the league go 'round.
Russell Westbrook's Unfortunate Foray into Inefficiency
The Oklahoma City Thunder are still among the best teams in basketball, but one can't help but wonder how long they can keep this pace up if Russell Westbrook's efficiency continues to slide.
After putting up a season-long effective field-goal percentage of 48.8 percent, Westbrook's eFG% has dipped all the way to 41.2 percent over the last 10 games, according to NBA.com—a mark that warrants legitimate concern considering how often Westbrook shoots.
Westbrook's inefficiency (6-16 FG, 0-0 3FG, 3-4 FT and three turnovers in 30 minutes) wasn't much of an issue in Oklahoma City's game against Phoenix on Wednesday, largely because James Harden's 40 points on 17 shots gave the game's observers a new religion.
But part of the reason why Westbrook is such an intriguing player is that he can't merely be turned off; his success stems from his aggressive style, and to ask him to dial back his assertiveness sacrifices his usual success for the sake of a rough patch.
He has less effective stretches, and there's really no way to circumvent them. Westbrook's game will come around, but in the meantime, he needs to have a pulse on his own game—no star can be efficient all the time, but is it too much to demand that such a wonderfully defiant player settle in with self-awareness?
Carmelo Anthony: Settling in Defensively in His New Positional Digs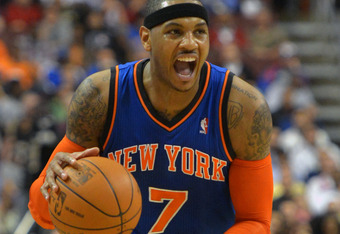 Drew Hallowell/Getty Images
Anthony shoots from the perimeter, handles the ball a bit and breaks opponents down off the dribble. That—through whatever twisted logic guides positional designation—precludes him from being a power forward, if only because his talents in the post and on the glass are so easily ignored.
Anthony looks, seems and smells like a wing player, and thus he shall remain once this experiment at the 4 comes to an end.
Yet, basketball roles (as manifested through positions as we know them) can be redistributed around a lineup as a team sees fit, while defensive matchups are guided in large part by which of the opponent's players are on the floor.
Put another way: Offense is flexible, while defense is binding. That Melo can score from inside and out opens up all kinds of possibilities for the Knicks, while making him a defensive small forward necessarily limits what kinds of players he can cover and by extension, what kinds of players he can share the floor with.
Therein lies one of the many problems with the current positional system: We focus so much on offense in our designations that we ignore just how much functional freedom teams are given on that end—all while the enterprise of thoughtfully constructing effective defensive lineups is unapologetically forsaken.
This game is a balance, and as much as we'd like to say what Melo is or isn't based on what function he provides an offense, the shrug with which he's seamlessly shifted from small forward to power forward speaks volumes.
Goran Dragic and the Art of Impromptu Fast-Breaking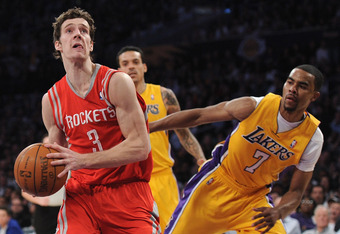 Harry How/Getty Images
One interesting difference in the styles of Goran Dragic and Kyle Lowry: Dragic treats the beginning of each possession as a chance to put pressure on the opposing defense, regardless of the previous possession's result.
If the Rockets are able to force a turnover, Dragic will naturally and aggressively push the ball upcourt and look to generate easy fast-break points. If Houston's opponent misses a field goal, then Dragic seeks a quick outlet before attacking a defense in flux.
Yet Dragic's finest work may come after an opponent's make; the Rockets aren't a running team by trade, but Dragic's desire to attack opposing defenses at their most vulnerable opens up chances for transition scoring, helpful mismatches and good looks on the secondary break. 
I just can't imagine where Dragic might have picked up that particular penchant.