Detroit Lions Mock Draft: The Martin Mayhew Edition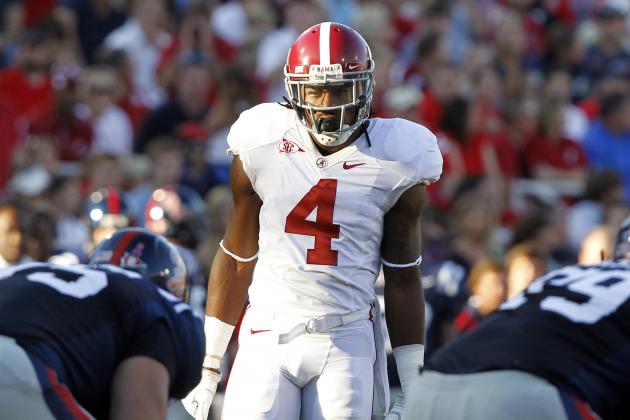 Butch Dill/Getty Images

With less than a week before the 2012 NFL Draft, it would be wise to listen to what Detroit Lions GM Martin Mayhew is saying (or not saying) just days before the draft.
In his press conference yesterday, Mayhew did not speak of any targets for the Lions' upcoming seven selections nor did he get into specifics regarding any players, but he did offer some insight as to his philosophy for next weekend's NFL extravaganza.
You can view the press conference, here, but unfortunately, the juicy parts of the discussion have been edited out—another close-to-the-vest maneuver by the Lions.
If you did not hear the presser, there are five highlights I took from Mayhew's time at the podium.
First, the Lions have 4-7 players they are looking at with the 23rd selection:
"We're probably between four and seven guys that we really feel very comfortable with that are great fits for us that we're very excited about having."
Second, the first few picks do not have to be positions of need; the Lions are also looking at depth.
"It really kind of depends on who it is, but I think we do have a nice young core and we do have the ability now to take guys and we can plan to play those guys in the future. We can take guys on our team and on our roster that don't have to play right away to play that are picks for the future."
Third, the Lions' problems with the hippie lettuce this offseason will not affect their evaluation process.
"We've talked to players that have had those concerns, and we've evaluated all those situations, especially the ones who are high picks, early guys. We've talked to all those guys and asked them about their situations, and we've reached varying levels of comfort with different players."
Fourth, they feel the draft is deep at cornerback.
"We think there are a lot good corners out there. We think the depth at a lot of positions is going to be there in those mid to late rounds."
And finally, Mayhew disagrees that the running back position is simply a commodity.
"The running back position has been kind of de-valued lately; people don't really view the running back as a key position the way they used to. I think it's a critical position. I think careers are shorter, obviously, but I think it's a really important position on your football team. We felt that way and we drafted that way in the past. I don't share that sentiment that running backs aren't important and you can just grab one whenever and the guy can play. For every seventh-round pick or undrafted free agent that makes it, there's 10 of those guys that don't make it. We're going to look for quality players at every position."
Well, that blows my idea of drafting a running back late right out of the water. If he's Tom Cruise, I must be Demi Moore and my philosophy is galactically stupid.
With these comments in mind, here is the latest mock draft for the Lions. As always, I have not replicated any prior picks, but next week is a different story.
Below are links to the previous mocks, which have less Mayhew influence:
7 to Watch at the Combine, Feb. 20
7 Additional Draft Targets, Jan. 24
Begin Slideshow

»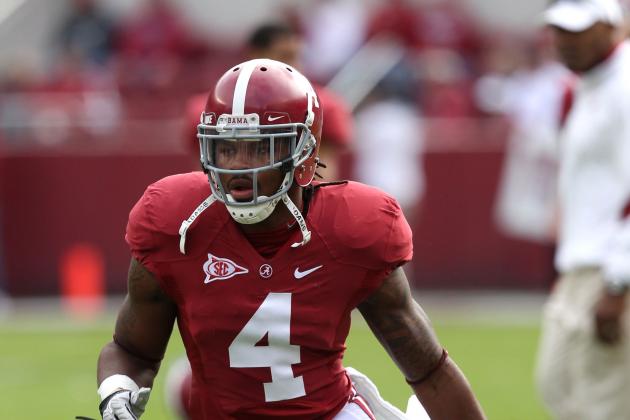 Mike Zarrilli/Getty Images

Mark Barron is viewed as the best safety in the draft, and this pick would not be unprecedented for the current Lions regime.
As the quarterback of the best defense in college football, Mark Barron led his Crimson Tide to the National Championship in 2011 and was a unanimous All-American. He's been a starter since his sophomore year and finished eighth in Alabama history with 12 interceptions.
Barron was unable to participate in the combine because of a double sports hernia—typing that just makes me wince—and was not 100 percent at Alabama's pro day, an event attended by Martin Mayhew.
If the Cowboys pass on Barron at No. 14, this is the type of player who could slide to Detroit, and although it is not a desperate position of need, Barron will surely be the best player available.
Remember, the Lions dumped Roy Williams into Jerry Jones' lap and selected Brandon Pettigrew with the 20th overall selection in the 2009 draft.
At the time, drafting a tight end didn't seem to fill the need for the offensive lineman many perceived was the glaring weakness for Detroit, but the excellent blocking skills Pettigrew showed in college were presented as the reason why he could help the offensive line.
Safety help could, in the same fashion, assist the defensive weakness of secondary. The cornerback is the obvious concern, but with the dominant pass-catching tight ends in the NFC, getting some elite help at the safety position makes sense.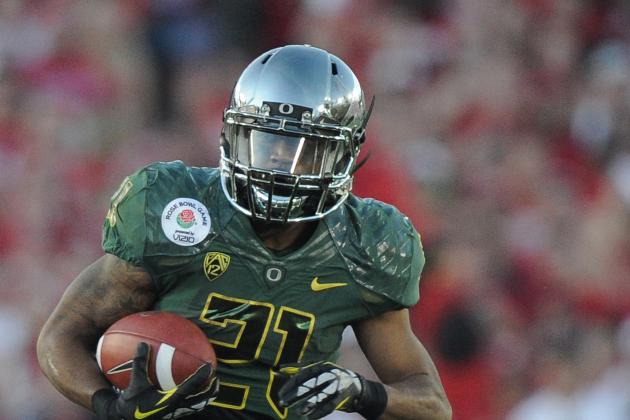 Harry How/Getty Images

From 2003 to 2005, the Lions spent three straight No. 1 picks on wide receivers, and it looks like they're ready to pick three straight running backs with second-round selections.
Jim Schwartz loves the "wow factor" Jahvid Best presents in the backfield, but his concussion history is forcing Detroit to look elsewhere for the same type of playmaking ability.
Tom Lewand said as much when he told season ticket-holders, "We can't necessarily put all our eggs in the basket of guys that are coming off injuries."
That is exactly why James was brought in for an official visit in March and why Jim Schwartz was at the Oregon Pro Day—the Lions are looking for some "Lightning" insurance.
Enter LaMichael James or, should I say, Best 2.0.
"We are definitely similar," James said of he and Best. "Turn on the film and we look similar and we're more alike than not. There's always little differences, but for the most part, we're pretty similar."
Similar as in freakin' fast.
James posted a 4.45 40 time at the combine and backed it up with a 4.42 and 4.41 at his pro day. Combine the speed with crazy quickness,—top four in both the cone and shuttle in Indy—and it's easy to see how easily James could slide into the change-of-pace role for the Lions.
Don't think James is just a "workout wonder," either. He won the Doak Walker Award as the nation's best running back as a sophomore, with 1,732 yards rushing and 21 scores. He also snagged 17 passes for 208 more yards and three touchdowns.
James improved on that last year in his junior campaign, rushing for 1,805 yards and 18 trips to the end zone.
What's more impressive is that he plays his best when the lights are the brightest.
James finished his collegiate career with five games of more than 140 rushing yards, including 159 on 25 carries in a Rose Bowl win over Wisconsin.
He follows his blocks, isn't jumpy to bounce it outside and shows a surprisingly strong ability to run between the tackles given his smaller stature.
A small running back who plays bigger than his measurables is what the Lions are looking for to complement Mikel Leshoure. Prepare yourself for a crowded backfield when the Lions begin training camp this summer.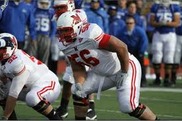 Brooks played in the East-West Shrine Game and first talked with the Lions then. But because he was not invited to the NFL Combine, his stock had remained quiet...
...until he had his pro day.
Brooks impressed with a 4.99 40 time and knocked out 36 reps on the bench. Both numbers would have been best at the guard position if he had been given the opportunity to compete in Indy.
At 6'5" and 346 pounds, Brooks has a build nearly identical to Cordy Glenn. He uses his large frame to his advantage by overpowering his opponent and has a thick base that is difficult to move.
Brooks' advantage is also his weakness, though. He's not the best in space and has some weight that is more soft taco supreme than skinless chicken breast in nature. And, because of his physical dominance, he is prone to being passive at times and not finishing his block.
However, Brooks is not without athletic ability; he was a basketball player in high school as well. This dancing bear with an inconsistent mean streak is a perfect developmental player whom offensive line coach George Yarno would love to get his paws around.
Brooks is a project with huge upside who is built to win the line of scrimmage and push forward—exactly what this coaching staff has envisioned from the beginning.
If Detroit misses out on some bigger names earlier in the draft or chooses to bypass the guard position until later, Brandon Brooks could be the name called.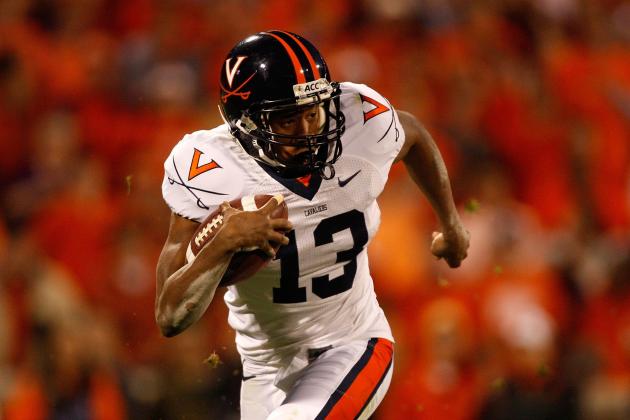 Streeter Lecka/Getty Images

Like Mayhew said, the draft is deep at corner, and talents like Chase Minnifield will be available in the middle rounds.
Minnifield is a two-time All-ACC selection and was second nationally in active career interceptions with 13. He's adept at playing both man and zone coverage, and he effectively uses his long arms to move the opposition off his route early and to ride the receiver for several yards to throw of timing.
He does not have elite speed and is susceptible to the big play if he misses his jam, but Minnifield has adequate recovery that should be aided by Detroit's pass-rush. He also shows good hands and catches the ball as opposed to knocking it down. Plus, he's fundamentally sound in attacking the run and is a sure tackler.
Minnifield also has strong bloodlines; his father Frank was a four-time Pro Bowl corner for the Cleveland Browns in the 1980s.
If Detroit does select Chase, hopefully the apple doesn't fall far from the tree.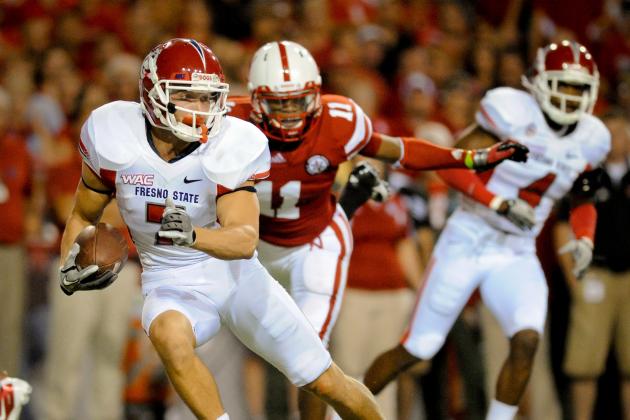 Eric Francis/Getty Images

If Detroit can get its hands on Devin Wylie, expect a few more four-receiver sets next season.
The 5'8" Wes Welker clone is an ideal slot guy who is extremely quick, easily finds his way through traffic and is immediately at full speed after the catch.
Full speed as in 4.39 40 speed. The kid can fly.
And, pound-for-pound, Wylie is one of the strongest receivers coming out, with 17 reps on the bench at a feathery 187 pounds.
Lions receivers coach Shawn Jefferson ran Wylie's drills at his pro day, so there is no doubt Detroit is well aware of his abilities.
He's also a highly touted special teams player, averaging more than 15 yards per punt return.
Brandon Pettigrew has received his share of targets over the past two seasons, but a quick slot guy who can turn a hot read into a 12-yard gain or stretch the defense to allow Calvin Johnson to slide underneath would make the Lions passing attack that much more dynamic.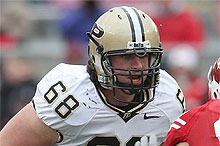 Project linemen with big upside is what this Lions regime has shown us they like, and Dennis Kelly fits the bill.
At 6'8" and 321 pounds, Kelly is the kind of guy you want with you if a tussle break out at the club.
But this guy is no gentle giant—my man put up 30 reps at his pro day. That would have been fifth-best at the combine for offensive tackles if Kelly had gotten the invite.
He's extremely athletic for a man his size, and his frame can easily add more weight. Strength coach Jason Arapoff would love to see what he could do with this kid.
Kelly was a four-year starter at Purdue who excelled in pass protection and is known as a team-first guy. Johnny Culbreath has not done much to recently warrant a vote of confidence, so perhaps Kelly will be the new seventh-round O-line project for Detroit.
If you managed to get a scholarship offer from Pete Carroll when he was head of the only "professional" football team in Los Angeles, you have to have some talent.
Aaron Corp did not make the most of his opportunity at Southern Cal when he was passed up by Matt Barkley, so Corp packed his bags and headed to Richmond University.
Corp does not have a spectacular resume to hang his hat on, with a career TD-to-INT ratio of 20-17, but his workouts are pushing him up the board and toward a potential late-round selection.
He has prototypical height at 6'3", and his 215-pound frame could use some muscle mass, but Corp has shown good arm strength in workouts and abilities to move in the pocket and be accurate on the run.
The Lions will not have any undrafted quarterbacks banging on their door for a chance to sit third behind a 24-year-old superstar. So, if Detroit wants anything more than a clipboard connoisseur, they're going to have to use a late-round flier on a guy with blemishes, but who also flashes some natural ability.