Boston Red Sox: Cody Ross Is the New Trot Nixon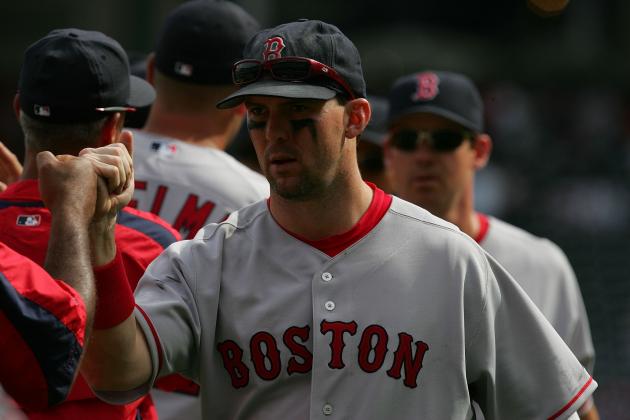 Ronald Martinez/Getty Images
Right fielder Trot Nixon was a fan favorite at Fenway Park, and Cody Ross looks like he's following the same path.
During the Red Sox' 1-0 loss to the Tampa Bay Rays on Monday, NESN color commentator Jerry Remy made an interesting comparison. He mentioned in passing that Cody Ross reminded him of former Sox outfielder Trot Nixon, but the action on the field steered the conversation in a different direction, and the point was never revisited.
Sox fans will fondly remember Nixon as a key component of Sox teams from the early 2000s and a charter member of the "Dirt Dog" club along with Sox legends Brian Daubach, Jason Varitek and others. Nixon had his share of big moments in Boston, perhaps none bigger than his two-run home run off of Roger Clemens and the New York Yankees in May of 2000, a shot that gave the Sox an early lead in the division and capped one of the best-pitched regular season games of the decade.
Though the importance of this moment has been lost in post-2004 World Series lore, it cannot be overstated how big of a game it was at the time; the Sox hated Clemens, the game was in the Bronx, Pedro Martinez was masterful and above all else the desperation of Sox fans to beat the Yankees—who had eliminated them from the playoffs a year earlier—had never been higher.
Though the victory didn't ultimately propel the Sox to glory (they went 85-77 and missed the playoffs while the Yankees went on to win the World Series), it cemented Nixon's place in the heart of Sox fans. When he returned to Fenway as a member of the Cleveland Indians in 2007, the ovation he received upon his first at-bat lasted nearly a full minute.
Could this be the direction we're headed in with Cody Ross? Though he has only been in town for a couple weeks, fans have already taken a liking to the outfielder. He plays hard, delivers timely hits and always seems to have a filthy uniform. He even wears the same number (No. 7) as Nixon.
Although it's still early, here's five reasons to believe that Cody Ross will soon become the next Trot Nixon:
Begin Slideshow

»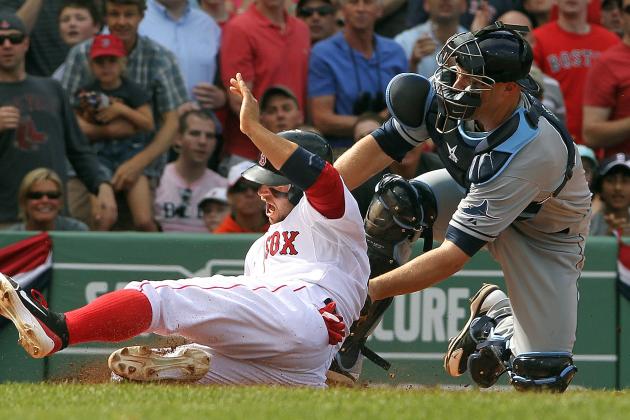 Jim Rogash/Getty Images
It seems that, like Nixon, Ross is always in the dirt somewhere.
Like Nixon, Cody Ross seems to have a vendetta against the Sox equipment managers. He is constantly covered in dirt, grass stains and pine tar. He plays the game the way so many people in Boston love: like his pants are on fire.
What Ross has lacked in skill he has always made up for in hustle. While you won't see too many incredible feats of athleticism from him, like Nixon he is more than capable of making highlight-reel diving catches like this one.
More than anything, Ross cares. Unlike certain other apathetic left fielders the Sox have recently had, you'll never catch him failing to leg out a ground ball to shortstop or a pop-up to the outfield. Sox fans got their first taste of that Monday, when after striking to end the game Ross did his best to destroy his batting helmet.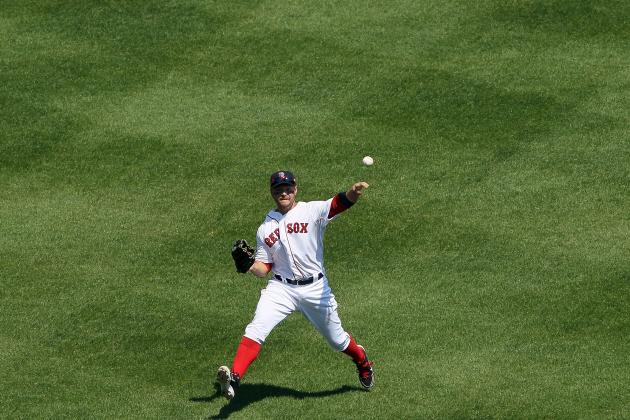 Elsa/Getty Images
Ross has been all over the Fenway Park outfield early this season.
Ross has shown the ability to play all over the outfield, which gives him huge value to the Sox. Like Nixon, he has already been pressed into duty in both right and center field, and likely will be doing so for the rest of the season.
A player who can ably fill in at any outfield position provides a tremendous mental boost to his pitching staff. Sox hurlers, who generally give up a lot of fly balls, can take comfort in knowing that in Ross they have a player behind them who can track down almost anything that comes out there. After losing Gold Glover Jacoby Ellsbury, the worth of a player like that cannot be overstated.
Fans appreciate this versatility as well. After the forgettable JD Drew era, they are hungry to embrace a player who not only stays on the field, but can be productive at multiple positions. Early on, it looks like Ross will be just that type of player.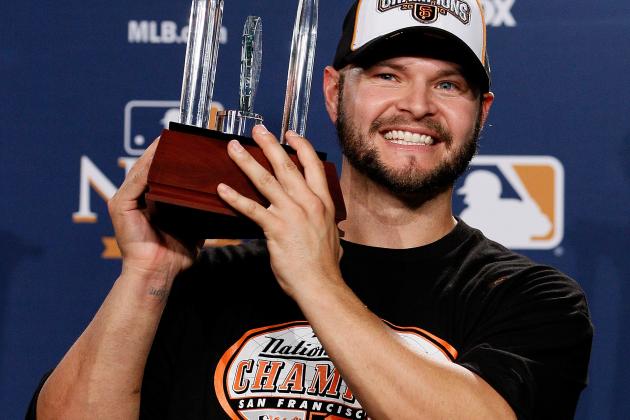 Pool/Getty Images
Ross took home the NLCS MVP in 2010 for his clutch performance for the Giants against the Phillies.
Though his Memorial Day 2000 heroics are perhaps his most notable achievement, Nixon's clutch hitting résumé is not strictly confined to the regular season. He also got it done in the playoffs, hitting .283 with six home runs and an .841 OPS in 138 career playoff at-bats. He was a monster particularly in the 2003 ALCS against the Yankees, hitting .333 with three home runs.
Though those numbers may seem hard to top, Ross has actually fared even better than Nixon in the clutch.
The 2010 San Francisco Giants owe their World Series win to Ross. As the MVP of the NLCS, Ross hit three home runs (two off of Roy Halladay), had six extra base hits (tied for second-most in NLCS history) and compiled the highest slugging percentage (.950) in a six-game series in NLCS history.
As perennial championship contenders, the Sox will rely heavily on Ross' pedigree come playoff time. Like Nixon, Ross has proven that he can deliver.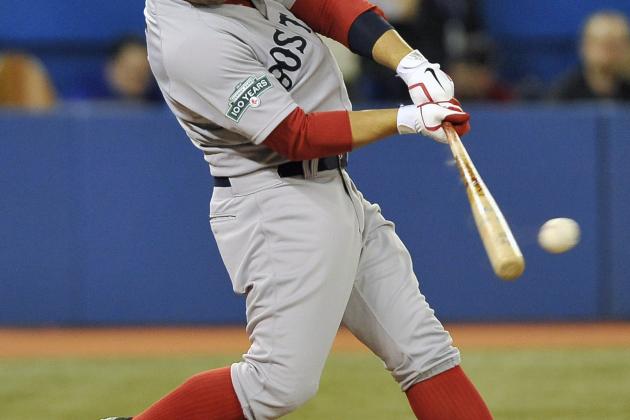 Brad White/Getty Images
Ross has proven his offensive prowess in Boston, putting up nearly identical numbers to Nixon.
It's not just the intangibles that link these two players, either; statistically speaking, they are pretty comparable.
For their careers, they average the exact same number of doubles (22), almost the same number of home runs (20 for Nixon vs. 22 for Ross) and a similar OPS (.828 vs. .780, with Nixon's number inflated due to an abnormally huge .975 in 2003) over a 162-game season average.
They also frequently hit in the No. 5 to No. 9 spots in the lineup; 70 percent of Nixon's career games were in those spots, compared to a whopping 89 percent for Ross.
These statistical similarities also have made both players cost-effective options for the Sox, who despite their riches can't afford a $10 million player at every position. By producing strong numbers for a reasonable price, Ross and Nixon allow their teams to deploy their resources in other areas and enhance their chances of winning.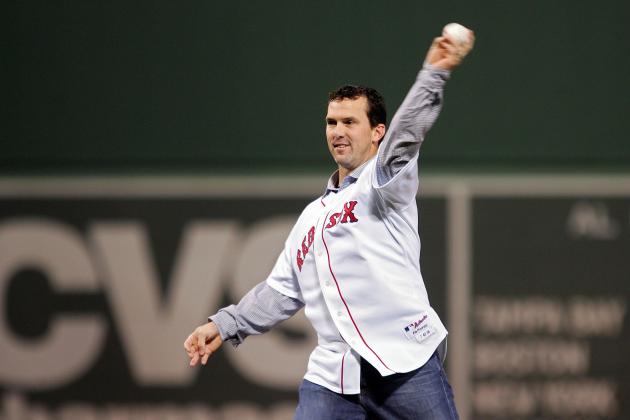 Jim McIsaac/Getty Images
Trot Nixon's great relationship with fans have made him a favorite even after his retirement, leading him to be brought back to throw out the first pitch of a playoff game in 2010.
One of the traits that does not play well in Boston is arrogance. Sox fans appreciate a quiet humility, something that the soft-spoken Nixon always showed. At times, though, Sox fans also like their players to show some fire.
In his short stint in Boston, Ross has already shown this aspect of his personality as well. Monday's final moment against the Rays, where Ross was called out on strikes on back-to-back outside fastballs, showed just how fired up the mild-mannered right fielder can get.
His post-game comments revealed both his passion and his empathy, though, when he told the Boston Herald's Michael Silverman, "It's tough. It's such a tough situation. Believe me, I've umpired before. It's tough. It's hard. But at this level, I don't know what to say. You've got to bear down."
As long as Ross continues to show this personality striking a balance between competitor and nice guy, he will enjoy all the perks of being a fan favorite.