Ohio State Football: Why Urban Meyer Will Take Big Ten in Rookie Campaign
April 18, 2012

Jamie Sabau/Getty Images
Urban Meyer brings a long list of achievements to Columbus, Ohio—one of those being his blowout of the Buckeyes in the 2007 BCS National Championship game. While the Buckeyes have had their own success in recent years, they have not been able to get over the hump of winning it all.
Urban Meyer will change that.
Perhaps one of the hardest-working coaches in the business, Meyer knows how to get it done on and off the football field. With two national championships, four conference championships and an overall record of 104-23, it's hard to think anything else of him.
As impressive as his performance has been, it all begins with recruiting.
What separates Meyer from many other coaches is the time and effort he puts into recruiting every year. During his six-year tenure at Florida, he had three classes ranked No. 1 or No. 2, which included names like Tim Tebow, Cam Newton, Aaron Hernandez, Joe Haden and Percy Harvin.
This recruiting prowess is already paying dividends in Columbus.
Urban Meyer's first recruiting class with the Buckeyes is ranked No. 3 in the nation and includes nine 4- or 5-star recruits. This comes in light of Jim Tressel being fired after the memorabilia scandal and a NCAA-mandated postseason ban for the 2012 season.
Few coaches would have been able to pull off the same recruiting success in the amount of time Meyer had after arriving in December.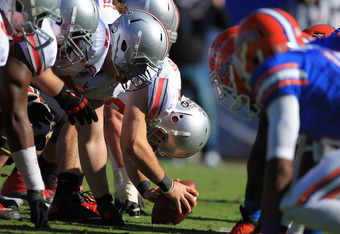 Scott Halleran/Getty Images
While the new recruits will need time to develop and the Buckeyes are banned from bowl play in 2012, the expectations are still high in Columbus.
Winning the Big Ten is what Ohio State fans are used to, and it is what they would expect next year if it were not for the NCAA ban.
Russel Wilson will not be leading the Wisconsin Badgers, Penn State has had bigger problems than preparing for football and Michigan State's Kirk Cousins has finally graduated. Simply put, the Big Ten will be much more navigable next year. Here is the 2012 schedule for the Buckeyes:
| | |
| --- | --- |
| Sep.1 | Miami (OH) |
| Sep. 8 | UCF |
| Sep. 15 | California |
| Sep. 22 | UAB |
| Sep. 29 | @ Michigan State |
| Oct. 6 | Nebraska |
| Oct. 13 | @ Indiana |
| Oct. 20 | Purdue |
| Oct. 27 | @ Penn State |
| Nov. 3 | Illinois |
| Nov. 17 | @ Wisconsin |
| Nov. 24 | Michigan |
The most daunting task is the November 24th matchup against bitter rival Michigan, but Meyer has 12 weeks to prepare for that one.
While Meyer develops Braxton Miller into a more efficient passer, the defense will carry the Buckeyes early and often. Ohio State has had some solid defenses in recent years, but this unit looks to be its best. John Simon and 10 out of 11 defensive starters are back after a year in which they finished 27th in the nation in points against.
However, the play of the defense wasn't able to overcome the offensive woes.
The offense was ranked 81st in scoring and 115th in passing yards. The only highlight was the run game which ranked at 27th.
All of those numbers should improve in 2012. After all, Braxton Miller can't get much worse than 115th.
Meyer will bring the spread offense, which will utilize Miller's legs much more than the pro-style that Jim Tressel left behind. The run game will be even better, which will open up more opportunities for the pass. Miller will make strides under the new leadership and will be ready to lead the offense when the meat of the schedule hits later in October.
Fans may not see the Buckeyes in a bowl next year, but a win at home against Michigan and the season will be a huge improvement a year after the program's first losing season since 1988.
Change is coming to Columbus, and 2012 is only the beginning for Urban Meyer and the Ohio State Buckeyes.