Miami Hurricanes Football: My Favorite Two-Deep Depth Chart Since the 80's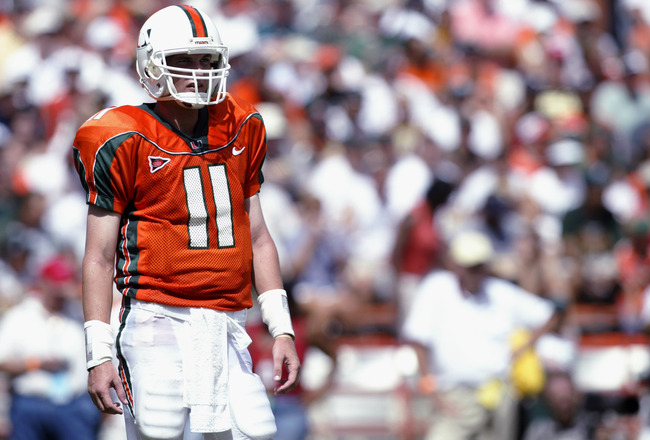 Andy Lyons/Getty Images
There has been a plethora of great football players that played at Miami since the football program started in 1926. Over those 85-plus years there has been 72 first-team All-Americans, eight players inducted into the College Football Hall of Fame and four into the NFL Hall of Fame.
So I decided to make a two-deep depth chart of my personal favorites since I started watching the Hurricanes play in the early 80's. This was a lot harder than I thought it would be considering there are so many great players over the last 30-plus years.
My depth chart isn't about statistics but base solely on personal preference. There are some players you will see that may not have been the best but were definitely my favorites.
Quarterback
Starter: Ken Dorsey (1999-2002)

Backup: Vinny Testaverde (1982-1986)

Notes: Ken Dorsey is one of my top five favorite Miami Hurricanes, not only because of his amazing career stats but because of his leadership and determination. Although he never had the most accurate arm or the strongest, he always just seemed to get it done.
When his career was over with he was a winner, it was as simple as that. He ended his career at 38-2 with a national championship. If it weren't for the BCS allowing FSU (which Miami beat that year) to jump the Hurricanes and for the horrible call in the 2002 national championship game against Ohio State, Dorsey could have won three straight championships.
Vinny Testaverde is my backup just because he was the first quarterback I seen play at Miami. I was only about seven years old when I seen him play and I honestly thought he was the greatest quarterback in the world.

Running Backs
Starter: Edgerrin James (1996-1998)

Backup: Frank Gore (2001-2004)

Notes: Edgerrin James wasn't the best Hurricane running back of all time; I would probably give that to Ottis Anderson, but James was my favorite. He was a tremendous athlete that could not only run around you, but through you as well.
James was the epitome of what a running back was and he displayed his best game on national television when he scorched the UCLA Bruins with 299 yards rushing in a 1998 game that ended UCLA's chances of a national championship.
Frank Gore is my backup because of his heart. Gore came into Miami as a heralded freshman and ended that season averaging 9.1 yards per carry. Gore went on to have a a pretty solid career that could have been unparallelled if not for the two ACL tears he had in consecutive seasons.
Wide Receivers
Starters: Reggie Wayne (1997-2000), Michael Irvin (1985-1987)

Backup: Santana Moss (1997-2000), Lamar Thomas (1989-1992)

Notes: Reggie Wayne is actually my all-time favorite receiver followed closely by Michael Irvin. Wayne was just a stud that just seemed to be a man amongst boys on the field while Irvin was just fun to watch. Irvin was extremely vocal and seemed to be a leader on and off the field.
Santana Moss is one of my backups because he was a speed demon that seemed to have that extra gear every time he touched the ball. He averaged over 17 yards per catch while at Miami.
The other backup is Lamar Thomas. I remember Thomas as being this flamboyant athlete that had the skills to back it up. Just like Irvin, he was just fun to watch.
Tight End
Starter: Jeremy Shockey (2000-2001)

Backup: Kellen Winslow II (2001-2003)

Notes: Jeremy Shockey isn't just my favorite tight end but also one of my favorite Hurricane players ever. I loved the smash-mouth football that Shockey brought to Miami. He was a tough SOB on the field and reminded me of a throwback player from the old Hurricane teams.
Kellen Winslow was almost a spitting image of Shockey but with a little more athleticism. He would talk trash with the best of them and than burn the defenses every time he got the ball.
Winslow statistically had a better career than Shockey, but Shockey was just mean and I admired that he didn't take crap from anyone.
Left Tackle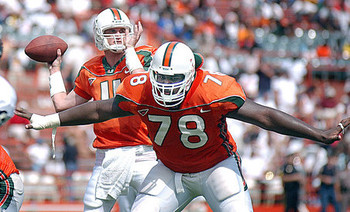 Starter: Bryant McKinnie (1999-2001)

Backup: Jason Fox (2006-2009)

Notes: Bryant McKinnie was my favorite tackle because he was completely dominating. The 6'9", 330 pound behemoth destroyed any defender in his way. He never gave up a sack all through high school and only six in four years he at Miami. Any other questions regarding the best offensive tackle ever?
Jason Fox is right behind McKinnie as Miami's best left tackle. Fox was an extremely talented offensive lineman that moved from guard to tackle in the beginning of his junior season. He never gave up a sack in his junior season and was an Outland finalist in his senior season.
Left Guard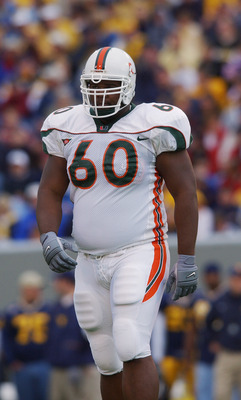 Starter: Vernon Carey (1999-2003)

Backup: Harland Gunn (2007-2011)

Notes: Vernon Carey played both guard and tackle while playing for the Hurricanes so I am going to stick him in the guard position. Carey was a force at Miami and completely dominated anyone in his way.
Harland Gunn is a recent graduate of Miami and he was definitely overlooked by many. He was great on his feet and had a solid career for the Hurricanes.
Center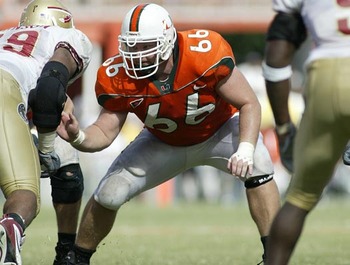 Starter: Brett Romberg (1998-2002)

Backup: Chris Myers (2000-2004)*
Notes: Brett Romberg was an absolute beast at center and it was proven when he walked away with the Dave Rimington Award give to the best center in college football. The most impressive thing about Romberg was the fact he never gave up one sack during his college career.
Chris Myers was another great center for the Hurricanes although his primary position was at guard. The All-Big East Hurricane was solid throughout his career and a vital part of the record-breaking season Willis McGahee had in 2002.
*Myers had seven starts at center during his career.
Right Guard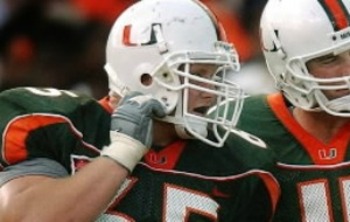 Starter: Martin Bibla (1997-2001)

Backup: Brandon Washington (2009-2011)

Notes: Martin Bibla wasn't just a great right guard for the Hurricanes but one of the best guards that ever played at Miami. Bibla received many accolades while at Miami including All-Big East first-team and second-team All-American.
Brandon Washington ended his career last year at left tackle but I will forever remember his play at right guard. Washington was a great guard but do to depth issues he was moved to left tackle and never really played it that well.
I truly believe that if Washington stayed one more year and at the guard position, he would have a chance to be an All-American this season.
Right Tackle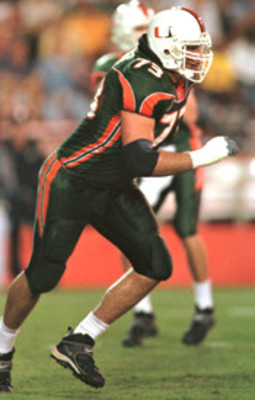 Starter: Joaquin Gonzalez (1997-2001)
Backup: Leon Searcy (1988-1991)

Notes: Joaquin Gonzalez will most likely go down as the best Hurricane lineman in history, at least in my eyes. Gonzalez was a great leader and actually fun to watch. He was a first-team All American in 2001 when Miami won its fifth national championship. He started in 49 games at Miami, a Hurricane record for offensive linemen.
Leon Searcy I remember as being a huge force for Miami in the late 80's, early 90's. He seemed to control every defender that got in his way. He ended his senior season as a first-team All American.
Defensive End
Starter: Calais Campbell (2004-2006)
Backup: Danny Stubbs (1983-1988)

Notes: No disrespect to Danny Stubbs as he was statistically a better player than Calais Campbell was but Campbell was, to me, just a beast. Campbell was the true definition of a defensive end combining speed and strength. His sophomore season he registered 10.5 sacks and 85 tackles.
Stubbs on the other hand will most likely go down as one of the best Hurricanes defensive end ever, statistically anyways, registering a Hurricane record 39.5 sacks in his career. He was strong and surprisingly quick with a nonstop motor.
Defensive Tackle
Starter: Warren Sapp (1991-1994)

Backup: Cortez Kennedy (1989-1990)

Notes: Warren Sapp is one of my favorite Hurricanes of all time. There simply was no better defensive tackle that has ever came out of Miami with the accolades this man possessed. He was named to two All-American teams, won the Lombardi Award, Nagurski Award, Ben Willis Award, and was named to the first-team All-Big East team twice.
Cortez Kennedy was the best defensive tackle in Hurricane history until Warren Sapp came along. Kennedy was an absolute beast destroying every offensive lineman that stood in his way. He was immensely strong with superb hands.
Defensive Tackle

3:35 of video clip.

Starter: Russell Maryland (1986-1990)
Backup: Jerome Brown (1983-1986)

Notes: Russell Maryland was yet another great tackle that came out of Miami. He was exceptionally quick with amazing feet for a guy his size (6'1", 290 pounds). He had a knack for the ball as he left Miami with 279 tackles and 20.5 sacks.
Jerome Brown was just a bad man, plain and simple. He had an attitude that I loved watching and wasn't afraid of anyone. He was a complete defensive tackle and seemed to never tire. He was one of my favorite Hurricanes to watch growing up.
Defensive End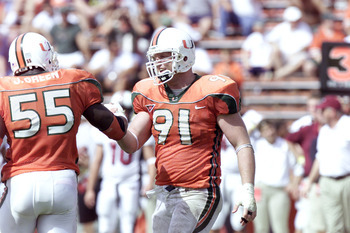 Starter: Matt Walters (1998-2002)*
Backup: Kenny Holmes (1993-1996)

Notes: I know many of you probably think I am crazy for having Matt Walters over Kenny Holmes but Walters was such a dedicated hard worker and it was something that I always admired about him. He wasn't ever the fastest or the strongest player but no one had the heart that Walters had.
Kenny Holmes was a ferocious defensive end for the Hurricanes during the mid-90's. He had astonishing feet and quickness that allowed him to amass 30 sacks during his Hurricane career.
*Walters started his career rotating between defensive end and tackle. Finished his career as a two-year starter at defensive tackle.
Outside Linebacker
Starter: Darrin Smith (1989-1992)

Backup: D.J. Williams (2000-2003)

Notes: Darrin Smith was one of the best outside linebackers that ever played at Miami. Just like many of the Hurricane linebackers, Smith played both outside and inside linebacker. He ended his career with 401 tackles.
D.J. Williams started his career at fullback but was moved to linebacker his sophomore season. He was a very smooth player that seemed to be around the ball all the time. He was a semi-finalist for the Lombardi Award after a 108-tackle season in 2002.
Middle Linebacker
Starter: Ray Lewis (1993-1995)
Backup: Jonathan Vilma (2000-2003)

Notes: Was there any other player I could have put here besides Ray Lewis? Lewis defined what a great linebacker was in college. He was all over the field all the time and when he hit someone, I could even feel it through my TV. He will go down as not only the best linebacker in Miami history, but also one of the best linebacker to ever play college football and the NFL.
On almost any other team in the country, Jonathan Vilma would be the starting linebacker; unfortunately on a Hurricane team loaded with talent, he is a backup. That doesn't mean he wasn't any good because he was. He was a terrific leader and just like Lewis, he seemed to be involved with every tackle that was made.
Outside Linebacker
Starter: Jon Beason (2004-2006)
Backup: Dan Morgan (1997-2000)*

Notes: I am sure this is another spot in which the readers will disagree on but Jon Beason was one of my favorite outside linebackers for one reason, tenacity. Beason was an unbelievably smart player that could play any position on the field. He was a true athlete and even started his career as a fullback when he first came to Miami.
Dan Morgan shouldn't be overlooked because he was statistically the greatest linebacker to ever wear the orange and green jersey. Morgan is still the all-time Hurricane leader in tackles with an amazing 532 tackles. He was all over the field, all the time and if this article was about statistics, he would be the starter.
*Morgan played three years at weakside linebacker before moving to middle linebacker his senior season.
Cornerback
Starter: Bennie Blades (1985-1987)*
Backup: Phillip Buchanon (1999-2001)
Notes: Bennie Blades was another player, just like Ray Lewis, that was an easy pick for me to be a starter. Blades was simply the best cornerback that ever played at Miami. He had good speed and quickness but what was really impressive was his ability to make plays. He ended his career with the most interceptions in Hurricane history with 19, which was later broken by safety Ed Reed.
Phillip Buchanon was another great playmaker. He didn't have the coverage skills that Blades had but he had the speed that very few had. He would be able to close on any receiver in the country and his play allowed him to be an All-American in his junior year when he finished with five interceptions and seven pass break-ups.
*Blades was primarily used at the safety position but rotated between both cornerback and safety throughout his time at Miami. Used primarily at cornerback in the NFL.
Cornerback
Starter: Antrel Rolle (2001-2004)
Backup: Duane Starks (1996-1997)

Notes: Antrel Rolle is my starter because he was such a terrific athlete that had amazing closing speed. One of my most memorable game I have ever seen was when he completely shut down one of the best wide receivers in the country, Larry Fitzgerald in 2002.
Back in the day I remember Duane Starks as being one of the best cornerbacks in the country. His coverage ability seemed to be flawless as he always seemed to break up every pass that came his way. He didn't have the best statistics or accolades that others had, but was still one of my favorite Hurricanes to watch.
Safety
Starter: Sean Taylor (2001-2003)
Backup: Brandon Meriweather (2003-2006)

Notes: This is a no-brainer because Sean Taylor is my favorite Hurricane of all time. I absolutely loved watching Taylor play the game. He was so big and fast that it almost seemed unfair. Never have I seen someone, especially a safety, that could hit like he did. He would hit harder than most linebackers did. Just a physically gifted specimen that I will never forget. R.I.P. Sean Taylor.
Brandon Meriweather was another one of those Taylor-like players. He didn't possess the size or speed that Taylor had, but he could also bring the pain to wide receivers. Meriweather was a semi-finalist for the Jim Thorpe award in 2005, recognizing the best defensive back in the country.
Safety
Starter: Ed Reed (1998-2001)
Backup: Al Blades (1998-2000)

Notes: Ed Reed will not only go down as the best safety of my generation but possibly the best that ever played the game. He was a ball-hawk and the epitome of what a safety was. He was an unbelievable leader that was around the ball on every single play.
Al Blades was another one of those players I watched growing up that intrigued me. He, like Reed, seemed to also be in on every play. Not only was he coverage safety but an amazing hitter that eventually earned him first-team All Big East in 2000. He played both free and strong safety.
My world was rocked in 2003 when Blades was killed in an auto accident in Dade County.
Fullback
Starter: Najeh Davenport (1998-2001)
Backup: Quadtrine Hill (2002-2005)

Notes: Najeh Davenport was more of a running back than a fullback but when you have Clinton Portis and James Jackson ahead of you, you most likely will either be riding pine or playing fullback. Davenport chose the latter and finished his career as a terrific one at that. He turned into a very good blocker but even a more dangerous receiver out of the backfield.
Quadtrine Hill was one of my favorite fullbacks just because he was such a great athlete. He could block, catch and run with the best of them. Although he shared time with Kyle Cobia throughout his career, he was the better player.
Kick/Punt Returner
Starter: Devin Hester (2003-2005)
Backup: Santana Moss (1997-2000)

Notes: Although Devin Hester didn't have the return stats that Santana Moss had he was still the most exciting Hurricane returner ever. Hester didn't just have that amazing speed but his field vision was unbelievable. Every time he got the ball in his hands every one knew he had a chance to take to the house.
This pick as starter and backup was pretty close, believe it or not. I used to marvel at Moss's ability to return punts. He had that rare combination of speed and quickness that not many had at the college level. He is still currently ranked No. 1 in the Hurricanes record books for punt return touchdowns with six, two more than Hester.
Kicker
Starter: Carlos Huerta (1988-1991)
Backup: Jon Peattie (2003-2006)
Notes: Carlos Huerta will not only go down as the best kicker at Miami, but maybe one of the best kickers in college history. He is still ranked first in almost every kicking category in the Hurricanes record book including most points scored with 397.
I remember Jon Peattie as a kicker that never missed. I know he did, but it seemed like he never would. He always seemed to make huge kicks when the Hurricanes needed it most. He ended his career as the second leading scorer in Hurricane history with 339 points.
Punter
Starter: Jeff Feagles (1985-1987)
Backup: Matt Bosher (2007-2010)
Notes: Jeff Feagles was a junior college transfer that actually started at Miami as a kicker. Due to an eye condition he was forced to be the punter at Miami. Good thing, because he was an amazing punter not because of the distance he would kick the ball, but because of the amazing hang-time. It was truly an art watching Feagles punt that ball.
Matt Bosher didn't have near the stats that previous Hurricanes had but that was mostly because he played on sub-par teams. That didn't mean he wasn't any good because he was, at both kicking and punting. The greatest asset Bosher had though was his tackling skills. Never have I ever seen a punter or kicker that could tackle like Bosher did.
Keep Reading

Miami Hurricanes Football: Like this team?