NHL Playoffs 2012: Brendan Shanahan Has Lost Control of the Players
April 18, 2012

Bruce Bennett/Getty Images
James Neal received a one-game suspension on Monday night for two hits of his in the last matchup between his Pittsburgh Penguins and their hated rivals, the Philadelphia Flyers.
Of course, Neal's was not the first suspension handed out Monday—or even the second.
Besides teammate Arron Asham, who received a four-game ban for a crosscheck to the face, Capitals star Nicklas Backstrom was suspended a game for his crosscheck to the face.
And Blackhawk rookie Andrew Shaw was suspended three games for his hit on Coyotes' goaltender Mike Smith.
It would be almost appalling to see this many suspensions for just one weekend's play, but the truth is that it's become the norm.
Last week, the Rangers' Carl Hagelin was suspended for three games and the Senators' Matt Carkner for one.
Additionally, Byron Bitz was suspended for two games and Craig Adams for one.
That's eight players that have received suspensions so far this postseason. But the thing is, the postseason has only been going on since last Wednesday (April 11th).
That's more than one suspension per day of playoffs. 
And you can be sure it'll continue. Tonight, Raffi Torres added his name to one of two lists: players who Brendan Shanahan has suspended; and players that many think Brendan Shanahan should have suspended.
He earned his spot in this discussion with his hit on the Blackhawks' Marian Hossa. Hossa left the game on a stretcher.
The problem is that Shanahan's not in the wrong on most of these.
Most, but not all, knocks on Shanahan are on the inconsistency of his decisions and some glaring missed calls he's made. And these problems aren't just going to go away.
Things are getting rowdier out there; it's easy to see. In the last Penguins/Flyers game, there were a total of 158 PIM. It provided a few of the suspensions listed above and a whole lot of media coverage.
But perhaps the most frightening prospect is that it seems Shanahan, the league's head disciplinarian, has lost control of his league's players.
Some might argue that this is just because the playoffs are more intense. Others might say it's because particular teams really hate each other. And others might write it off as "old time hockey."
However, I believe it's none of the above.
What's happening out there is that, amid the playoff intensity, a number of players have either lost compassion for their fellow players, or have completely lost their ability to make decisions under pressure. Either way, someone needs to crack down on things quickly and effectively.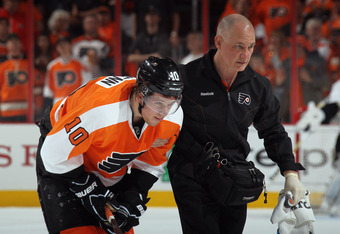 Bruce Bennett/Getty Images
Shanahan isn't doing a terrible job. His biggest problem is inconsistency and lack of credibility. Taking a firm stance on violent actions and setting precedents would be what's best.
Or, of course, he could choose to continue to unevenly hand out punishments. Guess which he did today?
I'll admit that personally, I believe Neal should've been suspended significantly more. But even ignoring my opinion, Neal—a 40-goal scorer—got one game for two hits to the head.
Shaw—a 12-goal scorer—got three games for one hit to the head. Were they the same hit? Not by a long shot. But it makes you think.
Nicklas Backstrom, famed center for Alexander "The Great" Ovechkin got one game for a crosscheck to a player's face.
Arron Asham, a Penguin who averages fewer than 10 minuets per game, got four games for a similar incident. Again, they weren't identical but they certainly shared some elements.
Considering that the postseason started with Shanahan's no-call on Shea Weber, it's easy to see why some players may be losing their interest in what he has to say.
And the more Shanahan's rulings paint a picture of leniency towards more talented players, the more chaos will ensue in the games.
Things have gone far enough, and then some.
It doesn't matter if you're a fan of the physical play—a fan of the heavy hitters. Everyday—literally every day—players are being put at risk or injured because of illegal, dangerous play.
Shanny's had his chance to try to deter players, but his minuscule fines and one- or two-game suspensions just don't cut it.