Is David Wright's Time Coming to an End in New York?
April 18, 2012

Rich Schultz/Getty Images
We know two things two weeks into David Wright's 2012 season with the New York Mets: he has been injured, and he has played at an extraordinary high level. 
Wright is 17 for 34 (.500 average) at the plate with two home runs, eight RBI and an OPS of 1.256 in 2012. The 29-year-old also missed three games with a fractured pinkie suffered last Monday when he dove into first base ahead of a pickoff attempt. Wright did not need to go on the disabled list and returned to the lineup last Saturday against the Philadelphia Phillies, going three for five with a home run.
But add the pinky issue to last year's fractured back, and the side muscle strain that ruined his spring training (injuries have cost Wright 83 games combined the past three seasons) and Mets fans are left to ponder whether or not the Met organization will offer Wright a multi-year contract and continue to make him the face of the franchise.
Wright's current deal expires after next season, as the Mets hold a 2013 team option on him for $16 million. The two sides have not even begun to discuss a new multi-year deal.
A CapitalNewYork.com article published over the weekend suggests that the Mets front office could be laying the groundwork to jettison Wright at some point in the near future because of his recent injury woes. The new regime, led by General Manager Sandy Alderson, may not feel Wright is still in his prime, and because of his recent injuries, may not merit a multi-year contract.
"The Mets could be putting pressure on Wright to play through his injury because the Mets could be so intent on getting Wright back, along with the box office draw he represents, that they have prioritized this over making sure his pinky is healthy. Or they finally see an opening to go after the reputation of a player who is loved by the fans ahead of any decision to ultimately trade him or, more likely, simply fail to retain him once his contract is up."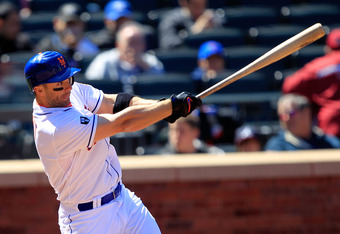 Chris Trotman/Getty Images
Are the Mets trying to jettison Wright, or are they just not in a rush because Wright has a team option for 2013?
Wright's on-the-field numbers do come into question. His numbers even when healthy are not what they once were. Once a perennial 30-30 candidate with batting title potential, Wright has suffered a power outage thanks to the robust dimensions of the team's new ballpark, Citi Field. Wright has become much more of a pull hitter and as a result has seen his strikeout rate increase dramatically while seeing a dip in his batting average. Wright's strikeout rate has risen from 16.4 percent from 2006-2008 to 22.9 from 2009 to 2011, according to FanGraphs.
There is also this: Wright, despite the injury concerns and the decline in his numbers, will still demand a very hefty contract. The Washington Nationals signed third baseman Ryan Zimmerman to a six-year, $100 million contract extension earlier this year. In total, counting the two years on his current deal, Zimmerman will make $126 million over the eight years or $150 million over the next nine years (depending on a team option year worth $24 million). 
While Zimmerman is two years younger than David, he has only hit 25 home runs twice and batted in 100 runs twice, compared to Wright who has done each five times. Based on purely performance, Wright has earned and should ask for more money than Zimmerman received from the Nationals.
Since Wright is going to demand a Zimmerman-like contract, the Mets would have to pony up to keep him. But the Mets have money issues. The team payroll this year is $93,357,465, according to ESPN. In 2011, it was $142.8 million. That is a drop-off off over $50 million. Mets General Manager Sandy Alderson revealed earlier this year that the Mets lost over $70 million last season. The Mets have cut ticket prices for the third straight season. The Bernie Madoff scandal, declining team revenue streams and waning fan interest are big obstacles for the Mets right now. It could hinder their ability to pay Wright.
Mets fans might feel this is Jose Reyes all over again. Reyes (who battled a series of lower body injuries with the Mets his last few seasons) was not seen as a good long-term investment by the team. Reyes is now with the Miami Marlins. Whereas the Mets were skeptical of Reyes, they are not there yet with Wright. Mets officials simply want Wright to prove he can stay healthy and earn a new deal.
While Wright has missed 83 games over the past three full seasons, he is not yet what could be considered an injury-prone player. The pinky injury which Wright battled through last week was a result of bad luck, not age. There is a fine line between a player who is injury-prone, and a player who just got hurt. Wright is also one of the toughest players in the league, having played through his back injury as much as he could last season. Still, this is a business, and with the Mets financial woes, the front office needs to be sure that he is not entering an injury-phased stage of his career.
Taking all this into account, the Mets front office is more likely than not going to give Wright a new contract. It would be too damaging and result in a public backlash if the Mets just let Wright walk after next year. Despite the recent money woes, Wright remains a good long term investment, as he is the face of the Mets.
With the team option they have on Wright next year, the organization also does not feel there is any rush. The Mets are also well within their rights to see if Wright can stay on the field, and see what kind of numbers he can put up this season. So far, those numbers are stellar. If Wright can stay healthy and put up big numbers, you can bet that he will not be traded and his contract will not expire. He will get a new contract and continue to be the face of the New York Mets franchise.