Arsene Wenger and Fans Furious About 2-1 Defeat to Wigan Athletic, Reaction
April 17, 2012

Laurence Griffiths/Getty Images
The news after Arsenal's unfortunate and humiliating defeat against Wigan focused on Arsene Wenger's refusal to shake Roberto Martinez's hand after the match, or on Robin van Persie's own echo of his boss' frustration by refusing to shake Gary Caldwell's. 
A few fans think the situation really isn't as it seems in the case of Robin van Persie. My purpose here though isn't to debate the particulars of Van Persie's handshake or lack thereof.
Frustration followed from the defeat at the Emirates, with a few fans resorting to the blame game. My opinion though is that the two early goals were flukes. Note that Arsenal managed to score a goal against a side that parked the figurative bus.
But for those fluke goals, Arsenal would have won the day with a lone goal, and few who complain now would be doing so, if at all.
In fact, the same people would be lauding the team and Wenger. But as it is, all of a sudden, some people seem to remember that Wenger's tactics are suspect, or that the team isn't good enough, or that this or that player falls short of Arsenal's standard.
Come on!
When would Arsenal fans learn steadfastness?
How many times does the team or Wenger need to prove themselves to the hard-to-please voices?
Already some of those hound-like voices one thought had been buried for good have resurrected in a number of forums, claiming that neither Wenger nor the majority of supportive fans have ambition enough.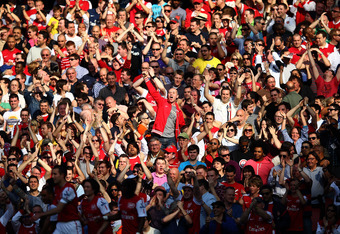 Julian Finney/Getty Images
It is tedious, and one is tempted to tell them to go support Spurs, Chelsea, QPR, Fulham or West Ham United, at least all these are London clubs.
Or if they are tired of London they can always adopt Newcastle United—who seem to be doing rather well, aren't they sitting prettily above Arsenal?—or Swansea City and Brendan Rodgers, the new kids in town. Else they could throw in their lot with the rich boys from the city of Manchester.
With the modern society's obsession with divorce, one would think that if these ambitious fans find Arsenal too provincial or too retarded, they'd promptly divorce the nonsense. What are they hanging around for?
This is not to say an idea or two born of frustration shouldn't be aired here or there. Those I can countenance. The tedious ones are the ones that carry on about how "dung" dung Arsenal is. Hello, we knew that long ago, but we decided to stick with our dung. If you don't like it then by all means jump ship. It is your prerogative.
But after a solid demonstration of quality, if you come back spouting your habitual nonsense, then it may be time you adopted a new team. 
How won't I say this, when a fan carries more hatred for his supposed team than love?
But enough polemics.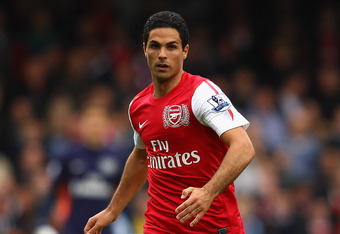 Richard Heathcote/Getty Images
Here's how Wenger reacted to the defeat, the cheap goals particularly.
We made it difficult for ourselves because we had quite a good start but we defended horrendously for the first and second goals. Everybody involved was included for the first and the second goals. On top of that we conceded a second goal with 10 men on the pitch. 

It took us too much time to change and it was absolutely unbelievable. We conceded the first when Arteta was out and we could not put the player on because he is not ready. That penalised us for the second goal and after that we had a mountain to climb. 

I felt in the first half we had enough chances to come back to 2-2, but the second half we dropped our level, lost our team play, our cohesion and tried too much individually. There was not enough petrol left in the tank anymore. We didn't see anyone who could make a difference. They defended well. We had a tremendous amount of possession but didn't create a lot in the second half.

Wenger can barely conceal it, but it's clear that he is unhappy with Mikel Arteta, whom he feels shouldn't have stepped off the pitch, but should have remained on it to allow the bench time to introduce his replacement.
I have read a comment somewhere that tries to blame Wenger for not making a change quickly. But that isn't fair. There wasn't time between the goal or before the goals to introduce Arteta's replacement.

It is the fact that when a player is injured, if he stays on the pitch you have time to bring [a replacement] on. It was a misunderstanding because he walked off and Ramsey was not ready. The players think they will not come on in the first half, so they are not ready. Basically we played with 10 men, which should not be the case when a player is injured. Arteta had to come off but if he sits down on the pitch he can come off as well.
Some have tried to blame the team's performance. I can understand this, given the fact that Arsenal lost. But from a tactical point of view, I don't see that the team did anything wrong.
Some are finding fault with the substitutions Wenger made. I can only put this down to the fact that people have a penchant to blame someone when things don't go as expected.
Some even say there weren't enough strikers on the pitch, but this must be a case of lack of proper understanding of what  a striker is.
Again here's Wenger's opinion about this:
"We finished with Walcott, Oxlade-Chamberlain, Rosicky, Gervinho and Van Persie offensively and we didn't create a lot."
How many strikers does Wenger need to play before fans can be satisfied? Some are now calling for Marouane Chamakh, Chamakh the back of whom, many want to see. This sounds to me like a clear case of desperation.
Friends, we lost a game. Teams, even the best of them, lose games. It is a severe case of jaundice to think that a team shouldn't lose to so and so team. The reality, however, just isn't so. It is time some "fans" grow up.
But I know, this must be another of my "arrogance" attacks. But how can I survive without them?