Martin Truex Jr., Clint Bowyer Highlight '5 Good, 5 Bad' at Texas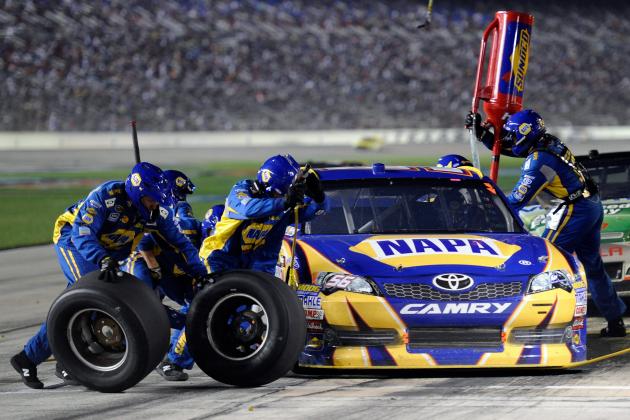 John Harrelson/Getty Images
Martin Truex Jr. was among Saturday night's best at Texas
The boys of NASCAR did a two-step this weekend and ended up in Texas for the Samsung Mobile 500.
As they say, everything is indeed bigger in Texas, including the momentum teams such as Roush Fenway Racing and Hendrick Motorsports earned after wiping the floor with the rest of the field Saturday night.
But for every upward swing in momentum, there was a downward spiral as well. Several other teams, including one very near and dear to the heart of Hendrick Motorsports, struggled badly at Texas and lost lots of ground.
It may be a day late, but "Five Good, Five Bad'' is just as good as always this week. Who scored big and who got scorched in Texas? We've got you covered!
Begin Slideshow

»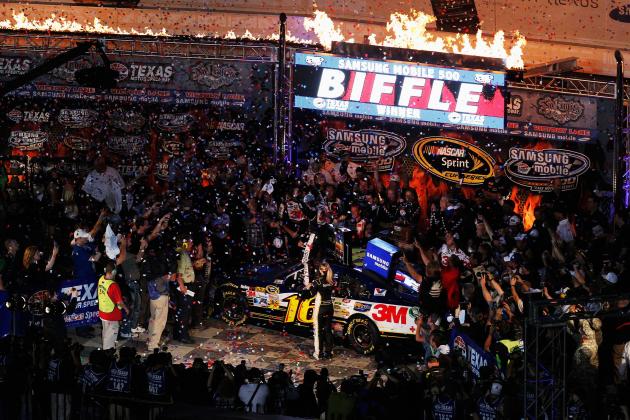 Tyler Barrick/Getty Images
Roush Fenway Racing dominated at Texas, claiming the checkered flag in both events at the 1.5-mile track this weekend
There's the speed we've been looking for.
Despite both drivers placing first and fourth in the standings leading up to Texas, Roush Fenway Racing teammates Greg Biffle and Matt Kenseth had been solid but not spectacular in 2012.
Boy, did that change Saturday night.
Greg Biffle showed the pack just who's large and in charge early in the race, wishing the field good night just over 100 laps into the race and dominating most of the night from there.
Kenseth, meanwhile, led some laps of his own and wound up fifth.
Add in the third Roush Fenway driver Carl Edwards earning an eighth-place run and Nationwide standout Ricky Stenhouse Jr. winning Friday night's affair, and it wasn't a bad weekend for RFR in Texas.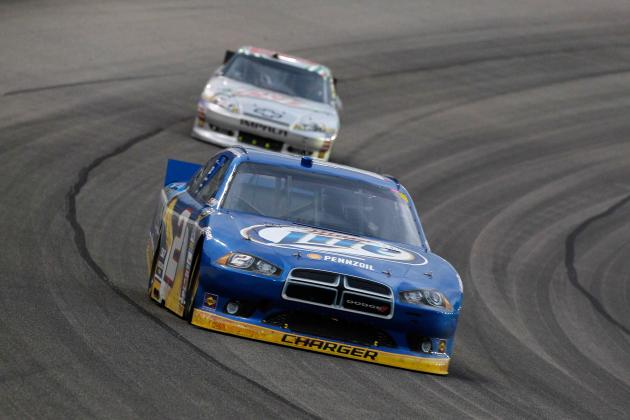 Tom Pennington/Getty Images
Brad Keselowski was off the pace Saturday night after another mechanical failure
When Brad Keselowski's team gets it right, the Blue Deuce will be scary good.
In the meantime, Keselowski's team needs to figure out how to keep the No. 2 car on the track.
Keselowski suffered mechanical problems at Texas, marking the second such occurrence in the last five races. That's a problem, considering that while Keselowski has begun to slide in the points just a little, other drivers like Carl Edwards and Jeff Gordon are beginning to heat up.
In fact, despite the well-documented struggles of Edwards, Gordon and Kyle Busch, two of those drivers actually now rank ahead of Keselowski in the standings, while the other (Gordon) sits just nine points behind him.
Keselowski will be good next Sunday at Kansas, where he won a year ago, assuming his car holds up for the whole race.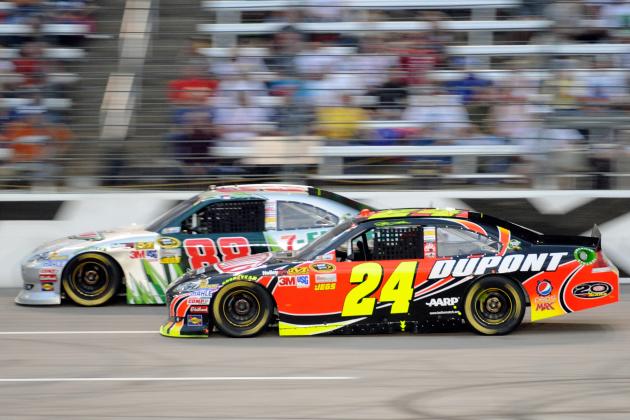 John Harrelson/Getty Images
HMS placed all four cars in the Top 10 Saturday night at Texas
If Roush Fenway Racing had a stellar night, Hendrick Motorsports' night was no less than solid.
Despite questions surrounding Jeff Gordon's 34th-place starting spot and Kasey Kahne's zero Top 10s leading up to the race, HMS had a fantastic evening, placing all four cars inside the Top 10.
In fact, Jimmie Johnson came within a hair's breadth of earning Hendrick Motorsports its 200th Sprint Cup win, finishing second.
Gordon came in fourth, with Dale Earnhardt Jr. in 10th.
Kasey Kahne even managed to put together a full, uneventful race, taking the checkered flag in seventh.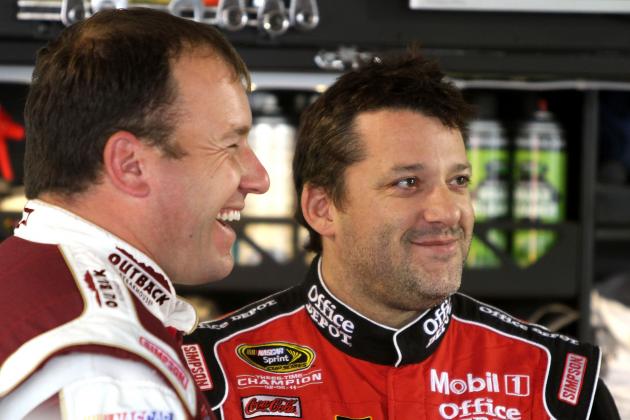 Jerry Markland/Getty Images
Tony Stewart(right) and Ryan Newman(left) both finished outside the Top 20 at Texas
Maybe Hendrick Motorsports decided its satellite team was doing a little too well.
Or maybe both Stewart-Haas teams, which receive support from Hendrick, just missed the setup that badly Saturday night.
Whatever happened this weekend in Texas, Tony Stewart and Ryan Newman would sure like to forget it. Stewart fell off the lead lap early and eventually finished two laps off the pace in 24th, while Newman finished two laps down as well in 21st.
I guess you could say that the Smoke cleared and the Rocket Man blew up on the launch pad, but I wouldn't.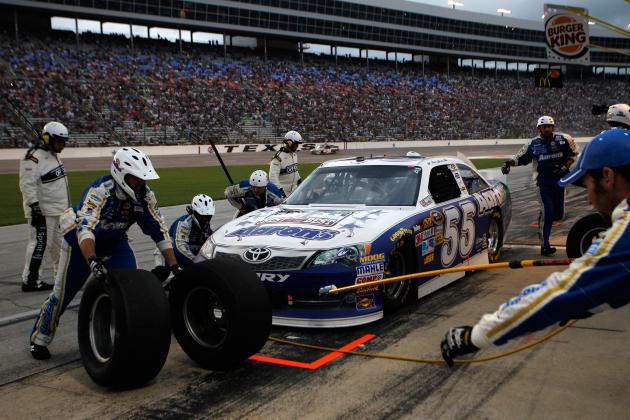 Jeff Zelevansky/Getty Images
Mark Martin finished third Saturday night at Texas
Mark Martin just will not age.
The 53-year-old Batesville, Ark., native just keeps finding ways to get the job done. He placed the No. 55 car a season-best third Saturday night at Texas.
When active, Martin has been one of the best drivers in the sport in 2012, earning three Top 10s in five races with an average finish of 10.4.
To put that into perspective, only six drivers have more Top 10s this year than Martin, with Jeff Gordon and Kyle Busch actually claiming fewer despite running two more races.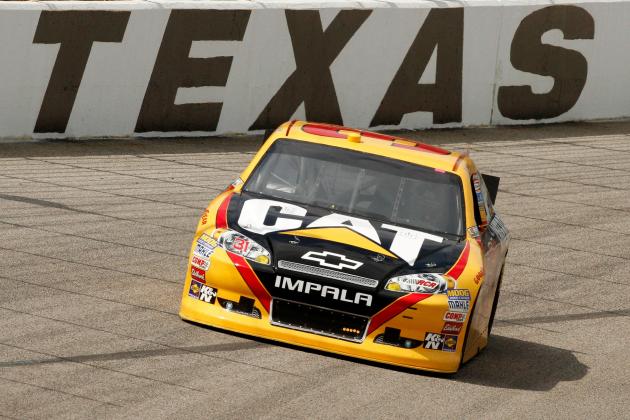 Tyler Barrick/Getty Images
Jeff Burton just could not find speed at a track he's won at twice
Texas has been kind to Jeff Burton in the past, but not Saturday night.
The two-time Texas winner simply could not find speed at the 1.5-mile oval, starting 24th and finishing 29th, four laps off the pace.
Burton's tough evening knocked him down a rung in the standings to 16th, and his 29th-place effort marked his third consecutive finish of 22nd or worse.
It may be an election year, but there's no excuse for the way the Mayor has been running.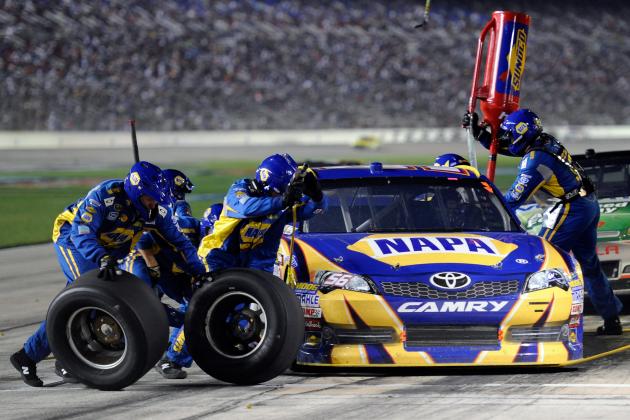 John Harrelson/Getty Images
Martin Truex Jr. earned another solid finish Saturday night at Texas
The lone concern I had regarding Martin Truex Jr. is now long behind me.
With a career average finish of 17.6 at such track types, intermediates had never been very kind to Truex over the course of his career. But with a sixth-place effort after starting from the pole and leading the first 32 laps, Truex seems to have put that worry to rest.
His ninth-place effort Saturday night marks his fourth consecutive Top 10 finish, the longest current streak of any driver in the Sprint Cup Series, with two of those coming on intermediates at Auto Club and Texas.
Truex also put to rest any concerns critics may have had about running up front and contending for wins.
If he keeps up the strong runs, this preseason sleeper could turn into a legitimate title threat.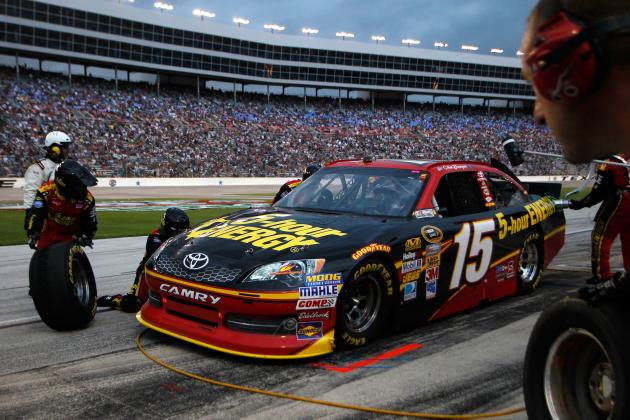 Jeff Zelevansky/Getty Images
Clint Bowyer was well off the pace of his MWR teammates at Texas
Compared to his Michael Waltrip Racing teammates, Clint Bowyer had a rough night Saturday at Texas.
While Martin Truex Jr. and Mark Martin were up front all night long contending for the top spot, Bowyer was mired back in the teens, eventually finishing a lap off the pace in 17th.
It wasn't a terrible night for Bowyer, especially considering he finished ahead of both Stewart-Haas cars by a full lap.
Still, it wasn't the night Bowyer was looking for, and the fact that no caution flags flew after Lap 95 of a 334-lap race did not help his cause.
Bowyer will now head to his home track in Kansas ranked 10th in the standings.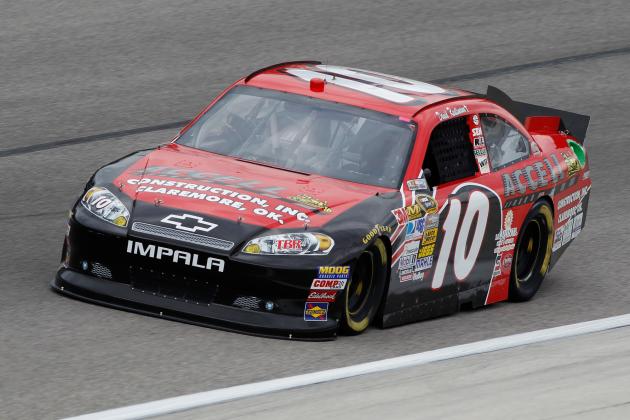 Todd Warshaw/Getty Images
David Reutimann jumped back into the Top 35 in points after Texas
Two weeks after being the proverbial goat at Martinsville, David Reutimann became the hero at Texas.
Well, maybe not really. Reutimann mustered a 26th-place effort Saturday night at Texas. But while that may not seem incredibly impressive, it does catapult Reutimann into the Top 35 in owner points.
That's big for two reasons: First, it insures that Reutimann will race at Kansas next week and gives him a good chance to better his standing.
Second, with just three events standing between now and Danica Patrick's next race at Darlington, Reutimann's efforts give Patrick a much better shot at being locked into the Mother's Day weekend race.
Reutimann's efforts may not have gone according to plan at Martinsville, but they certainly did at Texas. For that, he deserves at least a little credit.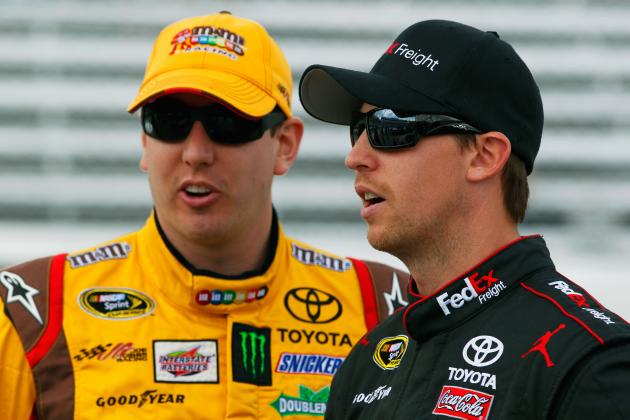 Tyler Barrick/Getty Images
Joe Gibbs Racing did not fair well at Texas
Thanks to Roush Fenway Racing and Hendrick Motorsports placing a combined seven cars in the Top 10 Saturday night at Texas, there wasn't much room left for anybody else.
Unfortunately, that included the talented trio of drivers at Joe Gibbs Racing.
JGR's struggles continued Saturday night at Texas. With only seven out of a possible 18 Top 10s for its three drivers heading into Texas, JGR placed all three of its drivers outside the Top 10 once again.
Kyle Busch led the way, managing an 11th-place run just ahead of teammate Denny Hamlin, who was the last car on the lead lap in 12th. Joey Logano struggled to a 19th-place effort.
If JGR is to compete with Hendrick, Roush, and possibly even Michael Waltrip Racing for the championship, it's going to have to step up its game and fast.