Chris Paul Deserves MVP Award for Changing Culture of Los Angeles Clippers
April 18, 2012

Harry How/Getty Images
It's not easy to turn a 32-50 team into the fourth seed in the Western Conference, but that's exactly what Chris Paul did.
His production speaks for itself of course—19.3 points, 9.0 assists and 2.5 steals per game should make anyone a candidate for MVP honors. His 26.65 player efficiency rating ranks second among all players, a testament to the fact that Paul is both productive and supremely intelligent. 
But those aren't the merits that best define Paul's contribution.
His leadership and competitive edge have risen the bar in Los Angeles, demanding a less complacent approach from a team that been accustomed to losing. As general manager Neil Olshey explained via Helene Elliott of the Los Angeles Times: 
These are not guys that fall apart. Chris Paul, Chauncey Billups, Caron Butler — they don't fall apart. And what they've done is they've also elevated the expectation level from a win standpoint of guys like Blake and DeAndre.
The kind of fortitude Olshey describes is typical of Paul's professionalism and unflappable composure. The superstar point guard wants to win, and he'll accept nothing less than the same drive from his teammates.
For all his talent and camera-friendly explosiveness, Blake Griffin still doesn't have the maturity or the credentials to put this team's fate on his shoulders. Nor does any Clipper have Paul's uncanny ability to bring out the best in his teammates.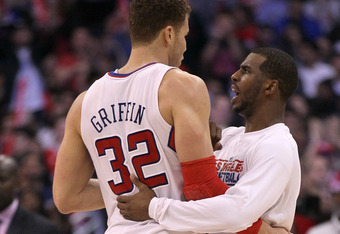 Stephen Dunn/Getty Images
Paul's leadership begins with his willingness to defer when appropriate and take control of a game when needed. No point guard does a better job of picking his spots and doing whatever it takes at any given moment to win the game.
He will posture as a facilitator for three quarters only to explode in critical fourth-quarter moments, proving that the kind of points one scores matters more than the number.
The sum total of his efforts has resulted in a sea change in Los Angeles, a flurry of interest and media attention historically reserved for that other SoCal team.
Without Paul, the Los Angeles Clippers would have been in for a season characterized by more of the same. With him, however, Vinny Del Negro has seamlessly integrated new pieces like Caron Butler along with even newer pieces like Nick Young and Kenyon Martin.
Sure, the coach should take some of the credit. But the coach on the floor should take even more.
Paul has single-handedly maintained chemistry and balance on a team otherwise prone to unraveling under the pressure of unprecedented expectations.
Always the quintessential floor general, Paul has displayed dogged leadership that would make Patton proud. He may not have earned the commensurate MVP consideration, but there's good reason to believe he should.